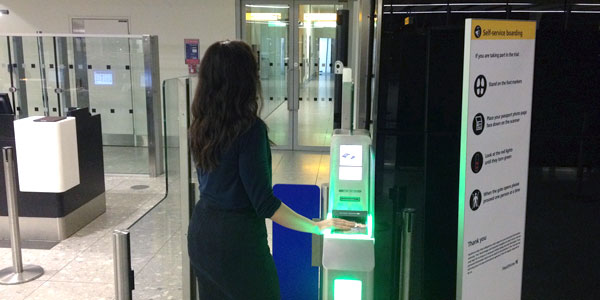 London Heathrow Airport and South African Airways are currently partnering on a two-month self-boarding trial. Passengers in Terminal 1 are being invited to participate in the trial, which uses biometric data to ensure more efficient, speedier boarding.
When passengers reach the 'self-boarding' gate, they pass through an automatic electronic barrier, which takes an infrared scan of their face. This information is checked against biometric data taken at the check-in stage. If the two sets of data match, the barrier opens and the passenger can board their flight. The passenger data gathered is stored securely and will be destroyed at the end of the trial.
An added benefit is that it allows airline staff to spend more time with those travellers requiring greater assistance.
This new technology is helping to streamline the passenger journey through Heathrow's Terminal 1. Ian Hanson, Heathrow's Terminal 1 Director, said: "We are working in partnership with our airlines to trial this technology, which should help make our passengers' journeys smoother and simpler. Since its introduction we have had positive feedback from both airlines and passengers."