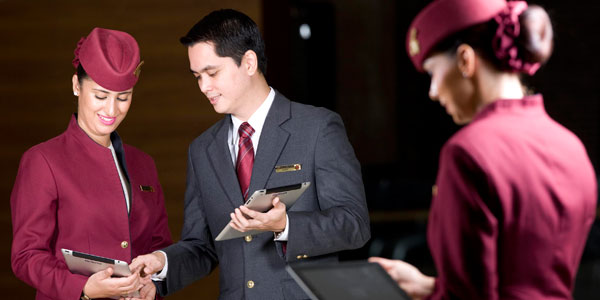 "The way airlines are doing business is undergoing a fundamental transformation," states Ilya Gutlin, SITA President, Asia Pacific. "Mobile apps permeate every step of the journey and core aspects of operations. Our recent survey results show 93% of airlines have mobile services for passengers as a top investment priority over the next three years, with 58% investing in major programmes."
This is good news for SITA. Chances are, if you've used an airport or airline's mobile app, you've used a service enabled by SITA, which boasts clients in over 190 countries worldwide.
"Mobile devices promise to be the single greatest influence impacting the travel experience in the future. Today, 70% of passengers carry a mobile phone when they travel and this phone is increasingly loaded with travel apps designed for mobile ticketing, check-in and boarding," says Gutlin.
Mobile technology is not just a commodity for travellers though – it is rapidly being adopted by the in-flight crewmembers, too: "Cabin crews are increasingly being equipped with tablets to quickly and easily access passengers and operational data. By using digital passenger lists, airlines are getting critical information into the hands of the crew who need it in order to meet their passengers' needs. The crew tablet is more efficient than traditional paper-based processes, enabling a superior passenger experience on board."
If it seems like these mobile developments have come almost out of nowhere, it is because the industry has evolved at a remarkable rate – and it shows no signs of slowing down just yet. Based on SITA's most recent surveys of passengers, airlines and airports, it has predicted four major trends to take hold of the travel experience by 2015:
The way passengers buy travel will change. By 2015, both airlines and airports expect the web and the mobile phone to be the top two sales channels. Passengers are asking for a more personalised buying experience and the industry is responding to it.
Passengers will take more control. By 2015, 90% of airlines will offer mobile check-in – up from 50% today. Passengers will use 2D boarding pass or contactless technology such as Near Field Communications (NFC) on their phones, at different stages of their journey, such as at boarding gates, fast-track security zones and to access premium passenger lounges.
Customer services will be mobile and social. By 2015, nine out of ten airlines and airports will provide flight updates using smartphone apps. The industry is also exploring apps to improve the customer experience. Airlines and airports are looking hard at bringing the might of mobility and social media to new ways of providing services.
The passenger experience will improve thanks to better business intelligence. By 2015, more than 80% of airports and airlines will invest in business intelligence (BI) solutions. Most will focus on improving customer service and satisfaction, often through personalised services.
These predictions show a corporate acknowledgement not only of the importance of mobile communications to the traveller, but to the businesses themselves as well. For two years running, mobile services for passengers top the list of investment programmes, showing how airlines are committed to mobile across the whole business.
Mobile technologies will have an important part to play in Asia's continued rise, too. The IATA Airline Industry Forecast 2012-2016 predicts a growth of over 380 million passengers within the forecast period. "This will put a strain on managing capacity and Asian carriers and airports are turning to technology to process these passengers," says Gutlin.
As things stand, the Asian market is actually behind its Western counterparts with regard to mobile technological uptake – whilst the numbers are ever rising, the usage percentage of 53% is noticeably lower than the global average for passengers embracing mobile technology (68%).
Despite the low figures, Gutlin believes that Asia is still a world leader in embracing new technologies: "Malaysia Airlines is offering check-in on Facebook, which allows interaction among friends. In Japan, the use of Near Field Communications (NFC) is ahead of most Western airlines – for example, Japan Airline's Touch & Go Android is an app which will allow passengers to pass through boarding gates using their NFC-enabled phones."
Echoing sentiments made clear by Exicon Founder Cat Purvis in the first part of FTE's examination of mobile advancements last week, SITA believe the ultimate future of the flight experience is total synchronicity between passenger and airline/airport. "At SITA, we see the future of the journey as being connected – passengers connected using in-flight connectivity, but also all the crew connected and able to serve passengers throughout the flight, both in the cabin and the cockpit. The availability of sophisticated mobile devices combined with the sophisticated apps connected to the airline's systems will deliver personalised service not just on the ground, but in the air."