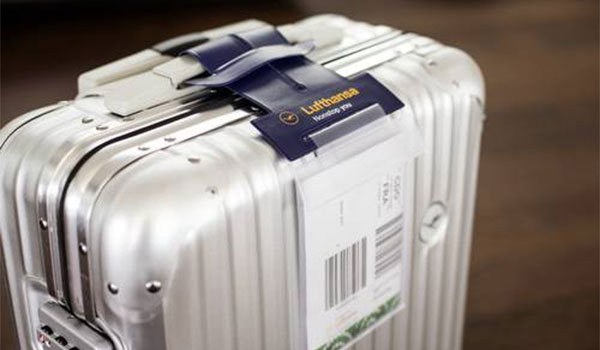 Lufthansa has developed a new home-printed bag tag, along with a Radio Frequency Identification (RFID)-enabled holder, which can initially be used on the Frankfurt-Tokyo Narita route.
Passengers can print their bag tag – known as HomeTag ­– along with their boarding pass at home or in the office, place it in a plastic holder and attach it to their bag, and then drop their bag at a dedicated counter or self-service bag drop machine upon arrival at the airport.
The HomeTag holder includes an RFID chip that enables passengers to drop their bags at a self-service machine without assistance, while it also contains an extra copy of all the baggage details. The tag also includes an additional QR code, which means travel details can be reconstructed even if the tag has been damaged.
While passengers can currently use the HomeTag on only the Frankfurt-Tokyo Narita route, Lufthansa has confirmed that it is planning to make the technology available on a number of other long-haul services from Frankfurt and Munich airports to destinations in Asia and the United States.
The launch of HomeTag is the latest indication that the industry is ready to embrace home-printed bag tags en-masse, following similar launches by the likes of Alaska Airlines, Air France and Iberia in recent months.
At FTE Global 2014, which will take place in Las Vegas from 24-26 September, Manuel van Lijf, Manager Product Innovation, Air France-KLM will deliver a presentation entitled: 'Experiences and lessons learned from launching home-printed and permanent bag tags' as part of the Baggage Advancements Workshop.
» More information on FTE Global 2014