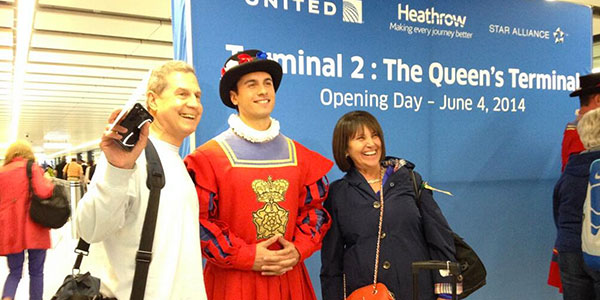 Heathrow Airport's new Terminal 2 – the new London home of 23 Star Alliance carriers – opened its doors to passengers on 4 June, with United Airlines operating a total of 34 arriving and departing flights.
The new terminal, which is officially called Terminal 2: The Queen's Terminal, includes 66 common use self-service kiosks with self-tagging capabilities, self-service bag drops, automated boarding pass scanners at pre-security, self-boarding gates and immigration e-gates. Star Alliance carriers – as well as Aer Lingus, germanwings and Virgin Atlantic's Little Red – will transfer their operations across in stages in order to ensure the opening goes as smoothly as possible.
As John Holland-Kaye, Heathrow Development Director and CEO designate, and Justin Erbacci, Star Alliance's Vice President Customer Experience and Technology explained to FTE in recent interviews, the terminal has been designed to meet the needs of all passenger groups, while the widespread use of common use equipment will help to ensure the journey through the airport is as simple and seamless as possible.
Having said "opening a new terminal is one of the most complex challenges that any airport can undertake" and that "there will inevitably be things we can improve" on the opening morning, towards the end of Terminal 2's first day in operation, Holland-Kaye stated that "performance has exceeded our expectations".
You can expect to hear more about how Terminal 2 is helping to improve the passenger experience at FTE Europe 2015, which Heathrow Airport is an official partner of.