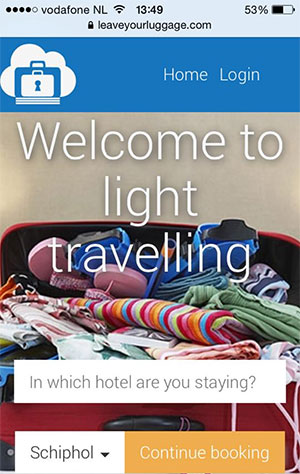 Travellers flying from Amsterdam Airport Schiphol will soon be able to use a new luggage delivery service, which will allow them to make the most of their last day in Amsterdam without having to worry about carrying their bags around with them.
LeaveYourLuggage, which will launch on 1 December, provides a luggage pick-up from hotels in the city and delivers the bags to the airport. The luggage can then be collected by the traveller later in the day when they arrive at their departure terminal.
In the company's own words: "What will you do with your suitcases once you've checked out of your hotel, but your flight doesn't leave for hours? You've got more important things to worry about during a vacation or business trip. You want to enjoy the city, spend time with your family and friends, or sit in that important meeting without worrying about your trip home. Avoid carrying around your bags or the frustration of dropping by the hotel again to pick up your luggage. Go to Schiphol Airport, while LeaveYourLuggage worries about your bags."
Travellers will, of course, have to pay for the service, with the pick-up and delivery of the first suitcase being charged at €17.50 and additional suitcases charged at €7.50 each.
LeaveYourLuggage will be the second luggage delivery service to be launched in Europe, following the introduction of the Airportr baggage delivery service at London City Airport in May 2014.