It is now clearer than ever before that bag tags are set for a revolution, and the launch this week of a new permanent electronic bag tag by DS TAGS further highlights the fact that this revolution is not months or years away, but is happening now. Competition in this space is starting to get fierce. Since we reported last year that Air France-KLM had partnered with FastTrack Company to develop a permanent bag tag, which will soon be introduced to support the recently launched Eviate baggage tracking device, we have seen a lot of movement in this space.
Of course, Qantas was a first-mover and has offered the Q Tag since 2011, British Airways has trialled its own electronic bag tag, and the likes of Vanguard ID Systems are also active in this area, having launched a Radio Frequency Identification (RFID)-enabled permanent bag tag, known as ViewTag.
The latest solution comes from DS TAGS and is know as the DS BAGTAG, and according to the Amsterdam-based company, it is at an "advanced stage with several top-tier airlines for the delivery of the DS BAGTAG in 2015".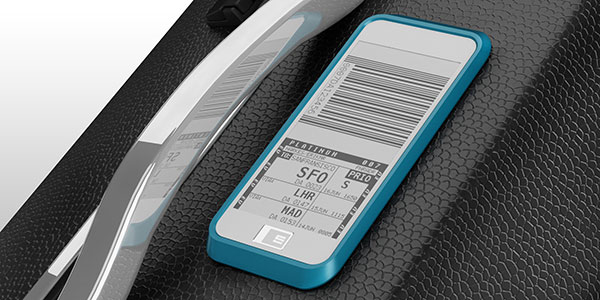 The DS BAGTAG has been designed as an airline independent solution, which, in theory, means it can be used by any passenger regardless of which carrier they are flying with, and fully supports interlining. As well as the electronic bag tag itself, the solution includes a secure cloud-based travel document delivery services platform and a dedicated smartphone app, DS FLIGHTBOOK, for storing travel documents and transferring bag tag data to the DS BAGTAG device. The company says the tag's ultra low power design ensures the built-in power supply will last at least five years with frequent use, and the e-paper display on the tag can be updated using a Near Field Communication (NFC) or Bluetooth-enabled smartphone.
Erik Harkes, CEO and Founder DS TAGS, explained: "The DS BAGTAG is the result of many years of research and development and perseverance," and added: "Travellers will appreciate the simplified and much faster airport baggage drop-off process. It saves time and frustration for travellers, whereas airlines will have a simplified and more efficient baggage handling process. It truly changes the way we travel with checked baggage."
There is little doubt that the emergence of permanent electronic bag tags, and even smart luggage with embedded bag tags, such as the BAG2GO solution which will launch this summer, really will change the way we travel, which is why the next generation of baggage will be among the key topics on the agenda in the 'On the Ground' conference at Future Travel Experience Global 2015, which will take place in Las Vegas from 9th-11th September 2015.