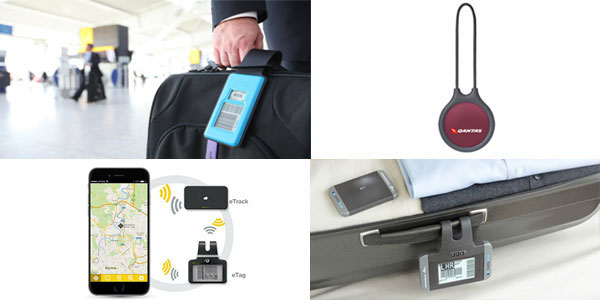 There can be no doubting the fact that the baggage sector is undergoing a transformation, with permanent electronic bag tags and GPS-based tracking devices continuing to gain traction. The likes of Air France-KLM and British Airways have trialled e-tags, and others such as Brussels Airlines have stated an intention to develop their own solutions, while a variety of industry vendors are also coming to market with their own products. Exactly when passengers will be able to make use of these new devices en masse is slightly less clear, however.
This week FTE spoke to an airline industry expert who has decades of experience in this sector, and who has first-hand experience in the permanent electronic bag tag space. They told us, with some conviction, "I'm sure they (e-tags) will fly in the next year".
Pointing to Qantas' use of permanent Q Tags, which were launched back in 2011 for domestic services, our source explained that domestic implementations are likely to lead the way. "The way I see it is, yes they will fly and they will probably fly on different continents, but mostly domestically", while airlines seek the necessary approvals to extend e-tags to international services.
Rollout within the European Union is proving to be tricky. All bags originating inside the EU must include a clearly visible green stripe on the bag tag to make them easily distinguishable from those originating outside of the 28 member countries. This issue has already delayed the rollout of home-printed bag tags, and now poses a headache to those wishing to use permanent e-tags.
"I understand the EU did not agree to the solution that was put forward to replace the green stripe on the e-tags," our source revealed. "It had been proposed that the green stripe was replaced with a black stripe with the letters "EU" typed on it, but it seems the EU did not accept that – they want to see green. So now it depends on which of the providers can actually provide a product that ensures the stripe is actually green."
Outside of the EU, this is not a problem, though, which means passengers on other continents are likely to be able to make use of e-tags before their European counterparts – good news for carriers operating outside of the EU, especially those keen to utilise the new technology on domestic flights.
Baggage tracking devices
As the general public is now "spoilt by companies like FedEx and UPS that allow them to track their parcels as soon as they leave the warehouse", passengers are now also demanding real-time baggage tracking, our source said.
Given the fact that not all airports have a baggage reconciliation system, baggage tracking devices have emerged as the "next best solution". "I'm quite sure that passengers are interested to know, especially at a transfer point, if their bag is still travelling with them. I'm sure if airlines will not start offering these products they will come to market anyway," they said.
Digital passenger smartcards could be next
Our source also revealed that they think the technology used in e-tags could soon be applied to smartcards, which could change the game even further. "A lot will happen with smartphones over the next few years of course, but at the same time people still carry credit cards and people still carry frequent flyer cards. A frequent flyer card at this moment is a very dumb card, but if you want to make a next step there you either make them digital by putting everything on smartphones or make the card itself digital."
When pushed further on this idea of a digital card, they explained that by applying the technology used in the e-tags' digital displays and adding small antennas to the smartcards, they could do most things that the smartphone can do today. Importantly, the passenger wouldn't have to worry about their smartphone's battery running out, as is often a concern today.
"The smartcard could be your boarding pass, it could be a device on which you can look at frequent flyer points and update your frequent flyer account, it could also be a device that helps you find your way at the airport, and it can be used to update your electronic bag tag."
The smartcard would not be a replacement for the smartphone in the travel process, but the two devices could have "crossover" benefits, they said. "That's why I use that word 'crossover' – there are lots of things you can do on your smartphone, but do you really need to do everything with the smartphone or can we make the plastic that we have in our wallets smarter as well?"
Learn all about the next generation of baggage advancements at Future Travel Experience Global 2015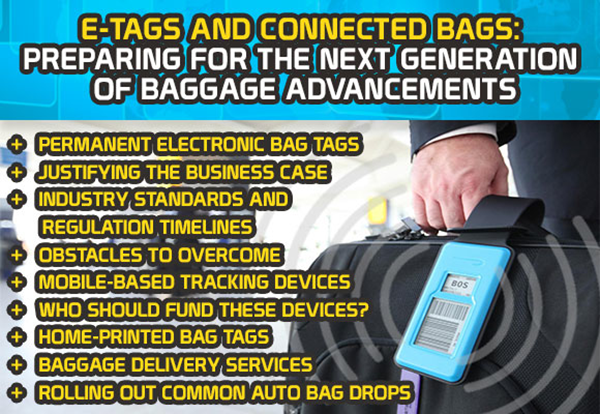 The 'On the Ground' conference at FTE Global 2015 (9th-11th September, Las Vegas) will include a session entitled "E-tags and connected bags: Preparing for the next generation of baggage advancements" in which airline and airport experts will discuss how permanent electronic bag tags, baggage tracking devices and other new technologies are transforming the baggage process.
Confirmed speakers in this session include, Dr. Björn Becker, Director Product Management Airport & Passenger Services, Lufthansa Airlines; Pedro Casimiro, Manager Ground Product, Brussels Airlines; and David Bourgon, Manager, Airport IT Services, McCarran International Airport. The session will be chaired by Stephanie Taylor, Manager, Passenger Services, Airlines for America.
» View the full 'On the Ground' conference agenda
» Register to attend FTE Global 2015