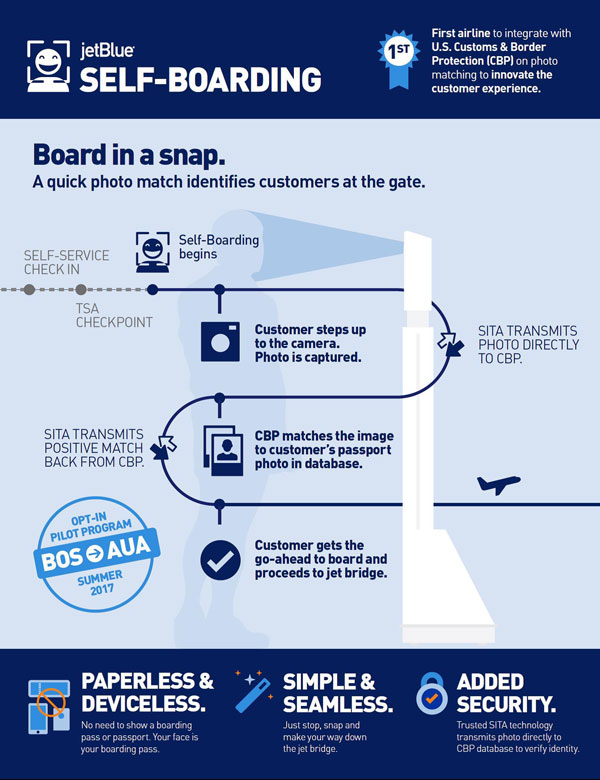 JetBlue is collaborating with U.S. Customs and Border Protection (CBP) and SITA to test a biometric-enabled self-boarding process. The paper-less and device-less boarding process will be trialled on flights between Boston's Logan International Airport and Aruba's Queen Beatrix International Airport.
Passengers who opt in during the boarding process simply have to step up to a camera for a quick photo. The custom-designed camera station then connects to CBP to instantly match the image to passport, visa or immigration photos in the CBP database and verify flight details.
Following this process, the passenger is notified on an integrated screen above the camera when they are cleared to proceed to the jet bridge. JetBlue says the system will empower its agents to move from behind the counter and roam more freely to interact with passengers during the boarding process. Agents will also be issued with iPad minis to help them monitor and manage the process.
"We hope to learn how we can further reduce friction points in the airport experience, with the boarding process being one of the hardest to solve," said Joanna Geraghty, Executive Vice President Customer Experience, JetBlue. "Self-boarding eliminates boarding pass scanning and manual passport checks. Just look into the camera and you're on your way."
SITA is providing the technology and connectivity to perform facial capture and integration with the CBP database, as well as integration with JetBlue's departure control system.
Jim Peters, Chief Technology Officer, SITA, said: "This biometric self-boarding programme for JetBlue and the CBP is designed to be easy to use. What we want to deliver is a secure and seamless passenger experience. We use sophisticated technologies to enable biometric checks and for CBP authorisation to be sent quickly to the airline's systems. This is the first integration of biometric authorisation by the CBP with an airline and may prove to be a solution that will be quick and easy to roll out across US airports."
CBP's Office of Field Operations, Deputy Executive Assistant Commissioner, John Wagner, added: "CBP looks forward to engaging closely with air travel partners, like JetBlue, to better understand how CBP's biometric exit programme will support their efforts to streamline the travel process by using advanced biometric technology. By transforming current business operations, airlines and airports will have the opportunity to use verified biometrics to ensure a seamless and consistent process for travellers."
JetBlue's integration of biometric technology into the boarding process adds more weight to the theory that biometrics has a vital role to play in creating a more seamless and secure airport experience.
Aruba's Queen Beatrix International Airport set the trend back in 2015 with the launch of its "Happy Flow" initiative with Vision-Box. More recently, KLM announced that it is trialling "biometric boarding" at Amsterdam Airport Schiphol, Finnair and Finavia are exploring the potential of biometric processing at Helsinki Airport, and Brisbane Airport is hoping to develop a biometric-enabled walkthrough airport experience.
Meanwhile, Delta Air Lines is also trialling biometric bag drop at Minneapolis-St. Paul International Airport and fingerprint recognition technology at Ronald Reagan Washington National Airport.