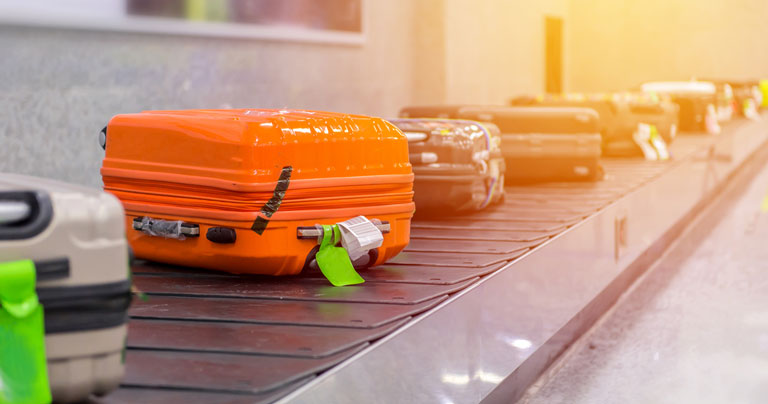 During the International Air Transport Association (IATA) 75th Annual General Meeting (AGM), which took place in Seoul, members of IATA resolved to support the global deployment of Radio Frequency Identification (RFID) technology for baggage tracking. The AGM also called for the implementation of modern baggage messaging standards to more accurately track passengers' baggage in real-time across key points in the journey.
RFID uses radio-frequency electromagnetic fields to transfer data and automatically identify and track baggage tags. The technology enables bags to be identified and tracked without the need for human intervention, making it easier to comply with IATA's Resolution 753.
IATA and SITA have previously published reports on the benefits of the technology, estimating that RFID could reduce the number of mishandled bags by an extra 25% by 2020. What's more, research from 2017 showed that the use of RFID technology could save the air transport industry $3 billion in baggage mishandling costs.
Nick Careen, SVP Airports, Passenger, Cargo & Security, IATA, explains: "RFID is radio frequency technology that is embedded into the baggage tag that helps track our bags in the future. It is necessary because we have been able to improve the processes of baggage to a certain point. In order to get it to a next level, we need to track them 100% of the time. And it is also important because customers want us to do this. In our global passenger surveys, the statistics are compelling. Around 80% of customers say they want us to track their bags, and even further to that, there are certain efficiencies to be gained by being able to utilise the data that we would gather from this to be able to improve the processes even further when it comes to handling baggage."
According to IATA, RFID rates are 99.98% accurate, which is significantly better than that of barcodes alone. On the other hand, modern messaging standards will enable airlines to proactively take action when there is potential for mishandling. So, combining RFID and modern messaging standards will potentially reduce the mishandling rate by 25%.
Alexandre de Juniac, IATA's Director General and CEO, said: "Passengers want to arrive with their bags. And on the rare occasion when that does not happen, they want to know exactly where their bag is. Deploying RFID and adopting modern baggage messaging standards will help us to cut mishandlings by a quarter and recover bags that are mishandled more quickly."
Some of the benefits of the technology include improved end-to-end bag tracking; higher automation leading to improved aircraft loading and off-loading and reduction of manual operations; as well as improved data consistency resulting in read rates of over 99% without human intervention.
Partnerships are crucial
IATA has recognised that partnerships are crucial to the success in driving this transformation. Careen explains: "It doesn't necessarily have to be RFID, it can be other pieces of technology to track the bag – beacons, optical, you name it – however we can do that investment, but we need the airports to invest in infrastructure as well, and we need ultimately potential government regulations to change in the future, and we also need manufacturers to be prepared to be able to supply us with what we need to be able to deliver on our promise. So, in order to do that, yes there needs to be a lot of collaboration and cooperation as we move forward."
While the resolution does not specify timelines, it is anticipated that global adoption of RFID could be achieved within four years.
In 2018, less than 0.06% of the estimated 4.3 billion bags carried by airlines were mishandled, according to the latest figures from SITA. Since 2007, baggage mishandling has fallen by 70% and today 99.9% of mishandled bags are reunited with their owners within two days. Indeed, the benefits of RFID have already been recognised by industry players. Delta Air Lines, for instance, invested $50 million to deploy RFID at 344 stations in 2016.
How can the industry overcome baggage headaches?
RFID and other baggage solutions will be on the agenda in the dedicated "Overcoming Baggage Headaches" Sprint Session at Future Travel Experience EMEA, which will take place in Istanbul, 19-20 June 2019.
The session will address the most important questions: Is RFID technology really the silver bullet? Should traditional baggage handling systems be replaced with more modern warehouse-style sortation systems? Does door-to-door baggage delivery hold the key to solving baggage-related headaches? What more needs to be done from a regulatory and standard-setting perspective?
Led by expert moderators from Viva Air Labs and Kempegowda International Airport Bengaluru, the session will also include panellists from the likes of Pegasus Airlines, BAGTAG and Avery Dennison.
View the full conference agenda here >>