While it may take the air transport industry several years to recover from the effects of the COVID-19 pandemic, the recent drop in passenger numbers has provided airlines and airports with an opportunity to re-imagine some elements of air travel and improve certain pain-points in the passenger experience. One of the areas that has recently received more attention is the boarding process.
From Gatwick Airport's bingo boarding to Delta Air Lines' virtual queueing, here we take a look at recent techniques that airlines and airports have implemented to streamline the boarding experience, while minimising queues and reducing passenger and staff interaction.
Back-to-front vs random boarding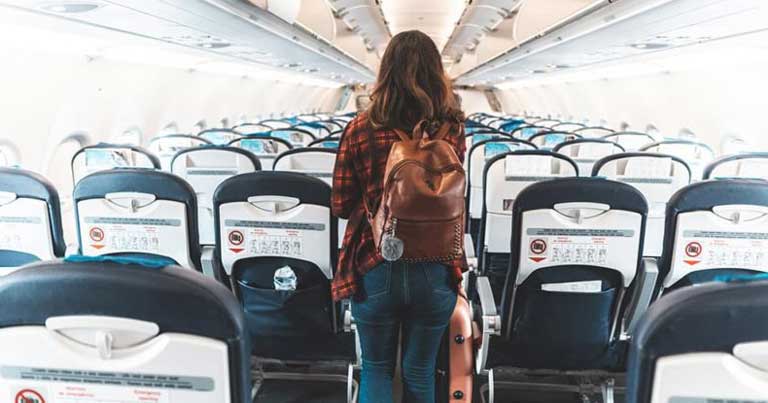 Although airlines and airports have taken a variety of steps to ensure that air travel remains as safe as possible in the age of COVID-19, the boarding process is seen as one of the riskier parts of travel when it comes to potential virus transmission. So, in their response to the ongoing pandemic many airlines have opted for a "back-to-front" boarding approach to support social distancing. For instance, among some of the carriers that have recently adopted this approach are Delta Air Lines, United and Korean Air, to name just a few. However, traditionally back-to-front boarding has been seen as one of the slowest boarding methods and with quick turnarounds between flights necessary, perhaps this isn't the most viable solution. Airlines now face a real challenge to ensure a maximum level of safety, while retaining a speedy turnaround and boarding process.
Recent research based on computer simulations suggests that random boarding of aircraft may have an even greater impact, reducing exposure rates by about 50%. An important aspect of this research is understanding how molecules travel, explained Sirish Namilae, Associate Professor of Aerospace Engineering at Embry-Riddle Aeronautical University (ERAU) and co-author of the study. "While back-to-front boarding has been instituted by some airlines to try and reduce contact between people, our simulations show that high-density clusters can form as people stow their luggage while other passengers are still pushing toward the back of the aircraft," Namilae said.
Using about 16,000 simulations, the study looked at "person-minute" measures of contact, or the number of minutes a person stands within six feet of someone during boarding. The simulations varied parameters such as walking speed, proximity and the number of people, and tested several boarding patterns, such as front-to-back, back-to-front, six boarding zones, and random boarding through one zone.
"It turns out, the one-zone, random boarding model eventually results in a lower number of contacts," Namilae said. "Other patterns tend to increase the time a passenger waits in close proximity to fellow travellers."
For instance, looking at an Airbus A320 at full capacity, the simulations recorded 43,000 person-minutes of contacts. This compares with 60,000 person-minutes for six-zone boarding, and 90,000 person-minutes for back-to-front boarding.
"Our analysis indicates that airlines that changed to a back-to-front boarding policy erred, exposing passengers to substantially higher infection risk than their original procedures," said Ashok Srinivasan of the University of West Florida, who co-authored the paper.
Gatwick Airport's bingo boarding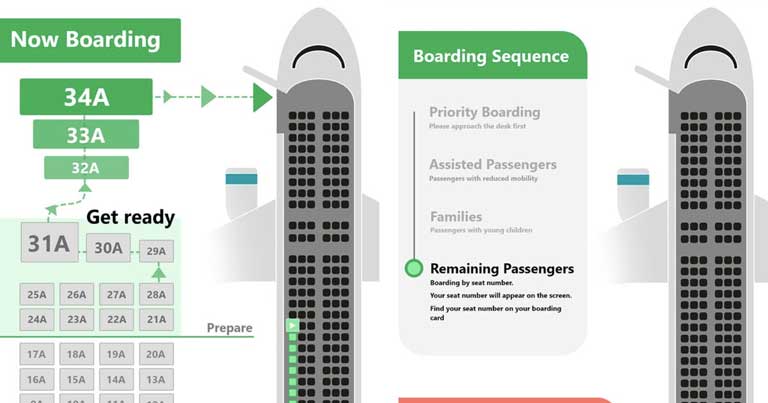 Among the most innovative boarding techniques we have seen recently is a trial by Gatwick Airport in partnership with easyJet, which took place in October 2019, pre-COVID-19. The method, later dubbed "bingo boarding", involved seating people from the back row to the front with window seats first, middle seats next, and aisle seats last.
The trial allowed staff to board 158 passengers in just 14 minutes, which is typically two to three minutes faster than the usual time. Gatwick has stated that boarding by seat number can essentially improve the boarding time by 10%. The airport, however, highlighted that this method would be useful for a flight with predominately business or individual passengers.
As part of the trial Gatwick and easyJet installed large digital screens, which made passengers aware when their seat number was being called.
Abhi Chacko, Head of Enabling Technologies & Digital Innovation at Gatwick Airport, told FTE that the airport is currently incorporating the bingo boarding functionality into its flight information display system (FIDS), called VisionAir. This feature will be offered for airlines to use, if their policy demands it.
In the case of COVID-19, bingo boarding is one of the ways that airlines can comply with the set of guidelines that EASA issued recently to ensure safe travel. The guidelines state that "where boarding is performed using a boarding bridge, boarding by rows starting with the furthest row from the aircraft doors used in the embarkation process or, alternatively, all window seats, then middle seats, followed by aisle seats should be considered."
Delta Air Lines' virtual queueing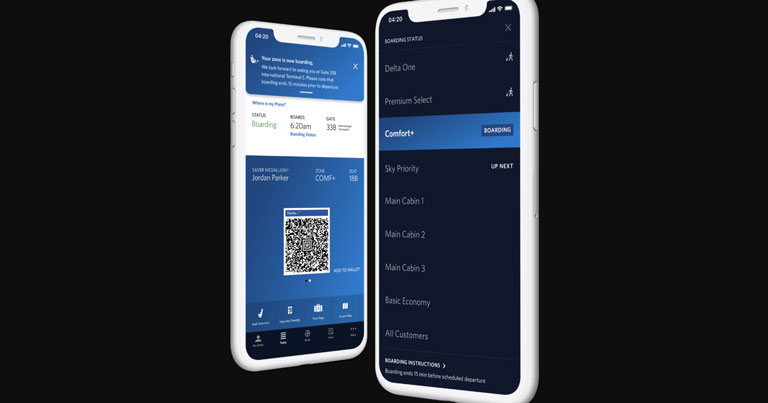 Not long before COVID-19, Delta Air Lines launched a new function on its Fly Delta app which notifies passengers when their seat is boarding. Called "virtual queueing", the initiative allows passengers to relax before their flight at nearby food & beverage outlets in the airport terminal. While the initiative was launched before the COVID-19 pandemic occurred, it was designed to alleviate some of the crowding at the gate that customers experience. Now with social distancing measures in place at airports, virtual queueing could also be a solution to minimise crowding.
Another way to notify passengers that their seat is boarding is by push notifications. Several airlines have already implemented this method, including American, Delta, United and Southwest. However, currently, this type of notification isn't personalised, so the risk of getting to the boarding gate and queuing with other passengers still stands. In the recently published FTE Post-COVID-19 Passenger Experience Think Tank, FTE encourages airlines and airports to explore the viability of providing live, personalised boarding information direct to passengers' mobile devices via app, SMS or email.
Touchless and biometric boarding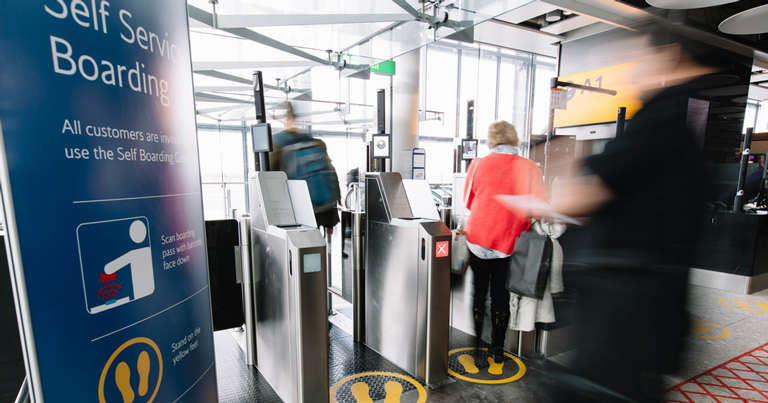 In recent years, biometric technology has become an increasingly common solution implemented at various airport touch-points. One area where the technology has been adopted widely is at the boarding gate. Biometric boarding uses facial recognition technology to scan the passenger's face to validate their identity. This allows for a touchless experience, as the passenger can pass through the boarding gate without needing to present their boarding pass or interact with ground staff. Among the airlines that have trialled this in the past include British Airways at Heathrow Airport; KLM at Schiphol Airport; easyJet at Gatwick Airport; and Lufthansa and Finnair at LAX, to name just a handful.
FTE Post-COVID-19 Passenger Experience Think Tank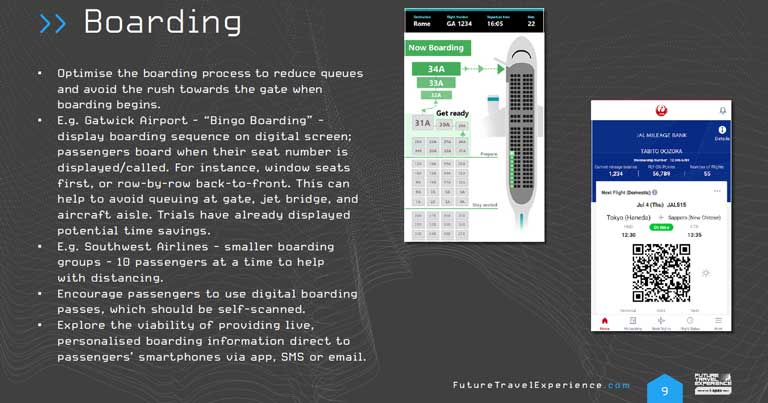 Enhancing the boarding process is one of many areas of focus in the recently-published FTE Post-COVID-19 Passenger Experience Think Tank. The Think Tank details a series of immediate and longer-term strategies, powered by technology and innovation, which provide a roadmap for airlines, airports and their partners to adapt to the new normal and thrive in the post-pandemic world. You can download the Think Tank for free for detailed guidance and best practice specifically tailored to each passenger touch-point – Pre-travel, Check-in Hall, Security, Departure Hall, Boarding, Onboard the Aircraft, and Arrivals & Immigration.
Download the Think Tank PDF for FREE >>