With travel restrictions and pre-departure testing requirements constantly changing, passengers are presented with more travel information than ever before. Here, we take a look at how air transport stakeholders from the likes of United Airlines, Delta, Changi Airport Group, Airbus, Singapore Airlines, Airports Council International (ACI) World and Apple Maps are turning to digital means to streamline the booking process, keep passengers informed and inspire confidence in travel.
One-stop online platforms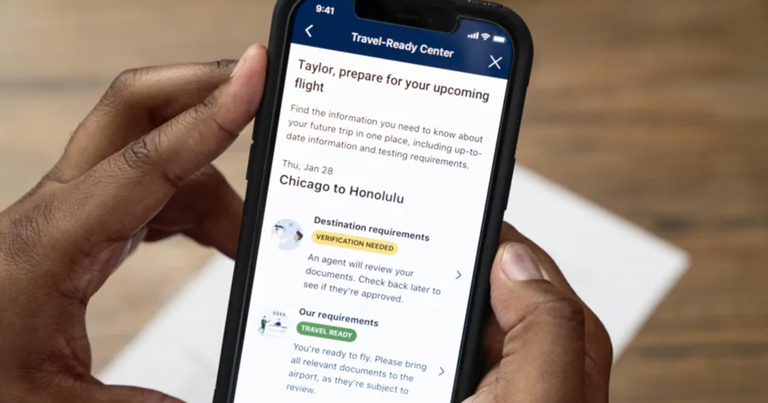 A number of airlines recently launched their own digital platforms that contain all necessary information pre-travel. United Airlines, for instance, unveiled its Travel-Ready Center where customers can review COVID-19 entry requirements, find local testing options and upload any required testing and vaccination records for domestic and international travel. The digital platform is accessible both on the United app and website, and provides customers with a personalised, step-by-step guide of what is needed for their trip.
Similarly, Singapore Airlines introduced a one-stop-shop online portal, as part of a new pilot service launched in partnership with Collinson. Using the online portal, passengers are able to book a pre-departure COVID-19 polymerase chain reaction (PCR) and serology tests, and receive their results directly on the platform. Customers can make an appointment for a pre-departure test with their preferred clinic from the list of recognised testing facilities available on the online portal, as well as receive their test results directly on the platform, which they can then present upon check-in at the airport. The portal is also able to house digital health passes documenting passengers' COVID-19 status, such as the IATA Travel Pass.
Following the trials with SIA, low-cost carrier Scoot also launched a partnership with Collinson to introduce the digital platform.
Digital travel concierge
It's not just airlines that are introducing new digital means to keep passengers informed. Changi Airport Group this week unveiled a new Safe Travel Concierge (STC) for passengers flying into Singapore, offering personalised pre-travel guidance and COVID-19 test booking.
After registering for an STC account, passengers then need to add their upcoming trips. Depending on their profile and trip details, they will be shown a customised list of pre-travel requirements to complete before flying to Singapore. In addition to booking their on-arrival PCR test, passengers can also access services such as the Immigration and Checkpoints Authority's electronic Arrival Card and Health Declaration form through STC. Passengers can also stay updated with the latest COVID-19 news on the portal.
CAG's Managing Director for Airport Operations Management Jayson Goh explained that Changi Airport Group initially trialled the STC prototype at TravelRevive, the first hybrid tradeshow in Singapore, in cooperation with the Singapore Tourism Board.
He explained that the online concierge service can ease the anxiety of air travel by helping passengers navigate their pre-travel requirements.
In a more unusual move, Airbus became the first aircraft manufacturer to launch a new travel companion app, called Tripset. The app aims to provide real-time flight and travel information to passengers. With two interfaces, the app enables passengers to know both currently available flights and the destinations to which they can fly. According to Airbus, Tripset is "airport-, aircraft- and airline-agnostic". Once a ticket has been purchased, the app also provides passengers with information on what to expect at their departure and arrival destinations.
This is one of the few times Airbus is targeting its offering directly to the consumer, and it would be interesting to see how the aircraft manufacturer is planning to stimulate demand among passengers to download the app, instead of interacting directly with their preferred airline.
Interactive travel maps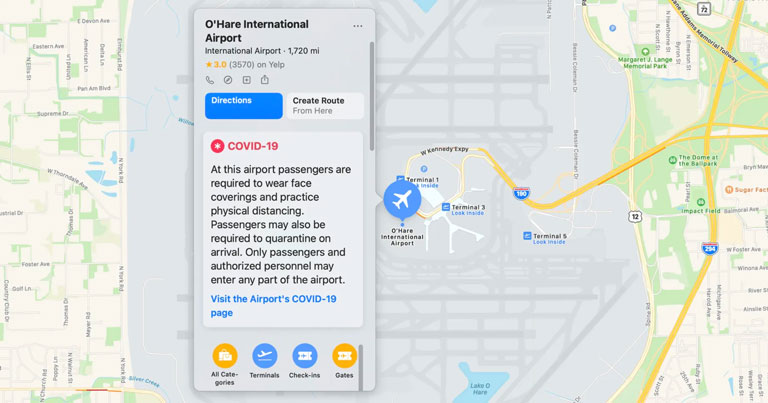 In partnership with the Airports Council International (ACI) World, Apple Maps has updated its native Maps app to feature COVID-19 information designed to assist passengers when travelling. Apple Maps on iPhone, iPad and Mac will now show COVID-19 health measure information for over 300 airports worldwide when searched via the app, either through a link to the airport's own COVID-19 advisory page, or directly on the in-app location card itself. Using information collected from airports through ACI's web-based Health Measures Portal, ACI data captures new health-related measures implemented at airports in response to COVID-19. More detailed information about the health measures in place at individual airports around the world is also available through ACI's Check & Fly mobile app and passenger portal. The Check & Fly app provides a way for airports to communicate to passengers directly about what to expect when they plan to travel, helping them to meet any requirements, and making their journeys smoother and more efficient.
"The recovery of air travel will rely on passenger confidence in the industry's focus on their health and welfare," said ACI World Director General Luis Felipe de Oliveira in a press release following the announcement. "Having this information displayed in Apple Maps will help to make this crucial data much more broadly accessible to passengers. This will help passengers to plan their journeys and be reassured that their health and safety remains a priority for the industry as we all work towards a sustained return to operations and global connectivity. Collaboration remains key to a globally coordinated recovery and we are grateful to our members for the partnership we have forged to deliver this important tool that will contribute to the rebuilding of passenger confidence in air travel."
Delta Air Lines also recently rolled out a new tool, called the Delta Discover Map, in partnership with FTE Startup Hub member xCheck. The digital map allows passengers to easily find the cheapest destinations to fly to, as well as any travel restrictions like quarantine or COVID-19 testing requirements at each destination.
While this influx of travel information mobile apps and digital platforms is certainly good news for passengers, it will be intriguing to observe how well these apps will perform in this rather overcrowded digital travel app space. During the upcoming FTE APEX Virtual Expo, attendees will have the opportunity to hear from a number of industry leaders on their strategies to support passengers in the post-COVID-19 world through digital innovation. Find out more here.