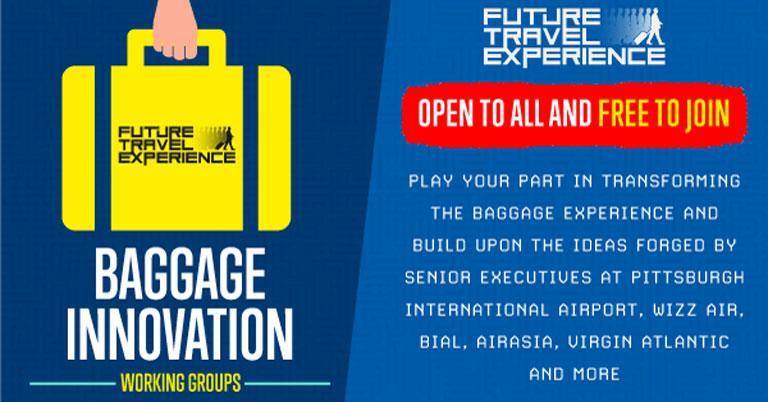 Future Travel Experience (FTE) is excited to introduce our new FTE Baggage Innovation Working Groups. We now invite you to play your part in transforming the baggage experience and helping to build upon ideas forged by senior executives at the likes of Pittsburgh International Airport, Wizz Air, Bangalore International Airport Limited, AirAsia and Virgin Atlantic.
Following the presentation of Phase 2 of the FTE Business Model Transformation Think Tank at FTE APEX Virtual Expo 2021, which included a big focus on Redefining the Baggage Experience, we have taken the decision to launch industry-wide Baggage Innovation Working Groups as part of our ongoing efforts to turn the pioneering ideas and visions into reality.
In keeping with the Think Tank's crowdsourcing efforts to date, we now invite the brightest minds in the baggage sector to participate in these Working Groups, which are free to attend for everyone. The Working Groups will focus heavily on the future of baggage and our aim is to identify and act upon the opportunities to deliver positive change in the years ahead. This effort will complement the work that is already being undertaken elsewhere in the industry, which often focuses on the here and now.
A total of four FTE Baggage Innovation Working Groups have been launched, focusing on the following topics:
Advancing off-airport baggage collection, check-in and delivery
Simplifying baggage infrastructure and processes at the airport
Unlocking opportunities presented by modern baggage messaging
Creating new commercial models for new baggage approaches
Learn more and register for the first Working Group calls >>
The journey so far
This effort to transform the baggage experience was introduced as part of FTE's Business Model Transformation Think Tank in December 2020 and it has gathered pace thanks to high-level support from across the industry.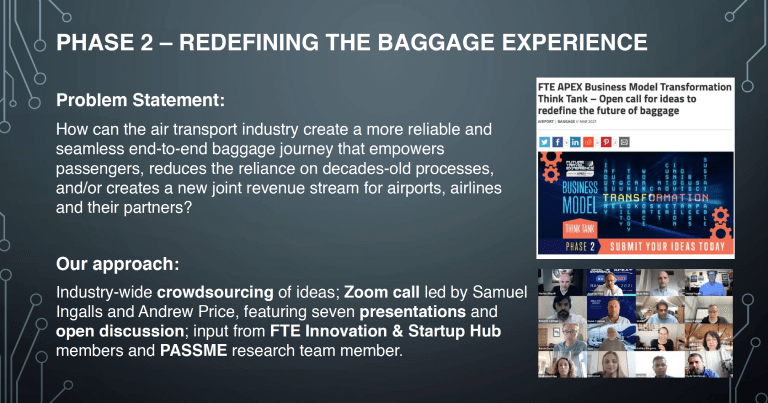 The Think Tank team was tasked with tackling the following problem statement: "How can the air transport industry create a more reliable and seamless end-to-end baggage journey that empowers passengers, reduces the reliance on decades-old processes, and/or creates a new joint revenue stream for airports, airlines and their partners?" Phase 1 was presented at the inaugural FTE APEX Virtual Expo and Phase 2 was presented at the second Virtual Expo in May 2021.
An impressive line-up of senior industry figures have already contributed to the Think Tank project, including Christina Cassotis, CEO, Pittsburgh International Airport; Robert Carey, President, Wizz Air; Satyaki Raghunath, Chief Strategy & Development Officer, Bangalore International Airport Limited (BIAL); Javed Malik, Group Chief Operations Officer, AirAsia; Juha Jarvinen, Chief Commercial Officer, Virgin Atlantic & President Emeritus, APEX; Samuel Ingalls, Principal, Barich, Inc.; and Andrew Price, Independent Consultant & Former Head of Global Baggage Operations, IATA. In addition, a recent crowdsourcing effort brought together innovators from across the industry, who shared their own ideas and visions to feed into the Think Tank project.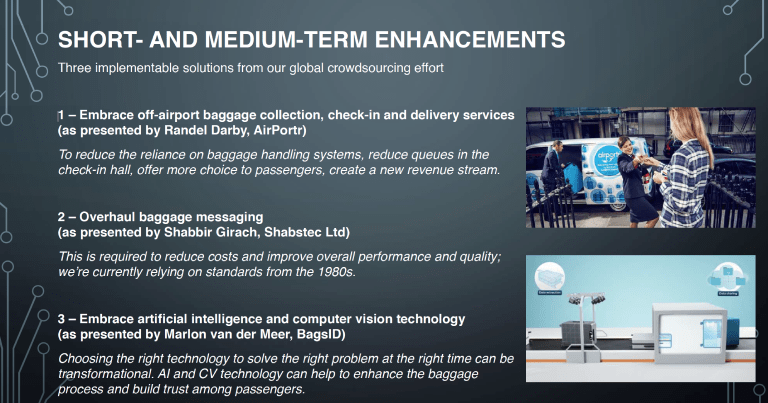 Among the short- and medium-term recommendations that were highlighted by the Think Tank team at Virtual Expo 2021 as having the potential to revolutionise baggage processing were embracing off-airport baggage collection, check-in and delivery services; overhauling baggage messaging; and embracing artificial intelligence and computer vision technology
Focusing on longer-term solutions, Ingalls and Price also highlighted a vision that includes embracing reusable and virtual bag tags, moving away from traditional baggage handling systems, and utilising automated guidance vehicles to enhance efficiency.
The launch of FTE's Baggage Innovation Working Groups is the latest step in these important efforts to enhance and modernise the end-to-end baggage experience for the benefit of all industry stakeholders and their customers. Register your interest today and play your part in this landmark industry project.
Learn more and register for the first Working Group calls >>