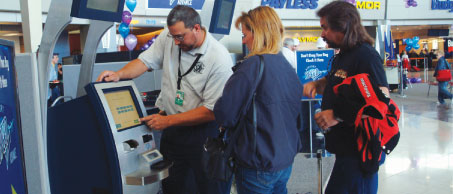 IATA's Paul Behan is the man behind the 'fast travel initiative' – a series of six projects designed to streamline the airport experience for passengers and pare back operational costs for carriers. This will be achieved through multi-functional common use self-service (CUSS) kiosks and the IATA 2D bar codes on mobile phones.
IATA has wide hopes for fast travel – aiming to conduct two pilots per project by the end of the year, across Europe, the US and Canada. 96 airports are currently operating CUSS and 105 airlines are developing the system. IATA's target is a further 130 airports by the end of this year. According to Behan, kiosks will play a far more important role as the first point of contact for passengers from their arrival at departures to their exit at arrivals. The fast travel programme has recognised the need to design the latest in kiosk technology, with projects focusing on self-tagging and depositing baggage, document scanning, flight-rebooking and bag recovery.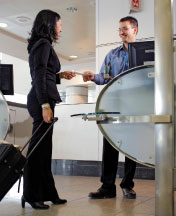 Checking-in through a handset
As Behan explained, the first project is expected to see mobile check-in play its biggest role. "Check-in will cover kiosk and web use, but the main focus will be on mobile technology because of its pervasive use worldwide – everyone is talking about it," he said.
While mobile check-in is starting new trends as the latest way to check-in, Behan is sceptical about whether it will become the exclusive check-in method of the future. "The programme is more about providing a level of choice for the passenger," he said.
As part of the check-in project, IATA is piloting the 2D bar code, where travellers can select their aircraft seat from the airline's website and download flight data through their 3G phone, which represents their boarding pass. The programme has been developed in response to increasing consumer demand for more convenience. "We think it will deliver a more personal service for the passenger – they will have more control over managing how they check-in. It also takes the stress out of having to rush to the airport and queue to get things done," said Behan.
More self-service options
It is anticipated that airlines will also continue benefiting from IATA's proposed self-service initiatives. "We know from the US market that a number of airlines are getting over ninety percent of passengers using some sort of self-service check-in and worldwide about forty to fifty percent," said Behan. "Airlines don't have to have the capability of providing a service that everyone has to go through, so it's an efficiency gain for them."
IATA has just over 2,000 common use kiosks for bag processing and 11,000 other kiosks are used by other airlines worldwide. As part of the fast travel programme, self-service bag processing kiosks will expand in future, said Behan.
IATA's second project – 'bags ready to go' – will trial a multi-functional common use kiosk, where passengers can print off their own tag and later deposit their bag with the carrier. "As well as developing standards for self-tagging baggage, the single drop off points will give airports more capacity to do other things like retail and put more passengers through," said Behan.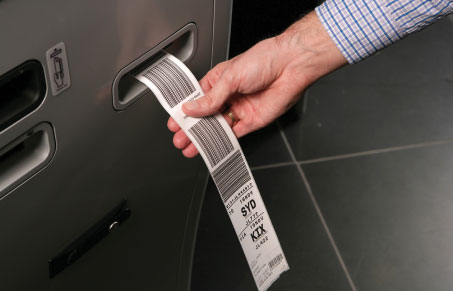 Automated boarding
The third project will allow passengers to scan a machine-readable visa and passport into a kiosk, which collects and stores the data. Following on from identification checks, a self-boarding kiosk will be trialled, where passengers can present their boarding pass at the gate with one scan of the machine. Flight re-booking is also being developed across the programme, which would enable passengers to choose their onward journey details through a self-service machine, avoiding the lengthy queues. "If you've checked in and there's a cancellation or delay, it's a stressful situation and we're looking at ways to automate these processing steps through a kiosk," said Behan.
Reclaiming baggage
Baggage recovery is the final of the six projects to be trialled, allowing passengers to scan their baggage receipt at a kiosk to check the status of their luggage. "We're working with airlines and airports to make sure it works for everyone in the right way and we expect widespread implementation next year," said Behan.
The Fast Travel pilot projects are due to be extended worldwide throughout 2009.