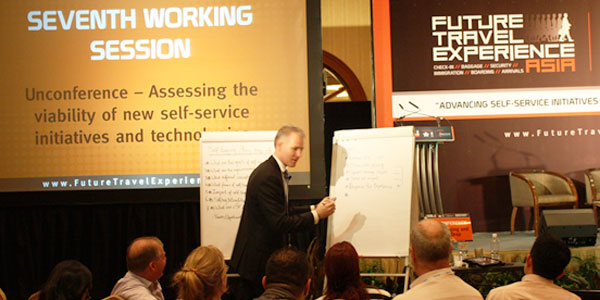 Airports and airlines are increasingly warming towards the idea of offering passengers the option of tagging their bags themselves and depositing them at a self-service baggage drop off point. Just last week, we reported on Bologna Airport's plans to introduce a common bag drop system, while we have recently reported on the bag drop implementation at Amsterdam Airport Schiphol, as well as Aéroports de Paris' trial of their automatic baggage drop off system.
At Future Travel Experience Asia, the 'Unconference' session on self-tagging and bag drop, facilitated by Edwin Sneekes, Director, BagDrop Systems, brought together airlines, airports and suppliers to explore the goals of self-service, the existing bag drop and self-tagging options, and the critical success factors for implementation.
Goals of self-service:
The first aim of the workshop was to establish what exactly the industry is aiming to achieve through self-service. Participants in the session agreed that there are four key goals that can be attained:
Reduction of operating cost: optimisation of staff utilisation and better utilisation of infrastructure;
Improvement to the passenger experience: reduce waiting times and eliminate queuing; fast processing; giving passenger control of the journey; and offering choice;
Maximising terminal throughput: utilisation of infrastructure, common-use and optimisation of staff; and elimination of passenger terminal dwell time;
Maximising passenger revenue: maximise passenger lounge and airside (retail) dwell time; collection of excess bag fees; and upgrading and upselling.
Requirements:
Check-in and drop off are part of the passenger-airport process chain and therefore need to be considered integral with other processes. They must be simple, intuitive and reliable, they must have a high success rate, and they must be safe and secure in terms of personal safety and national and international regulation. Offering common use among various airlines is also important, as is acceptance among passengers, while it must not risk causing any problems in the baggage handling system or elsewhere in the terminal.
Existing concepts: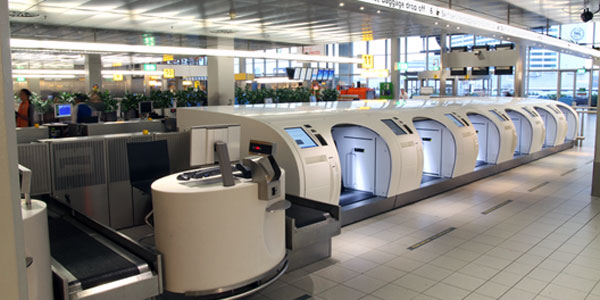 A vital question an airport must take into account when considering the implementation of a self-bag drop system is whether to opt for a one-step or two-step process, or even a hybrid solution that facilitates both.
The best concept depends on the local situation, including passenger and baggage profiles. Adding functionalities to a one-step process, such as payment, must have a positive effect on the passenger experience, flow and terminal throughput. A requirement for any solution is that it has to be flexible enough to accommodate different processes.
Self-tagging options:
When considering the implementation of self-tagging, the tag itself must be carefully considered. Conventional tags can be complex and not necessarily well suited for self-service. Home printed bag tags, RFID (Radio Frequency Identification) tags, and linerless (simplified) tags provide examples of existing alternatives.
Looking at the flow of the passenger, kiosk tagging has an influence on the passenger experience. Passengers who have checked-in online will still have to go to the kiosk at the airport. The most effective solution seems to be home printed bag tags and simplified tags designed for self-service.
Critical success factors for implementation:
Participants in the Unconference session concluded that there are four critical factors that make for a successful self-tagging and bag drop implementation:
Utilisation and success rate;
Acceptance by passengers;
Acceptance by staff;
Ensuring that the self-service service solution does not have a negative impact on the process quality.
Acceptance was highlighted as being particularly important. From a passenger perspective, if the experience is negative, they will hesitate to use the self-service option in the future, so staff must be on hand to deal with any exceptions. From a staff perspective, if they are involved in the process from the very beginning, trained correctly and made aware of their new role and responsibilities, this will help to ensure that the system runs smoothly.
If you missed the chance to take part in the Unconference session at FTE Asia, you can always share your views with the Future Travel Experience community by leaving a comment below, or by visiting our Linkedin page.