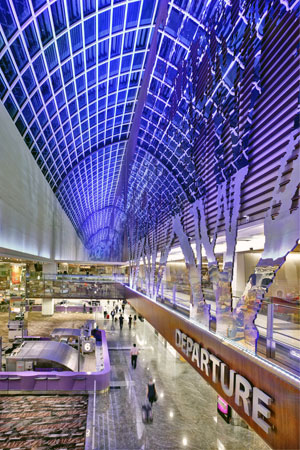 Global IT and communications provider SITA has developed a partnership for innovation with Changi Airport Group (CAG), which manages Singapore's Changi Airport. The project was implemented in a record five months, in which the organisations collaborated to introduce the latest in passenger processing and self-service technology to one of Asia's major airport hubs.
Speaking in an interview at FTE Asia 2013, Ilya Gutlin, SITA's President Asia Pacific, explained: "We've implemented a Common Use infrastructure across three terminals at Changi, and have also implemented a number of kiosks as well. With regards to kiosks, Changi is approaching self-service very seriously at present, and we have recently completed a consulting study for the airport, to explore potential future deployments, including where additional kiosks may go, how self-service bag drops be operating, and – something that may come in the future – the possibility of self boarding."
The partnership saw Changi Airport equip more than 450 of its check-in counters and 111 boarding gates with SITA's AirportConnect Open, the industry's leading Common Use operating system. Airlines across the three terminals have migrated to the new platform, which uniquely supports both agent-assisted and self-service passenger processing.
Gutlin said: "Information Technology actually represents around 4% of airport revenues – a fairly negligible amount – but its impact on the other 96% is strategic, because the effect of IT on air travel passengers, on their baggage, on operations overall is incredible. And as a passenger you can see the difference between airports that are IT savvy and those that aren't."
SITA has developed an 'Innovation Governance' with the airport, in which SITA Lab is working with Changi's Operations team to develop new concepts and test new technologies to improve customer service and develop Changi's already world-renowned passenger experience into something even more extraordinary.
"When you're working with an airport that has been named SkyTrax's 'World Best Airport 2013', amongst a number of accolades, your job is not to run the exisiting infrastructure, but instead to develop for the future, an to move both companies forward, using each other's strengths to develop new ideas. Changi is a company full of specialists, we are working with some real experts there in the field of passenger experience, so for us to have access to that knowledge is something that isn't easy to come by."
SITA is continuing its successful expansion in the Asia Pacific region. The IT specialist recently instigated a seven-airport implementation of Common Use technology for Japan Airlines, following a number of large wins is now operating Common Use systems across over 40 airports in India. "We looking forward to announcing a number of further developments in the region in coming months," Gutlin concluded.