FTE has been in Doha this week at ACI Airport Exchange, where as well as chairing a conference session exploring how airports can better meet passenger needs in the security process, we heard from dozens of airports and airlines on their plans to improve the passenger experience. Here, we round up some of the key points.
FTE calls on industry to embrace passenger-focused security process
FTE Editor Ryan Ghee chaired a session entitled 'How do we better meet passenger requirements and needs in the future airport security process?' in which he outlined the FTE Think Tank's security-related recommendations to the industry.
"When it comes to airport security there needs to be much more of a focus on the passenger," he told the event's Security Summit. "The industry needs to work on developing a model that is consistent and that helps to avoid confusion among passengers. At the moment, too many passengers don't know what is required of them at airport security – whether or not they have to remove their shoes and belt, or their laptop from its bag, for instance – and this has to change. We need to aim for a streamlined, walk-through process."
He did explain, however, that there are some positive signs within the industry, referencing IATA's Checkpoint of the Future and DFW Airport's ambient security zone as examples of good practice.
Schiphol unveils passenger-focused security solution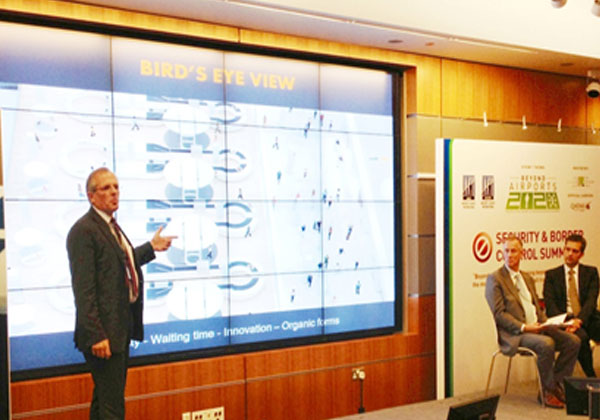 Having outlined the importance of improving the security process, FTE was delighted to hear of some forward-thinking innovations in this area. Ron Louwerse, Director Security, Safety and Environment at Schiphol Group, presented a new concept for airport security, which has been designed to provide the most satisfying security experience yet from the passenger perspective.
"We've created this new concept to move from a too stressful passenger experience to making security a service to and for our passengers," he said. The concept is more unique in the sense that it has been designed first and foremost from the consumer perspective. FTE will bring you more details on this innovative security project in the coming weeks.
Brussels Airport's new approach to cabin baggage screening
Wilfried Covent, Head of Security at Brussels Airport, also explained that a new approach to cabin baggage screening has been implemented in five lanes to expedite the process. Rather than having a security agent located next to a scanner reviewing the images on a screen, a new initiative has seen them moved to a remote location to undertake the screening, while the reject lane has been moved further away from passengers. According to Covent, this has contributed to throughput increasing by 18%. The initiative will be rolled out across all of Brussels Airport's security lanes in 2015.
IATA and ACI to develop Checkpoint of the Future standard
Meanwhile, in the Security Summit, ACI EUROPE's Head of Aviation Security, David Trembaczowski-Ryder, announced that ACI and IATA have agreed a Memorandum of Understanding to jointly develop a Checkpoint of the Future standard. FTE was particularly pleased to hear this, especially given the fact that at FTE Global 2013, the FTE Think Tank called for industry associations to work more closely together to develop standards that will benefit the passenger.
Qatar Airways: Providing a five-star end-to-end experience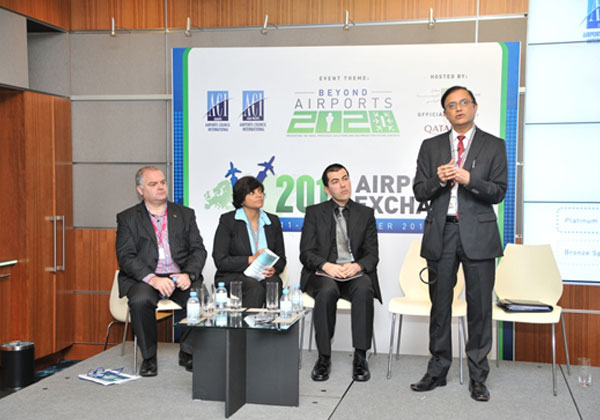 Rossen Dimitrov, VP Customer Experience at Qatar Airways, explained just how the airline sets about providing a five-star level of service to its customers.
He told delegates that cabin crew get eight weeks of training before they even get on a plane, but he wanted to make sure that standard of service is also achieved on the ground, so has made great efforts to achieve this to guarantee a consistent level of service throughout the end-to-end travel experience.
"To get a five-star experience, you need to be personable rather than have a one-size-fits-all approach," Dimitrov said. "All of the digital platforms have created a number of ways to get in touch with the passenger, but it is making airlines forget the basics, as there's nothing better than a personal touch. If there is a problem it's often best to pick up the phone"
He continued: "If you want to be a five-star airline, you need to create moments of magic. It's easy to do a lot of the time if the right processes and mindset are in place, but it's very hard to maintain that level of service. You have to have a consistent product throughout the journey, and we have some very exciting innovations that will be unveiled when Hamad International Airport (HIA) opens."
Rossen talked at length about how seriously Qatar Airways takes collecting customer feedback and how they often do it from source onboard by leveraging connectivity. This is passed back to head office where it is analysed and then rolled into their constantly evolving staff training programme. He said he often makes efforts to ask passengers himself at arrivals in Doha for feedback on their experience, and even asked in the conference for feedback from delegates on any dissatisfaction from those who journeyed to the event on his airline, which he graciously received and took away for consideration.
It was mentioned a few times by Rossen and also Patrick Muller, Executive Vice President at Doha International Airport, during his time on stage in the Keynote Arena that HIA is the first new airport designed by an airline and as a result we can expect something exceptional.
Sujata Suri, VP Strategy and Customer Experience at Doha International Airport, also participated in the event and explained that airports and airlines need to work closely together to provide a great experience and said that she sees airports as "service providers in the airline value chain". FTE would be interested to hear what other airports think of this viewpoint!
Doha's new Hamad International Airport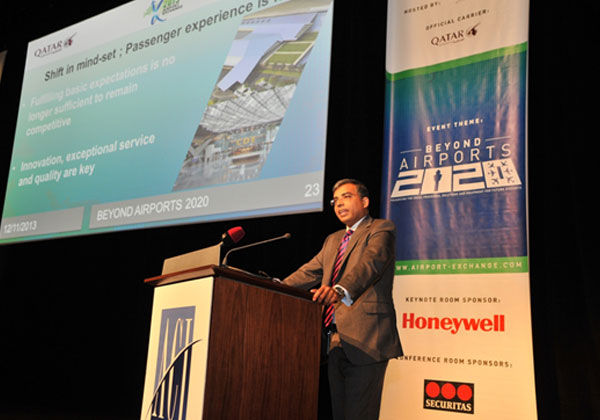 Ashish Jain, Senior Vice President for Group Safety and Security, Qatar Airways, delivered a keynote presentation in which he outlined how the passenger experience has been prioritised in the construction of Doha's new HIA.
"HIA represents an entirely new approach and understanding of what constitutes an airport of the future. From its design to operations, facilities and services, HIA will offer passengers a completely different experience from what they are accustomed to today." He added: "We want people to choose to travel through HIA as a destination experience."
Putting the passenger first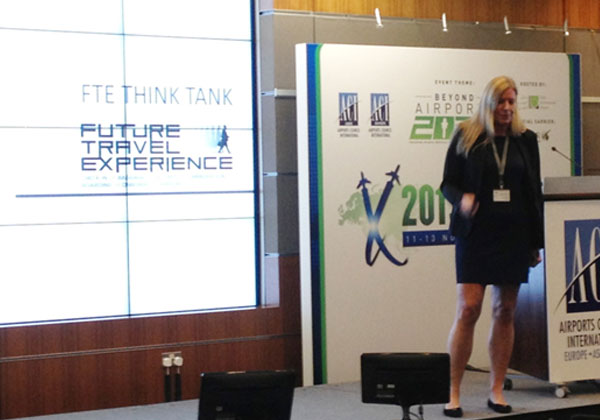 Lena Rökaas, Chief Operating Officer at Stockholm Arlanda Airport and a member of the FTE Think Tank, called on delegates to make more of an effort to put the passenger at the forefront of all of their future plans. She said: "We need to be more customer-centric and we need to go from a passenger mentality to a guest mentality. I keep hearing people say this is what they are doing, but why don't I see more evidence of it?" Rökaas also explained that airports and airlines must learn to collaborate more effectively, while new ways of financing product development must be explored to ensure that innovation continues. 
Avinor: Self-service and common systems
Flemming Holvold, Avinor's Portfolio Manager Airport Terminal Systems, delivered a presentation on Avinor's 'e-airport' concept, which entails applying the same technologies and systems across all 46 of its airports. The concept covers mobile solutions, quick tags, CUSS, CUTE/CUPPS, self-bag drop, document control and self-boarding gates. He explained that Avinor is exploring the benefits of these for each of its airports and if the same systems are installed across all sites, it will allow for common procurement for all airports, common equipment, common agreements and simplified administration. He also revealed that self-boarding gates are currently being trialled at Oslo Airport.
NFC, RFID and the passenger of the future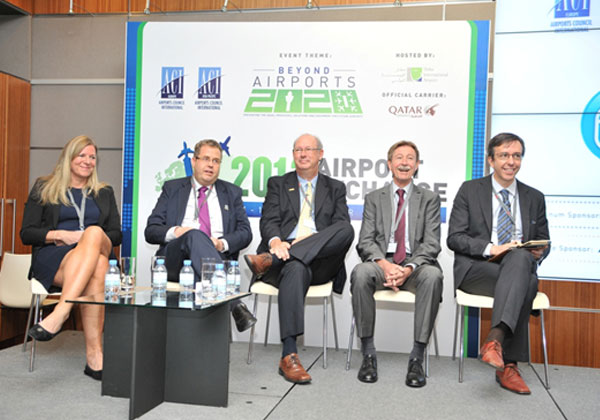 Giorgio Medici, Customer Care Manager, SEA Aeroporti di Milano and Chairman of the ACI EUROPE Facilitation and Customer Service Committee, explained that the passenger of the future can be defined by three criteria – the informed passenger, the 'me' passenger, and the empowered passenger – and that as they will be so comfortable using new technologies, airports must make preparations.
He said: "Home and mobile devices will become the preferred choice for managing trips. The future generation will grow up with NFC, RFID, QR codes and so on, so we have to plan for them now. These applications will be an integrated part of communications between the airports and the passengers."
Passenger experience innovations on display in the exhibition
An impressive exhibition with over 50 leading providers included some interesting passenger experience focused displays. Among them were Amor's Chroma Airport Suite of solutions, which is helping Dubai Airports run the world's largest airport service delivery measurement programme, and the Hamad International Airport/Qatar Airways two-storey stand, which showcased the brand new Qatar Airways Business Class seat.
The FTE view
It may have been apparent from many of the debates at ACI Airport Exchange that there is still a long way to go to get to a point where the industry as a whole can be satisfied with the level of service offered to its customers, but we were delighted to hear so many airline and airport executives say that passenger experience is at the top of their agendas.
Airport security is the biggest pain-point for today's flyer, so the unveiling of a new product that is very much based on improving the experience from the passenger perspective, coupled with the announcement that ACI and IATA are working together to create a standard for the Checkpoint of the Future, is very welcome news, and evidence that the industry is addressing the issue that causes the most frustration for passengers.
We were also very impressed with Qatar Airways' vision of how a top-level passenger experience should be created and delivered. The assertion that a five-star service should be prevalent throughout the end-to-end journey is certainly an approach that FTE advocates, as is highlighted by the fact that the theme of FTE Global 2014 is 'Redefining the end-to-end passenger experience'.
Technology, personalisation and collaboration
There is, however, much work still to do. On our journey back from Doha to London, the fact that the bag drop queue took twice as long as the airport check-in queue, and the manual passport control was far quicker than the e-gates, were small reminders that technology alone cannot solve all passenger frustrations.
Of course, technology has a major role to play, but a one-size-fits-all approach is not a viable option and it is the responsibility of every airline and airport to ensure that their systems and strategies meet the needs of the very passengers they serve.
Next year's ACI Airport Exchange will be hosted by Aéroports de Paris at NCIT in Paris from 3-5 November and promises to be one of 2014's must-attend events.