There can be no arguing against the fact that mobile technology is going to continue to play a vitally important role in defining the future airport experience for passengers. Whether it's smartphones, tablets or beacons, mobile technology has already had a significant impact on passenger expectations and experiences, and will continue to do so in the coming years. The key question for airlines and airports is: 'How do we make best use of these new technologies to satisfy the passenger?'
Andy Guile, Samsung European Enterprise Business Team's Chief Technology Officer, explained to FTE that growing expectations in the consumer world are impacting what people expect from their travel experience, and this is a fact the industry cannot afford to ignore.
Referring to the role of mobile technology in the travel process, he explained: "Rather than it being any one device such as a smartphone, it's about the user having the choice of devices that are right for their experience. The expectation today moves beyond the smartphone into the tablet devices, or even to large screens inside the airport. So, when Samsung thinks about the world of mobility, what we're actually thinking about is the individual being mobile, not tied to any one device." In essence, it is all about giving passengers choice of which devices they want to use during their travel experience and how they want to use them is key.
Travellers using smartphones, tablets and digital airport screens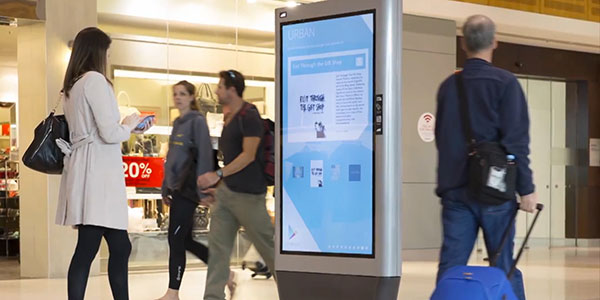 This varied use of mobile technology is already evident within the industry. For example, Air France-KLM recently equipped its front-line staff with iPads, SEA Aeroporti di Milano's smartphone app is very much focused on door-to-door travel management, and travellers flying from Sydney, Melbourne and Brisbane airports can use their Android devices to interact with digital screens and download content while they wait for their flight.
While such examples can be effective in their own right – and these are areas that Samsung itself is active in as well – Guile says making use of a variety of solutions concurrently is what will make a real difference and help to satisfy increasing passenger demands.
"When you start thinking in those words of 'experience', you need to start to think about the real things that create the experience," he said. "In the consumer world we rely very much on cloud technologies, analytics technologies, mobile technologies and even social networking technologies. And it's these things coming together that converge and enable the experience to happen. The experience has got to be personal to you – we call it 'human-to-human interaction' – and it's got to be right for you as an individual to have that experience."
He continued: "So, you (the passenger) should have the choice. You should be able to configure your device to pull the information or the functionality that's right for you." Enabling this, he suggested, is the responsibility of the airlines and airports, as well as the technology developers such as Samsung.
NFC technology and smartwatch boarding passes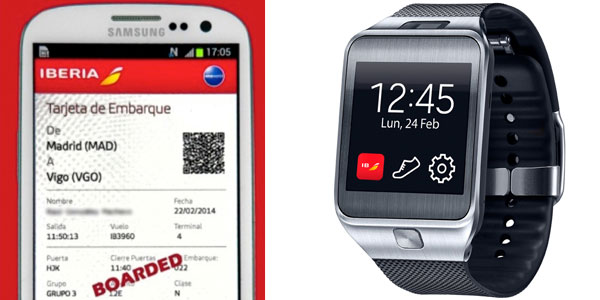 Samsung itself has this year started to make more of a mark in terms of helping to define the passenger experience. For example, the company has partnered with Spanish carrier Iberia to develop a variety of Near Field Communication (NFC)-based solutions to help simplify the airport experience for passengers, and the airline has also announced a boarding pass developed specifically for the Samsung Gear 2 smartwatch.
While Guile labelled NFC technology as "important", he said he doubts that this technology alone holds the key to a drastically enhanced future, mobile-based passenger experience. He did, however, highlight the potential of NFC and other similar technologies in together helping to encourage interaction with the surroundings and offer personal benefits to passengers. While he didn't specify exactly what these "NFC-type" technologies are, new technologies such as beacons, appear to fit the bill.
Guile's colleague, Asier Sinde, the company's Head of Manufacturing, Retail & Transportation, also hinted at other ways in which Samsung is looking at using new technology. He explained that Samsung is exploring how it can leverage digital cameras to make them "the eyes of the infrastructure of the airport", which could bring benefits in terms of queue management and resource allocation, while the company is also considering the benefits of "using biometrics for a touch-less immigration gate" – projects that we are likely to hear a lot more about in the coming months.
For now, though, a large part on the focus remains on establishing how mobile technology in its various forms can be used most effectively to improve efficiency in the airport environment and, importantly, match up to the demands of today's traveller, who is generally exposed to the latest technologies on a daily basis. The likes of Samsung can clearly play a big part in delivering the mobile-based passenger experience, but airports and airlines must buy in to this new reality if passenger expectations are to be met.