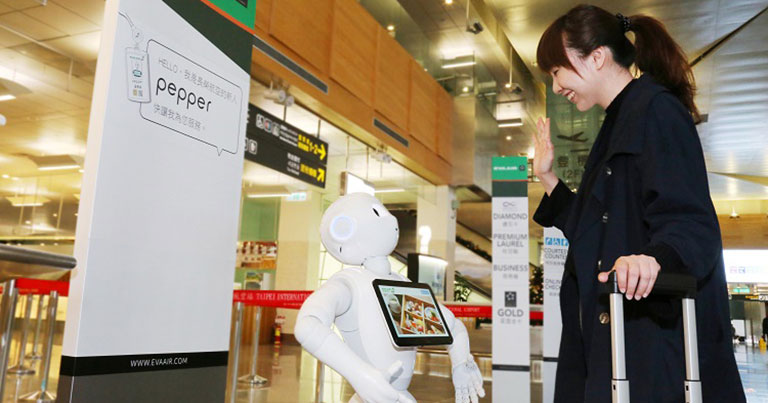 EVA Air has become the latest airline to invest in robots with the introduction of robotic customer service agents at Songshan and Taoyuan international airports.
The robot, named Pepper, scans boarding passes to provide departure details, gives passengers weather updates for their destination, and informs them of duty free special offers and airline promotions. Pepper can also play games, shake hands, dance and pose for photos with travellers.
One of the robots can be found in front of the international check-in counter at Songshan International Airport and the other has been deployed as a greeter in the VIP lounge reception area at Taoyuan International Airport.
At the moment, the robots only understand and respond in Chinese, but EVA Air will add English and Japanese languages by the end of March. The carrier has also said new functionalities will be added.
EVA Air follows the likes of KLM, Japan Airlines, Glasgow Airport and Haneda Airport in investing in customer-facing robots.
To help airlines and airports understand the full potential of robotics and artificial intelligence, Future Travel Experience Global 2017 will host a dedicated 'AI & Robotics Symposium'.