This year's groundbreaking FTE Asia Conference and Exhibition saw a record attendance of 260 international delegates, 20 cutting-edge exhibitors and 30 renowned speakers from the airlines, airports and suppliers that are pioneering the air travel industry across the world.
The event delivered some fascinating insights into how global leaders are developing an out-of-the-ordinary experience for the passenger, and we learned just what the industry's most creative minds think is possible in air travel's future. Last week we counted down five mind-blowing transformations that will empower the passenger for an effortless – and enjoyable – airport journey, and in part two we take a look at the top five concepts set to change air travel for good… and not in the ways you might expect.
Here's part two of the 10 most exciting and extraordinary trends that you can expect to see in the not-to-distant future of the travel experience: 
» Missed part one? Read it here.
5. Less of the airport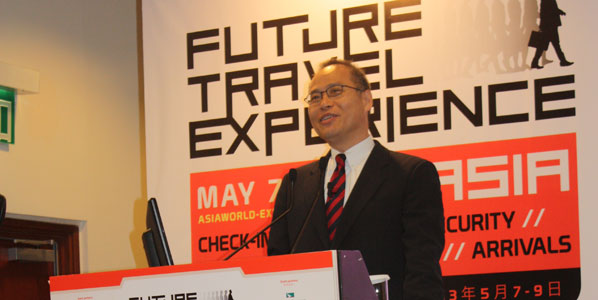 That innovative technologies are ever-increasingly playing new and more significant parts in the airport journey is something that cannot be missed. In the near future though, it may be those very technologies that take the airport experience out of the airport, meaning passengers will spend much less of their time there.
Leaps and bounds being made in the automation of passenger processes have instigated a shift in the position of the passenger, the airline and, most significantly, the airport. Patrick Yeung, the inspirational CEO of Dragonair, explained that airlines would provide many more of the processing services, and they won't all need to take place in the terminal. By 2016 89% of airlines will provide online purchase, while 70% will have enabled online check in. Even more excitingly, new technologies will be blended further and further into the airport to enhance the passenger experience – remote self-service technologies will mean you can drop your bag at McDonalds, or check-in and print your boarding pass at Starbucks – kiosks will disappear and passenger processes will move to unexpected places.
Off airport check-in too, explained Steve Tarbuck, Business Development Manager Airlines Processes & Facilities at Copenhagen Airport, is one of tomorrow's passengers' demands, and developments are being made today that will see portable check-in solutions become ubiquitous. Soon passengers will be able not only to check-in and bag drop anywhere in the airport, but downtown too.
In the future, operations will be streamlined to the point where you can step off of your train or ferry and – virtually – on to your plane. Tarbuck explained that the concept of cruise ship check-in is already being implemented. The seamless experience allows passengers to almost literally step from one mode of transport to the other. While onboard, on-ship WiFi enables remote check-in, following which a boarding pass and bag tag are printed. Baggage is accepted on the ship too via remote bag drops, and afterwards passengers are delivered by ground transport to departures, where all they have to do is go through immigration and board.
Already at Hong Kong International Airport a similar experience is being offered to ferry passengers through its SKYpier facility. Upstream check-in is provided by 13 airlines, at five ports: Macao Maritime Ferry Terminal, Macao Taipa, Dongguan Humen, Shenzhen Shekou and Shenzhen Fuyong. HKIA is now in the process of expanding SKYPier into an Intermodal Transfer Terminal to serve cross-boundary passengers via the Hong Kong-Zhuhai-Macao Bridge.
4. Personalisation and information – just for you

IATA's 'We know because we asked' initiative is a valuable indication of the value of social media as a real and truthful platform for airports to learn what passengers want. As a result increasingly passenger-centric airports and airlines are directing more and more emphasis onto personalising their experience for the traveller – and not just by giving them more power, but also by providing flexible and specific options for different segments of passenger with different sorts of needs.
The investigative scheme uncovered that one of passengers' most prominent priorities is information. 98% of passengers want to receive personalised notifications of any disruption to their flight and 68% of those want it to be in the form of an SMS from their airline. Meanwhile 14% want the news to come email, and 9% want a push message from the airline's app – though this number is expected to increase very soon. However they it comes, it is clear that passengers want to receive the information without actively having to do anything themselves. In the future its likely that we'll see not only this, but all sorts of information, sent directly to your mobile to make the airport journey easier – Greg Fordham, Managing Director of Airbiz, said that soon texts telling you when to board will soon become the norm. The key, of course, is for airlines to learn just what information passengers want, and, crucially, what they don't.
Clearly personalisation matters to passengers. And tailored services are already being offered at the industry's most forward-thinking airports and airlines, where passenger processes are regionally customised. Dragonair's Yeung said that in China – where there will be 1 billion outbound passengers in China by 2020 –, passenger value is huge, and with 33 regions, looking at China as one whole country means airlines will miss opportunities. Instead they need to respond to different region's cultural demands and needs, which is why Dragonair has made its infrastructure more flexible by providing multiple ways to pay, ground staff that speak in Mandarin, mobile applications, online check-in and CUSS machines to suit every category of customer.
Meanwhile in Australia, Jetstar has made a massive commitment to its passengers' needs with the implementation of unique technologies. Tarik Kiki, Jetstar's Manager Ground Product, explained that flexibility is the secret to adapting to suit the passenger, and since only 35% of Australians have smart phones (meaning a traditional mobile QR code boarding pass could only be used by a third of passengers) the airline has instead generated an SMS boarding pass, in which an individual, scannable code based on seat allocation is sent by text message to the passenger.
3. The complete self-service airport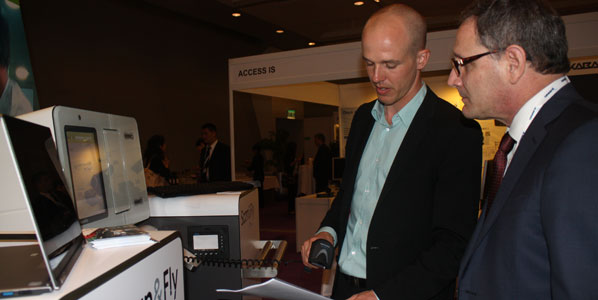 If you are a frequent flyer it is likely that on one of your recent airport journeys you will have used at least an element of self-service. But, the omnipresence of self-service is set to erupt beyond what we can imagine, and in the not-to-distant future.
Incheon Airport is widely recognised as one of the most advanced and passenger-centric airports in the world – it has taken the title of ACI's ASQ Survey Best Airport Worldwide for 8 Consecutive Years – and its reputation accurately precedes it. The airport is pioneering an overall self-service experience, which will see passengers serving themselves in every aspect of the airport journey. The Manager of Incheon International Airport Corporation, Ms Sun Mi-Kyoung, explained that its smart 'u-Airport' concept is Incheon's vision of the future, and the unique, passenger-operated 'cyber airport' aims to set a global standard in fast and convenient processes, safety and security, and convenience for the passenger, all wrapped up in one sought-after package of unique and extraordinary experience.
The u-Airport concept utilises cutting-edge Information Technology to simplify every single aspect of the passenger process, and put it right into travellers' hands. u-Self Check-in Common Use kiosks allow passengers to check-in with eight major airlines in an average of three minutes – a quarter of the time it takes to do it at a manned desk – and as little as 30 seconds; the biometric u-Immigration system will eventually allow all passengers with e-Passports to enter departures automatically with facial recognition; then there's automatic also the biometric u-Boarding Gate; the boarding pass-free u-Departure Gate for machine readable passports; the u-Board kiosk, which provides customised airport information to passengers; and u-Signage, dynamic wayfinding tools. The entire system is unified by the u-Cyber Airport online Integrated Airport Travel Service, which is an all encompassing database of the information and facilities that travellers might need in South Korea's capital city and beyond, including web check-in, car rental, international taxi booking and hotel reservation, as well as everything you need to know about departures, arrivals and airport info. The passenger's every need has been considered, and covered.
2. Common Use and an end-to-end passenger process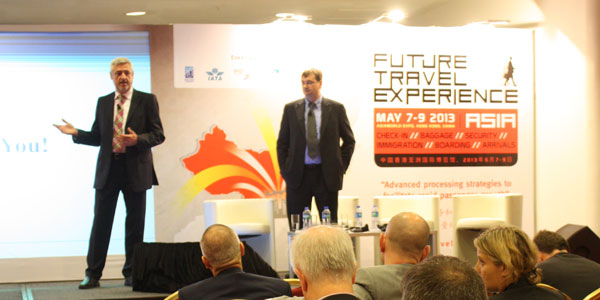 "Air travel is a global industry and it needs one global standard," was Senior Service Manager IT Product Management, Lufthansa, Thomas Jeske's apt way of describing the importance of Common Use services in the air travel industry's future. Emerging technologies, such as use of mobile and CUPPS, will eventually see passenger processes operate on one common standard across all airlines.
Integrated processes and Common Use facilities will become universal throughout the airport, from Airbiz's Fordham's Common Use Food & Beverage kitchens, to Common Use lounges for all airlines and flights, with a central ground transport interchange, and instead of separate gates, a text message that instructs you when it is your time to board.
IATA's Paul Behan explained that Common Use makes common sense, and that in the future every airline will use a standardised interface, making passengers' airport journey much easier. In years to come it could mean that we come to expect a one-stop airport journey, in which you drop your bag and are scanned by security at one touch point, and boarding becomes gateless.
In fact, according to British Airways' Senior Service Manager – Airport IT Systems, Barry Woolnough, paper tokens and physical obstacles could be removed all together. He clarified though that while the future of Common Use will be lean, agile and flexible, it will also have to be predictable, so passengers know what to expect. We rarely need to ask questions when we take a train – we know where to get our ticket, how to get through the boarding gates, how to find out where our platform is, where to look for times and delays and how to board, and, as we learned at FTE Asia 2013, a the airport journey could eventually become this simple too.
1. And a little bit more heart

Singapore Changi Airport is undeniably recognised as one of the most technically advanced airports in the world, and integrated processes are in Changi's future, where a high speed, secure and common use network is centralising operations and linking airport systems for a simplified passenger experience that takes much less time.
Changi Airport Group's Vice President Technology, Yuh Khee Leong, explained though, that as well as its hardware, the airport's emphasis is on 'heartware' – courteous and knowledgeable staff and tools that give independent passengers the right sort of assistance, when and where they need it (though not without an injection of innovation, of course).
Changi's Instant Feedback System allows passengers to let the airport know where improvements need to be made or assistance is needed, via a touchscreen 'smilies' ratings system, which alerts airport staff for an instantaneous reaction. The airport's eInspection system ensures a timely response to faults, and enhances the productivity airport service providers such as toilet cleaners, estate management officers and other airport staff.
Chi-Kee Ng, Executive Director, Airport Operations, Hong Kong International Airport, explained that true excellence in service means a people-to-people experience. As one of the world's most innovative airports, HKIA has achieved a globally-leading standard in technological innovation, but this year its focus is to go back to basics, and for its staff to deliver a service from the heart. HKIA's goal is to attain a passenger-centred airport culture in the right operating environment, with automation in the right places and staff where they are needed. "It is the dawn of a new era, where we start from the individual," he said.
Be it through cutting-edge hardware or passenger-tailored 'heartware', it was made clear at FTE Asia 2013 that unsurpassable service is at the centre of the vision for a truly extraordinary passenger experience of the future.
Missed the first half of our countdown of the trends transforming air travel experience as we know it? Catch up on Part one here, and be sure to subscribe to our newsletter so you never miss out on the latest news and stories on the future of the passenger experience.
Heathrow, JetBlue and LAWA to share mobile innovations at FTE Global 2013
Maximising the potential of the connected traveller through their mobile device is undoubtedly something all travel industry stakeholders are working on right now, so we are delighted to announce that FTE Global 2013 will have a dedicated session on this very subject which will be chaired Jonathan Stephen, Head of Mobile, JetBlue and will contain inspiring case study presentations from Nick Adderley, Marketing and Insight Director, Heathrow Airport; a major network carrier outside of Asia trialling NFC SIM-based boarding (who we will announce in due course); and from Dominic Nessi, Deputy Executive Director & CIO, Los Angeles World Airports. This will certainly be the most ambitious FTE event agenda yet and the full plans will be revealed next month.