This year's groundbreaking FTE Asia Conference and Exhibition saw a record attendance of 260 international delegates, 20 cutting-edge exhibitors and 30 renowned speakers from the airlines, airports and suppliers that are pioneering the air travel industry across the world.
The event delivered some fascinating insights into how global leaders are developing an out-of-the-ordinary experience for the passenger, and we learned just what the industry's most creative minds think is possible in air travel's future. In the next few years we can expect mind blowing transformations that will streamline and personalise the airport journey for a passenger who is more empowered than ever before.
Here's a glimpse of the 10 most exciting and extraordinary trends that you can expect to see in the not-to-distant future of the travel experience: 
10. More of your time back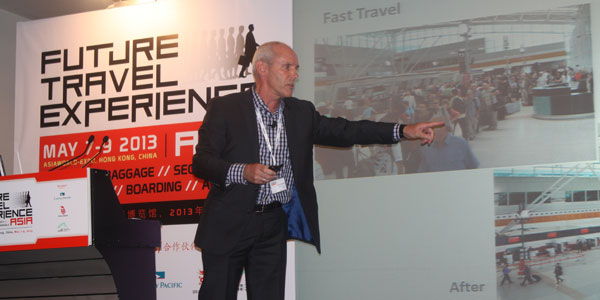 … and no more queuing. According to Airbiz's Managing Director Greg Fordham, in five years' time, there will be no need for a single human agent in the terminal – or rather, a single agent behind a desk. Instead an entirely automated airport journey will see the passenger take complete control, while an optimised team of multilingual and multi-skilled airport staff will concentrate on assisting those who need it.
Automated and self-service processes will virtually eliminate queues too, and with every traveller processing himself in one common-use area, more than just a few minutes will be stripped from the airport journey, giving passengers their time back. Fordham explained that such an experience is a fusion of existing technology with some outside the box thinking, and that the industry is on the very cusp of innovations such as drive through self-bag drops. He also said that permanent bag tags will become universal, as will permanent boarding passes, and that advances in RFID technology and passenger tracking mean that soon you could have your baggage delivered to you in Arrivals.
Every second of the airport journey will be valuable and free of waiting, and without spending their time in queues, passengers will truly be able to embrace ever-more enticing food & beverage and retail offers. Passenger spend will soar, and airport commercial areas will evolve to deliver experiences unmatched anywhere else. Expect to make your duty free purchases from a virtual retail wall for delivery to your door when you return – features like Tesco's virtual grocery store at Gatwick Airport will become the standard – and airport dining will take on an entirely new form. Passengers will be able to order food for delivery at their gate, so they can eat just what they choose on the plane. In the terminal you will use your mobile phone to select what you want to eat from a diverse range of restaurants; it will be cooked in a common kitchen and delivered to you, wherever you may be, using passenger tracking. All this, Fordham said, is "just a matter of time".
9. Baggage processes that are all RFID, with none of the waiting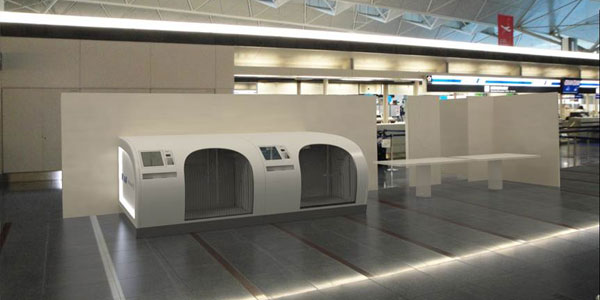 It seems All Nippon Airways (ANA) is already in the future when it comes to baggage processing, and the airline has accomplished remarkable things in areas of the passenger experience with the trial of its Fast Travel initiative. ANA's Manager – Passenger Service, Planning, Airport Operations and Services, Nobutaka Koyanagi, explained that on entering the airport passengers are provided with mobile tablets that enable them to check their own bags, navigate the airport themselves and receive real-time messages informing them of when to proceed to their gate.
To drop off baggage takes travellers just seconds, and the ingenious process is also saving boarded passengers' time (and reducing CO2 emissions) by all but removing delays to flights caused by no-show passengers. Messages to the tablets that remind passengers of how long they have left to board are minimising the number of passengers that don't show for their flight, but should a traveller not turn up before the gate closes, ANA's baggage offloading system will ensure that the flight is not held up.
The intelligent self–bag drop records the size and weight, and takes a photograph, of dropped bags, to which passengers have attached a permanent, traceable RFID bag tag. Should a passenger not arrive at the gate and a bag need to be offloaded, an RFID scanner is used to locate it amongst the others in the cargo hold. The bag can be found in minutes – the photo used to verify that it is the correct one – and once offloaded, it will be returned to the passenger using passenger tracking, for operations that are on time, all the time.
8. An app that does everything you need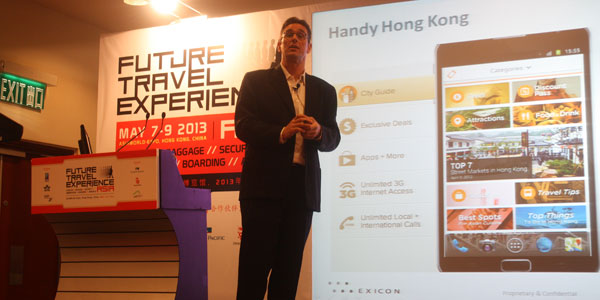 For many travellers, an extensive arsenal of apps is an indispensable part of the airport journey, and we can expect mobile applications to soon become even more ubiquitous, for the passenger of the future is, explained Stefan Rust, Founder & CEO of Exicon, quite literally always connected.
Even now it seems that there is an app for almost anything, from Passbook – the storage platform for all of your boarding passes, coupons and just about everything you need for travel but your passport – to Satisfly – the social seating tool that allows users to choose their inflight seatmates based on their personal preferences and social network profiles. Apps are becoming a travel essential, and, Rust said, by 2015 the mobile revolution will have really transformed the experience.
In the near future it is likely that all-encompassing mobile apps will provide a thorough, end-to-end service – aggregates of airlines, airports, hotels and ground transports will incorporate the tools for every part of the airport experience. Before your flight, an API will enable you to research and book your flight and arrange your local travel; at the airport it will guide you through the terminal, tell you where to check in, track your luggage, exchange your currency and allow you to plan your arrival, book a room and rent a car, as well as providing you with all the information you will need when you get to your destination.
7. Even more reality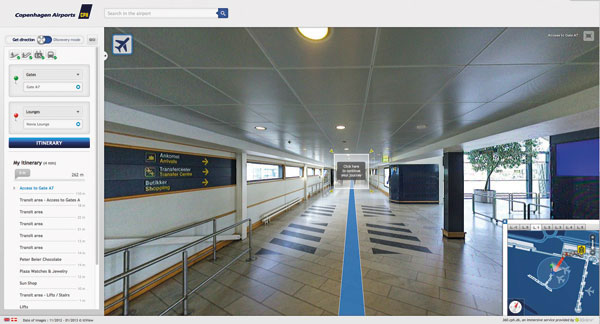 Rust went on to say that in the future augmented reality will enhance even further the ease with which we travel, predicting that the development of Google Glass will have a massive impact on the experience.
Copenhagen Airport (CPH) is a trailblazer of the trend, and its compelling developments in airport wayfinding are contributing to an increasingly seamless airport journey for its independent, me-centric passengers. Steve Tarbuck, Copenhagen Airport's Business Development Manager, explained that CPH has adopted an agile approach to meeting the needs of the passenger of the future.
Its 360-degree wayfinding tool is an immersive 3D map that displays photo panoramas of every passenger area in the airport and its grounds, allowing travellers to get an overview of their trip through the terminal from their PC at home, or on the move at the airport on their mobile, where the free CPH Airport app will then position them by triangulation of the hundreds of WiFi access points in the terminals.
Passengers can select their starting point and where they want to get to from a drop down menu of airport locations. A metre-by-metre visualisation of their route then enables them to work out just where Gate A23 is, and quite how they find it from the Caffè Ritazza where they were having a cup of coffee, or how they get from baggage belt #4 where they collected their luggage to a car rental in The Arcade.
Meanwhile, CPH's navigation app with augmented reality allows passengers to use the camera in their iPhone to photograph (or scan) points of interest in the terminal such as shops, restaurants, information desks, lounges and gates. The app then informs you in which direction and how many metres you must go to get to it – giving an extra layer of reality.
6. The power of mobile and NFC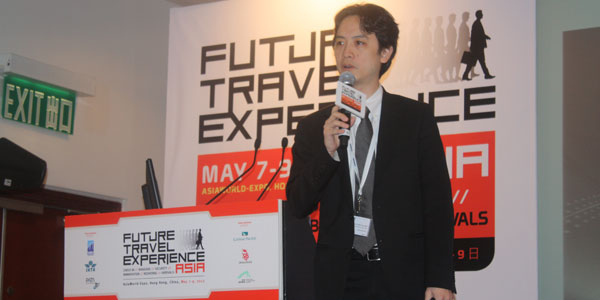 Japan Airlines (JAL)'s Andrew Wang, Manager Planning – Group Web Sales, made clear that mobile is everything in the future of travel, with sales of its domestic flights on smartphones increasing by +357% between 2011 and 2012.
The airline has a clear-cut mobile strategy, with 11 different apps covering every possible part of the end-to-end airport journey – and beyond. The apps boast a number of unique and unprecedented features that set an unmatched standard in mobile usage – live video feeds of planes on the taxiway convey weather conditions, while live streams of security lanes show passengers where there are queues – and where there are not.
In its domestic terminals JAL is doing some astounding things with mobile to improve the passenger experience. The 'Tap & Go' mobile tool utilises Near Field Communication (NFC) for automated entry with Integrated Circuit boarding passes, in security areas and at boarding gates. The process is simple as the passenger touching their mobile phone to a scanner that reads the NFC signal, without any need to launch an application.
JAL's ingenious, new-generation gates can read NFC signals, paper barcode boarding passes and mobile QR codes all at one touch point. They then recognise whether the pass is valid for the time and date of flight, and permit the passenger to enter – a motion sensor recognises when multiple passengers on one booking have entered departures.
Japan Airlines has already eliminated the need for domestic passengers to check-in as their payment for the flight does that for them. In fact, passengers only need to go to a kiosk if they have not yet selected their seat, otherwise kiosks have been all but eradicated from the airport process.
If you are flying with JAL, the airport journey in almost entirely in your hands – and in your mobile – and Wang suggested that, in the future, we can expect NFC to be a part of nearly every aspect of the airport experience, and we expect him to be right.
You can take a look at the top five trends that are transforming air travel in Part two here, and be sure to subscribe to our newsletter so you never miss out on the latest news and stories on the future of the passenger experience.