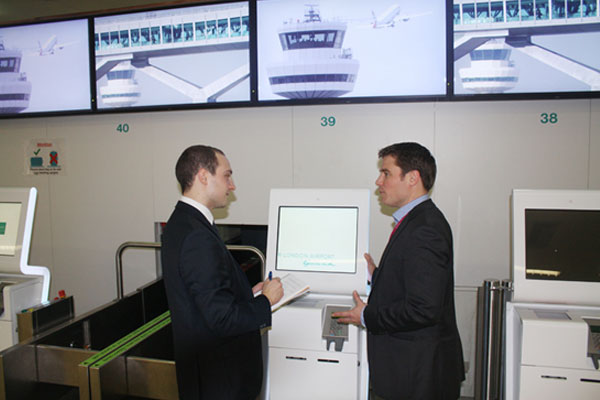 Confusion as to who 'owns' each stage of the airport journey is often cited as a barrier to creating a seamless airport experience for the passenger. While an airline might want to see new technology installed in the check-in area, for instance, it may be reluctant to invest in facilities that come under the airport's jurisdiction. Equally, while reduced queues at the security checkpoint would benefit the airlines – thanks to a reduction in the number of passengers who arrive at the gate late – an airport or government-operated agency is not likely to invest millions in redesigning and overhauling the security checkpoint to relieve this pressure.
At London Gatwick Airport, however, the airport is willingly asserting its authority at every key passenger touch-point in an effort to improve passenger and baggage processing and, in turn, improve the airport experience for all of its customers.
From check-in and bag drop, to security and immigration, Gatwick Airport is investing in next-generation technology in an attempt to reinvent the end-to-end airport experience.
Self-service check-in and bag drop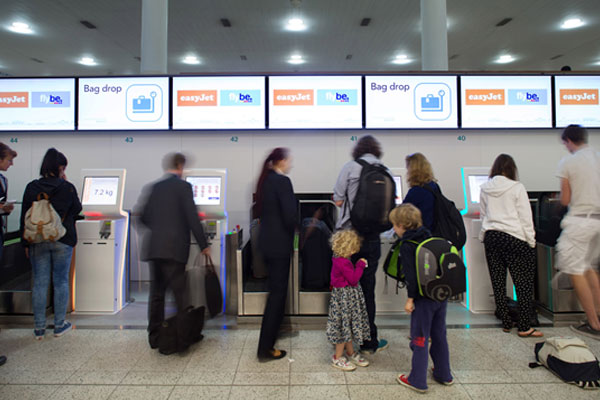 The airport's commitment to new technology is evident from the passenger's first interaction upon arrival at the terminal. While British Airways has previously installed self-tagging facilities and Norwegian has adopted self-service bag drop, Gatwick Airport has been trialling a bag drop system of its own of late. However, this system differs to the majority of others currently in place at other airports, mainly due to the fact that it is a common use system that is designed to service passengers regardless of which airline they are flying with. "We wanted a solution that required minimum interaction and offered total common use," Michael Ibbitson, Gatwick Airport's Chief Information Officer, told FTE.
The ongoing trial initially focused on easyJet (the airport's biggest airline customer) and Flybe, meaning passengers flying with either airline could use the system to tag and deposit their bags. However, as Flybe recently sold its slots at the airport to easyJet, the trial is now pressing ahead with just the latter's passengers using it. That hasn't stopped Gatwick working to perfect the system alongside the supplier, Phase 5 Technology, though.
"When we first implemented it, it was taking 76 seconds to process a passenger and we wanted to reduce that to 45 seconds," Ibbitson explained. A number of tweaks were made to the system, including the adoption of bag tags that can only stick to themselves, and this has resulted in processing times dropping to 45-50 seconds per passenger.
Biometrics as a single passenger token
Meanwhile, in North Terminal, Gatwick recently worked with another supplier to combine the bag drop process with iris scanning technology. Ibbitson continued: "We trialled an ICM bag drop combined with an iris scanner, so when a passenger checks in and drops their bag, they also register their iris. So, the passenger's iris is registered against their passport, boarding pass and bag tag, meaning iris scanning can be used at every other step of the journey in the airport." Having trialled this system for 40 British Airways flights, Ibbitson said it "worked very well", but stopped short of saying that it will be rolled out permanently in the near future.
Pondering how such technology could be used to transform the end-to-end passenger experience, he detailed a travel process in which a traveller could check-in at home, enrol their iris using a smartphone camera and then once at the airport, use their iris as the identifier at each checkpoint. While Ibbitson is adamant that such a process is very much realistic, he added: "Technology isn't a barrier, but business cases can be." A lack of standards surrounding the use of biometrics as an identifier must also be addressed, he added, if the technology is to enable real improvements on a wide-reaching basis.
Increasing throughput at security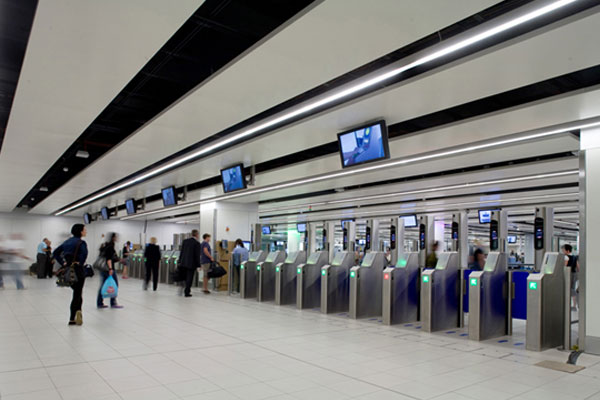 The focus on increasing the speed at which passengers can move from landside to airside is also evident at security. Having installed an award-winning automated security entry system in 2012, attentions have now turned to increasing passenger flow during the security check itself.
To this end, at the time of FTE's visit to the airport, the project to retrofit the new Security Max lanes was a work in progress, but the first two lanes will be up and running in time for the Gatwick Airport tour that is available to FTE Europe delegates in March.
"We'll be trialling these lanes shortly where up to five passengers will be able to take off their shoes, jackets, belts and so on at the same and prepare for the security process, rather than having to wait for the person in front to get ready," Ibbitson explained. If the lanes perform to the projected levels, throughput at security could almost double, with over 400 passenger processed per lane, per hour, which would surely sit well with today's increasingly demanding passengers.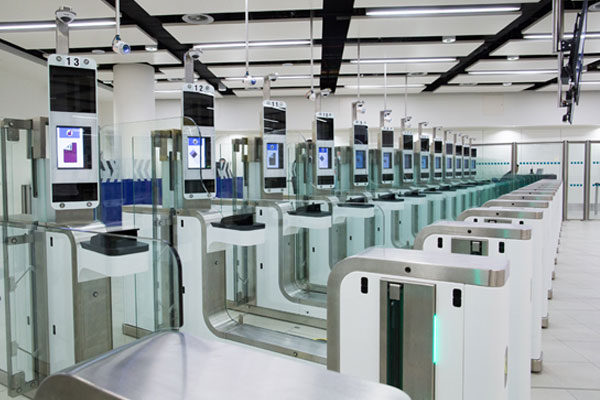 Speeding up the arrivals process while maintaining the integrity of the UK border is also among Gatwick Airport's many areas of focus, and at the end of 2013, 15 second-generation e-gates were funded by the airport and installed in the South Terminal immigration area to cut queues and expedite the immigration process for e-passport holders.
Self-boarding at London Gatwick?
Having seen the trial and implementation of various self-service technologies across Gatwick Airport, it would be easy to assume that self-boarding would be a natural next step. However, Ibbitson explained that it is never that straightforward, especially because of the flexibility that is required in gate and boarding operations.
Given the relationship between the airport and British Airways and easyJet, he explained that any developments in this area depend on what the airlines want to do, highlighting the fact that even an airport as progressive as Gatwick must temper the pace of change to suit the airlines' agenda.
"One of the main issues is the software connectivity," Ibbitson said. "To really make it work, we'd need to be able to guarantee the airlines certain stands, which is always difficult when operational efficiency has to come first."
Dedication to creating change for the better
Eager to dispel the theory that it must be the airlines that drive true advancements in passenger and baggage processing, Gatwick Airport has taken significant strides to utilise next-generation technology to improve the airport experience for all of its customers – airlines and passengers alike.
Thanks to a focus on each of the key passenger touch-points, Gatwick Airport is proving that significant steps forward can be made. However, as perhaps highlighted by the lack of activity around self-boarding, the airport cannot do everything alone. For these trials to become permanent implementations, and for the passenger experience to be truly redefined, airports, airlines, handling agents and all other stakeholders must show a willingness and dedication to make them a reality.
Michael Ibbitson, CIO, Gatwick Airport, will take part in session entitled 'What should the key passenger touch-points look like in the future?' at FTE Europe 2014, which will take place in London from 3-5 March 2014. He will be joined by speakers from AirAsia, Lufthansa and Vancouver Airport Authority, who will share their thoughts on the future of check-in and bag drop, security and immigration, gates and boarding, and arrivals. FTE Europe delegates can also register for a guided tour of Gatwick Airport to see all of the passenger-focused initiatives in action.
» View the full FTE Europe 2014 conference programme