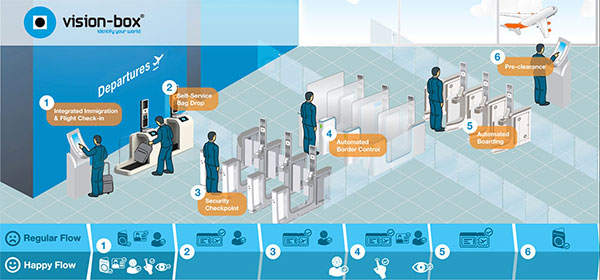 The value of biometric technology and the role it can play in helping to simplify the airport experience for travellers has been apparent for some time, but the emergence of new technologies, such as the smartphone, tablet and now iBeacons, have led some people to ask whether mobile devices could be a more effective, and perhaps less invasive, alternative to biometrics in areas such as passenger tracking and the creation of a single passenger token.
Passengers storing boarding passes on their smartphones is now commonplace, the likes of Helsinki Airport is tracking passengers throughout the airport via their personal devices, and a school of thought has emerged suggesting that passengers' electronic devices could hold the key to creating a far more seamless travel experience, at least while the passenger is in the airport.
However, biometrics – things like facial recognition technology, iris scanning and fingerprint-based identification – clearly still offer great potential, and as Manuel van Lijf, Manager Product Innovation, Air France-KLM, explained to FTE, the airline is just a few months away from helping to launch a biometric-based trial at Aruba Airport that will put the concept of a single passenger token into practice.
FTE has been aware of this project for some time now, and we even referenced it in the FTE Airports 2025 Think Tank at last year's FTE Global event, but this week's confirmation from van Lijf that a "soft launch" could happen in early 2015 adds more of a sense of reality to what could be a breakthrough industry project.
"We haven't selected a supplier yet," van Lijf told FTE, "but the RFP will go out any day now". It will then "probably take one or two months" to decide which company or companies to work with, before a single passenger token is trialled at Schiphol-managed Aruba Airport. As well as KLM, the governments of Aruba and the Netherlands, along with Aruba and Schiphol airports, are all collaborating on the project.
So, how exactly will the initiative, which has been labelled 'Happy Flow', work? In summary, when a passenger checks-in, their e-passport will be validated and either a photo of their face, an iris scan, or their fingerprints, or a combination of two or more, will be collected. This information will then be used as the identifier at all other checkpoints, ranging from bag drop to boarding. This will mean the passenger will not have to show their boarding pass or passport at multiple stages of the journey.
Crucially, biometrics will be the main enabler. "We (KLM) had already been looking at using biometric tokens for boarding at Schiphol, so this is one of the reasons the Dutch government initially invited us to get involved in the project," van Lijf said. "After a lot of brainstorming, we thought 'why not use biometrics as the token at every step of the process?'"
He continued: "Which form of biometrics we use has yet to be determined," but the widespread rollout of e-passports presents a "major opportunity". Using the e-passport as the initial identifier at the point of check-in and then linking an image of the passenger's face, or a scan of their iris or fingerprints, as a "secondary token" to be used at all other checkpoints is therefore the most logical approach, he suggested.
Using biometrics for effective passenger tracking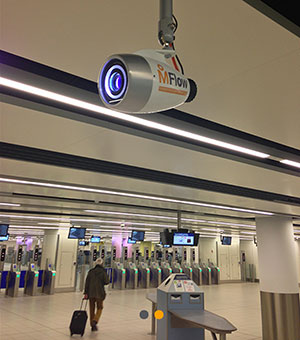 So, if biometrics is central to the creation of the single passenger token, should it also be positioned as the linchpin of other projects that rely heavily on technology, such as passenger tracking?
The aforementioned passenger tracking project at Helsinki Airport makes use of mobile technology, not biometrics, but according to Jim Slevin, Aviation Managing Director at Human Recognition Systems, some airports that currently track passengers via their smartphones could soon face a problem when Apple releases its iOS 8 software.
"It does appear that iOS 8 will randomise MAC addresses, not only to placate activists, but more pointedly to increase Apple revenues from iBeacons," he said. In essence, by not allowing companies to track people via their iPhone MAC address, they will instead opt to track them via iBeacons, at least in theory.
He doesn't think this will lead to an end to smartphone-based tracking, though, because the technology giants will continue to create and re-create new technologies that enable this, and also because the smartphone has become a "favoured vehicle" for business-to-customer communications.
Facial recognition technology has 'compelling advantages'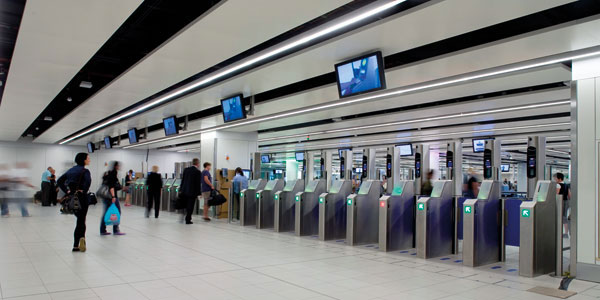 While HRS is "technology agnostic", Slevin told FTE that facial recognition technology does offer "compelling advantages over other approaches" when it comes to passenger tracking.
Accuracy is the number one advantage, he said. "Facial recognition means no need to estimate the time from an algorithm based on general movement of passengers (such as from count-in and count-out), nor does it rely on what the passenger may or may not be carrying and its set-up.
"Secondly," he said, "is 'longevity'. As passengers always travel with their faces, the technology is unaffected by the enforced technology obsolescence, meaning a reduced true lifecycle cost to the airport." Thirdly, he added, is 'population', because "we are not restricted in who we capture by nature of their personal technology choices".
Despite this list of benefits in favour of facial recognition technology, Slevin said it should not necessarily be a straight choice between one technology and another when it comes to deciding which is the best option for passenger tracking. Pointing to a trial the company undertook with Gatwick Airport last year as an example of how biometrics and mobile technology can complement one another, he said: "The ability to correlate a passenger's actual identity and their digital identity via biometric authentication will be an increasingly significant factor for the aviation industry over the next five years, impacting every step of a passenger's journey from ticket booking through to final destination." With biometric technology features now being integrated into smartphones, both could have vital roles to play going forward.
Can biometrics revolutionise the passenger experience?
Although smartphones, tablets and iBeacons have dominated many recent headlines in the passenger experience space, there can be little doubting the still untapped potential of biometric technology as an enabler of a significantly enhanced passenger experience.
If the single passenger token trial at Aruba Airport proves to be a success, van Lijf suggested trialling it at a hub airport could be a possible future step, which would be a huge endorsement for the role of biometrics in creating a more seamless travel experience.
If biometric-based passenger tracking also takes off and achieves the widespread uptake that Slevin and HRS believe it should, biometrics could be the technology that truly revolutionises the future travel experience.
Learn which new technologies your airport or airline should be considering to help improve the passenger experience at FTE Global 2014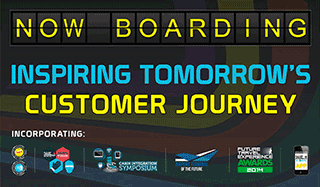 The 'On the Ground' conference at FTE Global 2014 will include the New Technology Forum, which will explore which new technologies will help to simplify and improve the airport experience for passengers now and in the future.
Among the leading industry organisations confirmed to share their visions in the Forum are Air France-KLM, IBM, Changi Airport Group, American Airlines and Bluvision.
» More information on FTE Global 2014