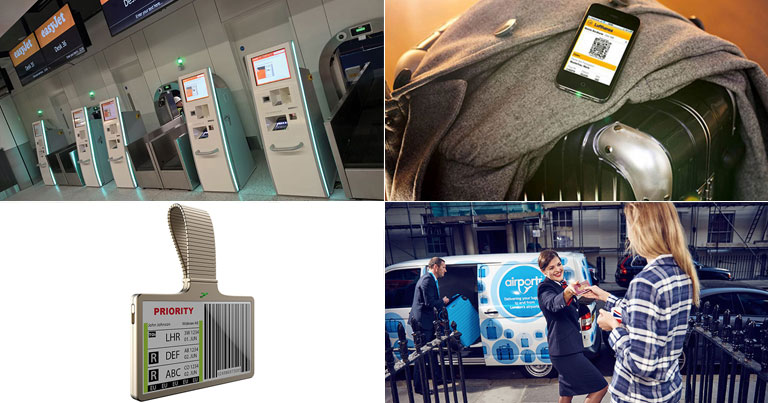 2016 has so far brought about myriad developments in the baggage space, and airlines and airports have some big decisions to make as they plan the next phase of their baggage strategies.
Perhaps unsurprisingly, self-service bag drop has been steadily gaining traction. Back in May, easyJet opened the world's largest 100% self-service bag drop area at Gatwick Airport, which currently hosts 48 fully automated self bag drop machines, while new systems have recently been installed in the likes of Dublin Airport and Rome Fiumicino. Lufthansa has also been very active in this space of late, as the German carrier continues the rollout of its "touchless bag drop" system.
Interestingly, outside of Europe, self bag drop is also gaining popularity. At the heart of JetBlue's new-look T5 at New York-JFK are 70 self-service check-in and self-tagging kiosks and 12 bag drop locations, while Alaska Airlines is undertaking its own self-service bag drop trial at Los Angeles International Airport. Meanwhile, Calgary International Airport's new $2 billion international terminal features no fewer than 20 self-service bag drop units. Further afield, a variety of Asian airlines and airports have also moved towards a self-service approach to baggage processing this year.
The integration of biometric technology into bag drop units and the creation of "touchless" systems appears to be catching the attention of many airlines and airports but other developments are giving them reason to think carefully about their next steps in this space.
Permanent electronic bag tags
Permanent bag tags seem to have been touted as the "next big thing" since Qantas launched its RFID-enabled Q Tag back in 2011. However, the emergence of smart, electronic bag tags that can be updated via an app are adding weight to the theory that the traditional paper bag tag faces some genuine competition.
While some airlines are developing permanent electronic bag tags in house, the number of suppliers in this space has proliferated. Many other carriers are now exploring which solution best suits their needs as they seek to simplify the travel experience by allowing passengers to arrive at the airport with their boarding pass in hand and their bag tag already attached to their bag.
We know many carriers are currently trialing e-tags from vendors such as BAGTAG and Vanguard, and we are expecting a number of announcements regarding firm orders in the coming months.
Meanwhile, Lufthansa and EVA Air have already signed up for the higher end RIMOWA Electronic Tag, which boasts a trackable, embedded e-ink bag tag.
End-to-end baggage delivery
As all of these options gain purchase, some players are seeking to revolutionise the way the industry approaches the baggage process altogether. Some are even asking "why do passengers need to bring their bags into the terminal at all?"
Perth Airport, for instance, has been exploring the option of introducing a drive-through check-in and bag drop lane for passengers arriving at the airport by car, Geneva Airport has trialled a bag drop robot, and Uber is contemplating whether its UberRUSH delivery service could be extended to passenger luggage. In and around London, British Airways is currently trialling a service that essentially brings the bag drop process to the passenger's doorstep.
Continuing this trend, as part of an ongoing project which aims to reduce the end-to-end air travel process by 60 minutes, the EU-funded PASSME project is examining whether a door-to-door baggage delivery service could hold the key to a significantly expedited travel experience.
As the air transport industry seeks to make the air travel experience as seamless as possible, there is a strong desire to identify how the baggage process can be optimised. All of these developments – from biometric-enabled bag drop and e-tags, to door-to-door delivery – present both big opportunities and significant challenges. Moreover, as airlines work to establish which option, or options, best meet the requirements of their business and their customers, IATA members are having to keep a close eye on Resolution 753, which comes into effect in 2018, adding another consideration to the baggage equation.
In the same way that the rollout of online and self-service check-in has had an immense impact on the passenger experience over the past decade, the stage is now set for major change in the baggage space.
To help airlines, airports and their partners get to grips with all of these developments and establish which solutions will meet their long-term needs, FTE will host a special Baggage Innovation Summit at FTE Europe 2017, which will take place in Dublin from 26-27 June 2017. More information can be found below.