During the course of the next 12 months, airlines and airports across the world will be tasked with the challenge of identifying the new and emerging technologies that can enhance business efficiency and improve customer experiences. FTE explores the latest technologies that will play a crucial role in reshaping the air transport industry in 2017.
Artificial intelligence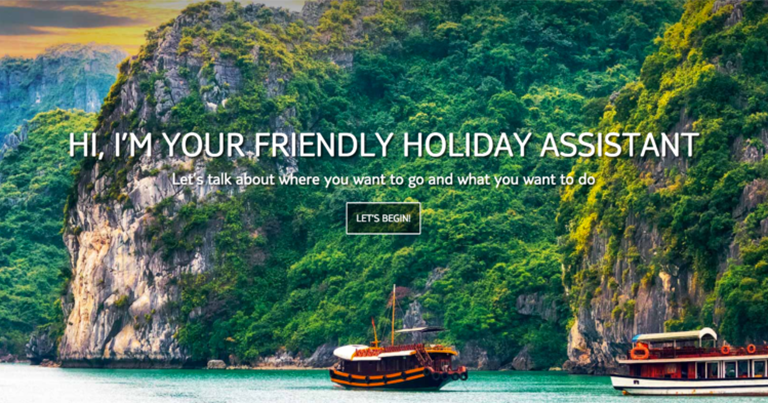 Almost every industry will experience the impact of artificial intelligence (AI) over the course of the next 12 months, and air transport will be no exception. Perhaps the most obvious example to date of AI in action in this industry is chatbots; automated digital tools that can converse with customers and answer their questions in a real-time, human-like manner. Voice-based AI tools (such as the Amazon Echo device) also continue to gain traction and the likes of Korean Air have developed proof of concepts to explore how voice-activated personal digital assistants can help to create a more seamless travel experience.
AI, coupled with machine learning and predictive analytics, has far more potential, though. From personalised online interactions and marketing intelligence to revenue management and ticket pricing, a multitude of areas will be affected by AI. In fact, the most forward-thinking airlines are already investing in the technology. In the Middle East, Emirates and Etihad have made significant outlays, while easyJet CEO Carolyn McCall is among the airline bosses to have publicly lauded the potential of AI: "Tapping into the huge potential of AI by accelerating our use of data science right across the airline will improve our efficiency, bring down costs, increase revenue and drive greater customer satisfaction," she said.
This month's Consumer Electronics Show (CES), which often acts as a barometer of a technology's viability, served to shed further light on the fact that AI not only has great potential but is ready to make a big impact today. AI was the hot topic in Las Vegas and the excitement around it was best summed up by the Chief Scientist at Chinese company Baidu, who said AI is "the new electricity". "Just as 100 years ago the electrification of our society transformed industry after industry, I think AI tech has now reached that stage," he stated.
Airlines, as well as airports and their partners, must now work out how to make best use of this transformative technology.
Robotics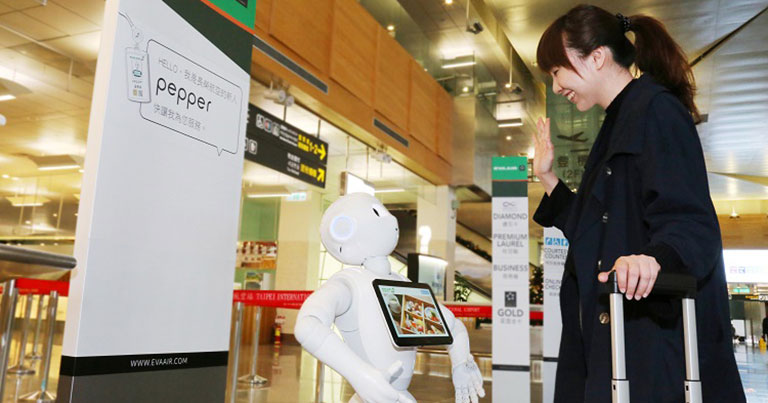 Emerging hand-in-hand with the rise of artificial intelligence is robotics. Robotics has already been implemented for tasks such as baggage handling (at Amsterdam Airport Schiphol) and car parking (at Düsseldorf Airport), but last year it emerged as a useful customer-facing technology in airport terminals.
KLM's socially-aware 'Spencer' robot grabbed the headlines when trials started a little over 12 months ago, but more recently the likes of Japan Airlines, Glasgow Airport and EVA Air have introduced their own robot customer service agents. In Tokyo, Haneda Airport has announced the launch of the 'Robot Experiment Project', which will allow various businesses and research organisations to test robotics technology in the airport environment. A total of 17 robots have already been chosen to participate in trials across three categories: cleaning, transportation and information.
Elsewhere in the air transport industry, major players such as Emirates, JetBlue and Changi Airport have namechecked robotics as a technology of interest as part of wider technology investments. You can expect others to follow suit over the next 12 months.
Biometrics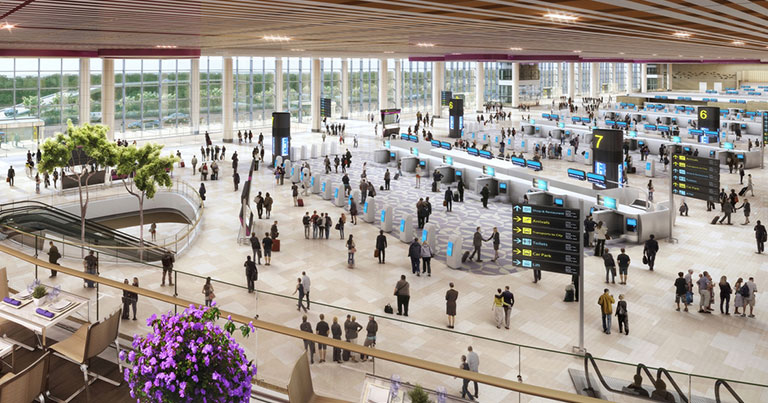 The launch of the first biometric-enabled single passenger token trial back in 2015 was a defining moment for biometrics in the air transport industry, as the stakeholders involved in the "Happy Flow" project set out to prove that biometrics hold the key to a more seamless and secure air travel process. Since then, myriad suppliers have unveiled their own biometric-enabled single token platforms, while airports and airlines have warmed to the idea that biometrics could revolutionise the way passengers are processed.
Air New Zealand has introduced biometric-enabled bag drop, Alaska Airlines and CLEAR have tested biometric boarding passes, and Changi Airport is currently preparing for the opening of Terminal 4, which will make extensive use of biometrics to expedite and secure processing at each of the key passenger touch points.
Facial recognition technology has been the biometric of choice in many trials to date but other forms, including vascular technology and even embedded chips, have been touted as feasible alternatives for the future. Regardless of which option is preferred in the long term, there is little doubt that biometrics will play an increasingly important role in creating a more secure and seamless passenger experience.
Blockchain
Blockchain technology is most closely associated with the virtual currency Bitcoin, but its potential extends much further. Blockchain, essentially a secure digital ledger of transactions and agreements, is attractive in a large part because it offers "privacy by design", so data is secure, encrypted, tamper-proof and unusable for any other purpose. Once information has been entered into the blockchain, it cannot be changed and it eliminates the need for a single authority to own, process or store the data.
As FTE reported here, blockchain could provide the basis of the aforementioned biometric-enabled single passenger tokens, as well as digital passports. The technology is also seen as a possible panacea to the industry's data silo problems, which often prevent effective data sharing.
It is still relatively early days for blockchain technology, but the possibilities it presents will surely encourage the air transport industry to explore it further in 2017.
Wearable technology (enterprise and consumer)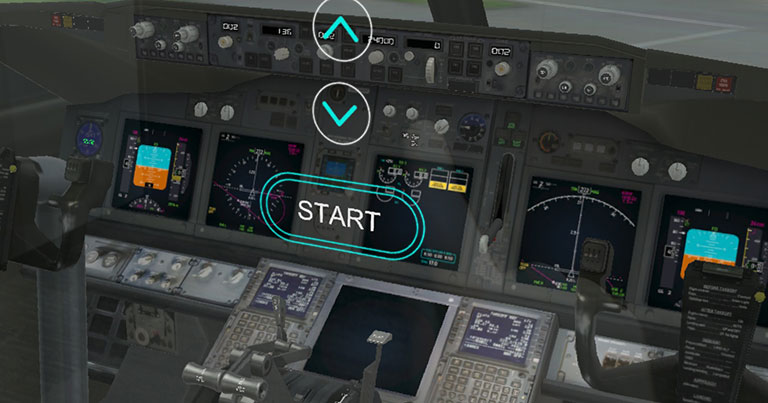 Wearable technology may have got off to a shaky start (partly due to over-hype around the technology in recent years), but the air transport industry would be naïve to dismiss it as irrelevant. While passenger-facing trials of smartglasses and smartwatches have so far failed to inspire permanent implementations, the potential of wearables as enterprise devices is becoming clearer. The first generation Google Glass may not have lived up to expectations, but Microsoft's HoloLens has been well received, including by some pioneering air transport industry players.
Among them is Japan Airlines, which has created two proof of concept programmes using the headset. One is for flight crew trainees who are working towards being promoted to co-pilot status and the other provides supplemental training for engine mechanics. Using HoloLens, the mechanics can be trained as if they are working on an actual engine, even placing their hands on virtual engines and parts. Highlighting other potential use cases, Microsoft has also previously demonstrated how HoloLens can be used when designing new airport terminals, providing designers with immersive images of new terminals before construction work even begins.
In the wider travel sector, Carnival Corporation is pursuing wearable technology of a different kind with its "Ocean Medallion" technology. Launched last week, the Medallion is a small wearable device designed to provide a personalised and seamless experience on board the Regal Princess cruise ship. Ahead of their trip, travellers can provide Carnival with details of their preferences and once on board they simply have to place the coin-sized device in their pocket or attach it to a necklace, bracelet or keychain. By interacting with 7,000 sensors located around the ship, the Medallion enables doors to be unlocked without touching them, personalised offers and recommendations to be displayed on nearby digital screens, food and drinks to be paid for without using cash or a credit card, and friends and family members who are also carrying a device to be easily located.
The Carnival Ocean technology has been partly inspired by Disney's "MagicBand". It will be interesting to see if airlines and airports are now inspired to follow suit as they continue their attempts to personalise the air travel experience.
Virtual reality and augmented reality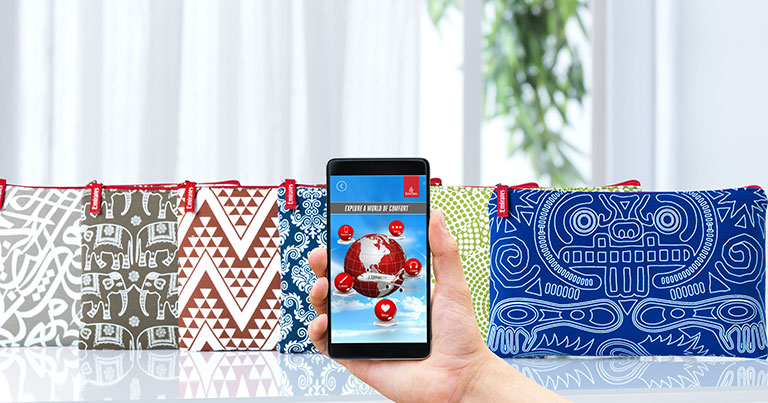 While consumer-facing virtual and augmented reality technologies are still seen by some as a fad, or simply technologies looking for use cases in the air transport industry, the list of airlines that have expressed an interest continues to grow. Qantas is among those to have tested virtual reality in-flight entertainment (IFE), but it is equally interested in how the technology can be used on the ground. To this end, in November 2016 the carrier launched a new virtual reality app to provide travellers with immersive videos of Australian destinations.
Another example can be found in California, where San Jose International Airport partnered with the Google Tango team to trial augmented reality technology for wayfinding, airport retail promotions and even AR billboards displaying destination information. "Once augmented reality technology becomes ubiquitous…we will see many new and creative ways in which airports around the world begin taking advantage of its capabilities," said Jonathan Vaden, who led the project on the airport's behalf.
Meanwhile, Emirates is among those to have tapped into augmented reality in-flight. The carrier launched the industry's first interactive amenity kits in 2016 which, via an app, passengers can use to unlock entertainment and activities to keep them occupied on board.
While questions remain regarding the viability of virtual reality and augmented reality headsets for IFE, other use cases, such as destination and product promotion, provide fresh reasons for the industry to continue to explore VR and AR technology.
Internet of Things
The Internet of Things (IoT) has been on the radar of airlines and airports for some time already, but the actual creation of a fully connected ecosystem – both on the ground and in-flight – is an ongoing task. In airports, evidence of the Internet of Things in action is relatively easy to spot. For instance, queue measuring sensors and BLE beacons are enabling airports and their partners to better manage resources and provide passengers with destination-specific messages. Increasingly, assets within the airport are becoming trackable as more and more "things" become connected to help drive operational efficiency.
On board aircraft, IoT clearly holds great potential too. As highlighted in the FTE Onboard Connectivity 2025 Think Tank, over the course of the next decade, it is likely that all "things" on board will be connected and the health of everything, from engine performance to the IFE system, will be monitored in real-time. Sensors will automatically detect and report faults to maintenance teams on the ground, removing the need for crew to manually report faults. Moreover, the addition of sensors to aircraft seats will enable crew to monitor individual passenger health and wellbeing, and to proactively respond to their needs.
With the likes of Boeing's "vCabin" concept highlighting how an in-flight IoT ecosystem can benefit both the airline and its customers, carriers are likely to invest more time, resource and money in ensuring the aircraft is a central element of the Internet of Things.