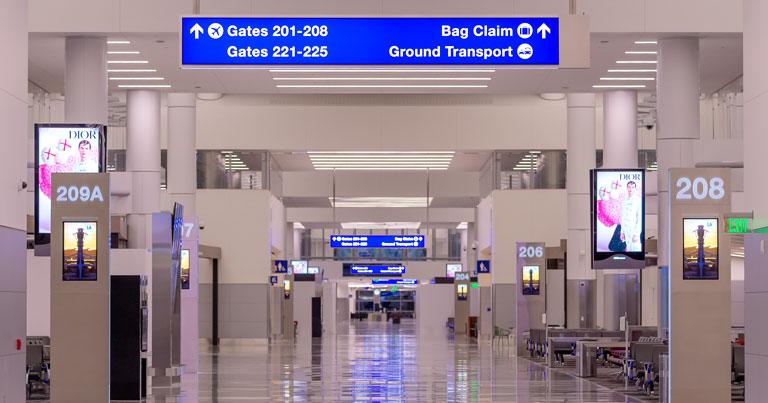 Los Angeles International Airport (LAX) has officially unveiled its $1.7-billion expansion project at Tom Bradley International Terminal, created to deliver a modern guest experience with cutting-edge technology, stunning architecture, a checked-bag storage system, biometric boarding gates and the latest amenities for travellers.
The five-level, 15-gate, 750,000-square-foot facility, called West Gates, will serve both international and domestic flights and marks the latest step in the airport's $14.5 billion modernisation programme.
"This is the first mega-project at LAX under the leadership and vision of Mayor Garcetti, working with our City Council and our Board, to build a world-class airport – one that will redefine our airport experience," said Justin Erbacci, Chief Executive Officer, Los Angeles World Airports (LAWA). "We are delivering fully modernised terminals, new technology and guest services, and improved connections to our regional transportation system and investing in infrastructure that creates a more resilient airport and an even stronger economic engine for Los Angeles."
The new gates have been designed around a modern, digitally-based travel experience and offer comfortable seating options, Wi-Fi, touchscreen kiosks and an advanced baggage handling and boarding systems.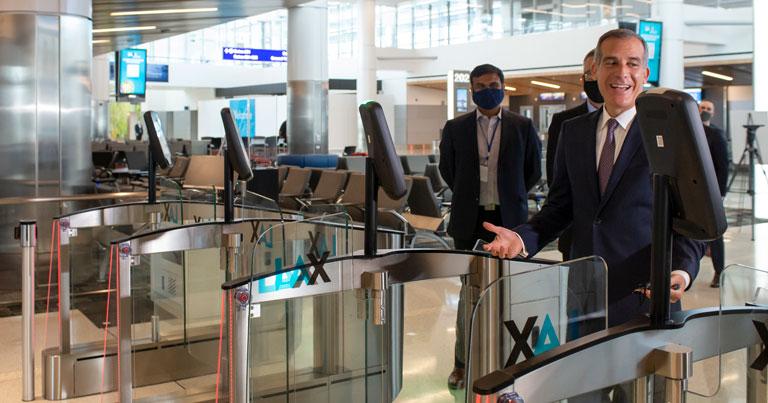 Equipped with EASIER's SkyLane biometric boarding gate, LAX has installed electronic gates at all 14 holdroom locations to make the boarding process quicker and more secure. The SkyLane is EASIER's latest generation of automated doors for access control and boarding. Equipped with a secure entrance passage with swing doors and a patented unicity detection system, the SkyLane guarantees precise passenger tracking and a very high level of security by preventing unauthorised boarding.
Enabling continuous improvement of the airport passenger journey, EASIER has deployed 52 SkyLanes in the new Bradley West Gates and 24 SkyLanes in the existing gates at Tom Bradley International Terminal. Under the contract, which was signed in 2019, a total of 128 SkyLanes will be deployed with possible expansions in other terminals.
Using the new gates, passengers can scan their boarding pass or passport, or with some international flights simply look into a camera to be matched with data from the U.S. Customs and Border Protection's Traveler Verification Service (TVS), and the gates open. During a pilot test at the Tom Bradley International Terminal, the airport has reported that an Airbus A380 was boarded in about 20 minutes using the biometric photo match, less than half the time it takes with conventional document checking.
Additionally, LAX has upgraded its Wi-Fi infrastructure to offer the latest generation of wireless internet, Wi-Fi 6, designed to deliver enhanced coverage, capacity, speed and performance in dense, demanding Wi-Fi environments like airports. The airport will continue to offer fast and free Wi-Fi via its connectivity partner Boingo.
The network is designed to enhance streaming and downloading, music, games and other content on the go, while supporting online activities that include checking flight and weather updates and new health and safety protocols. Wireless services also support contactless food & beverage ordering via LAXOrderNow.com, which now includes delivery to the gate areas inside the West Gates at Tom Bradley.
Meanwhile, the facility will also feature improved reception for cell phones, including 5G, which network carriers will begin to roll out later this year.
The airport has also installed 14 interactive kiosks at the West Gates, providing access to a wide variety of airport and flight information, and location of amenities. Information is also available about ground transportation options and nearby hotels. Personalised wayfinding maps can be sent to guests' personal devices via QR codes. The kiosks also can take travel selfies and send them directly to the passenger's mobile devices.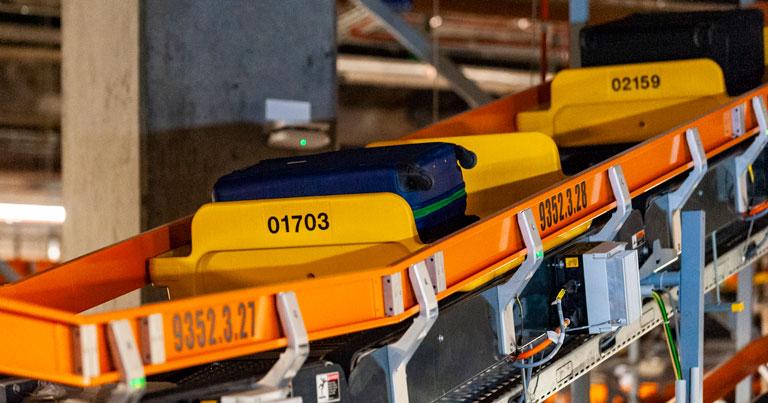 Another enhancement at the airport is a new $261 million baggage optimisation project completed at the same time as the West Gates at Tom Bradley International Terminal. The new baggage handling system, designed and built by Vanderlande, includes approximately seven miles of conveyors, making it the largest outbound individual carrier system in the US, capable of moving up to 6,400 bags per hour.
According to LAX, the airport has become the first in the US to implement an Automated Storage and Retrieval System (ASRS), using technology which is usually associated with warehousing and distribution. Every bag destined for the West Gates at Tom Bradley is automatically loaded into a special plastic tray or carrier at the terminal and conveyed through an underground utility tunnel to its flight preparation area at the apron level. Bags that are checked in early for a flight, and stored for later retrieval, are directed to the ASRS, where they are stored until the flight time is closer. This means passengers will be able to check in bags earlier than ever before, with storage possible up to 24 hours in advance of a flight. A total of 16 robotic cranes place and retrieve bags in more than 3,000 racking storage locations, which use radio-frequency tags to track bag locations within the system. The facility provides high-speed storage with full tracking and tracing of bags to prevent lost luggage.
With this system, LAX can house approximately 3,100 bags in early bag storage facilities, including 980 at the West Gates at Tom Bradley.
Moreover, LAX continues its sustainability efforts throughout the West Gates facility by introducing a number of projects including roofing and paving materials that reduce heat absorption; incorporating daylighting, insulated glass, efficient HVAC and smart interior lighting design systems that reduce electricity consumption by 29%; installation of water-saving plumbing fixtures that reduce 41% of water consumption; and the use of more than 24% recycled content in the building and a gray water piping system for future connection.
In addition, the West Gates at Tom Bradley feature many passenger amenities, including two nursing rooms, a service-animal relief area, art exhibitions, a quiet room and three children's play areas.
Los Angeles World Airports (LAWA) was recently recognised in the FTE Transformation Honours List for the multiple pilot programmes and new innovations via its COVID-19 Recovery Task Force, including the Terminal Wellness Pilot Project, and the creation of an onsite, state-of-the-art COVID-19 Test Lab built using modular cargo containers and installed within the Central Terminal Area. LAWA's CEO Justin Erbacci delivered a presentation showcasing some of the most recent innovations at the airport during this year's FTE APEX Virtual Expo 2021, which is still available on-demand on the virtual platform. You can still register and catch-up on some exclusive content here.