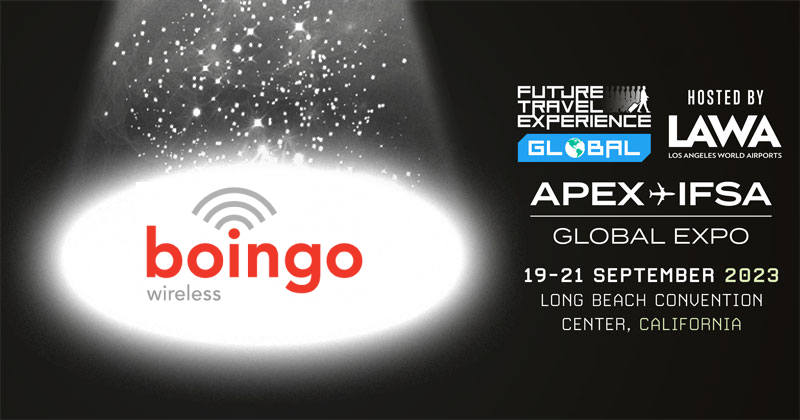 Boingo Wireless, Inc. simplifies complex wireless challenges to connect people, business and things. Boingo designs, builds and manages converged, neutral host 5G and Wi-Fi networks at major airports around the world, including JFK, LAX, ORD, London Heathrow and Dubai International. Boingo's vast footprint of distributed antenna systems (DAS), Wi-Fi, small cells and macro towers securely powers innovation and connectivity to improve the passenger experience and streamline operations. Learn more at boingo.com or download our airport 5G eBook at boingo.com/airport5G/.
What makes your products / services stand out?
---
There's a reason Boingo Wireless is the largest operator of airport DAS, Wi-Fi and private networks in the U.S. Here's how Boingo works as a full-time partner to support your airport's goals:
• COLLABORATE: Bring us your digital transformation vision, use cases and desired outcomes. Boingo makes that vision a reality with next generation connectivity.
• DESIGN: Boingo custom designs 5G infrastructure with cellular, Wi-Fi and private networks based on your needs.
• BUILD: Our end-to-end connectivity platform is technology agnostic, neutral host and interoperable. We deliver voice, data and IoT network solutions.
• MANAGE: Boingo's neutral host NaaS (network as a service) model offers 24/7/365 monitoring, maintenance and customer care with a full security service suite. As your long-term partner, we grow with your needs and ensure timely upgrades. Innovation never stops at Boingo. Our new Boingo Innovation Center serves as a launch pad to test and demonstrate 5G, Wi-Fi 6/6E, Wi-Fi 7 and IoT pilot programs.
What brings you to the EXPO this year?
---
Boingo is the largest operator of airport Wi-Fi and DAS networks in the U.S. From airports to train and bus terminals, Boingo helps over 1 billion travelers annually stay connected. During FTE Global, Boingo will showcase how 5G and Wi-Fi 6/6E connectivity solutions can transform the passenger experience, business performance, innovation and sustainability strategies.
Why should visitors come to your stand and what can they expect to see?
---
Boingo will showcase its suite of award-winning connectivity solutions for airports, including DAS, private 5G, small cells, Wi-Fi and IoT networks. Stop by to chat about real-world 5G use cases deployed at Boingo partner airports. Airport executives and stakeholders will gain a better understanding of how these technologies improve the entire passenger experience, from parking and arrival to boarding to baggage claim and beyond. Attendees can also learn how wireless connectivity solutions are driving digital transformation strategies to optimize airport operations and create smart, interconnected airports. Visit us at booth G30 or book a meeting directly by contacting Justin Phillips at jphillips@boingo.com.