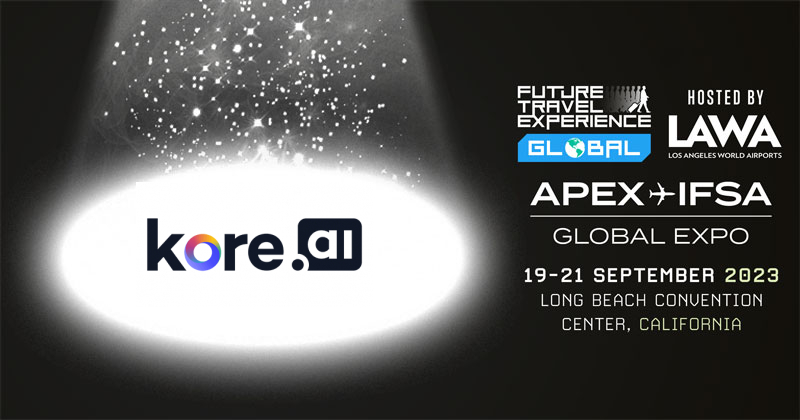 Kore.ai is a global leader in enterprise conversational AI platform and solutions helping enterprises automate voice and digital interactions that deliver extraordinary experiences for their customers, contact center agents and employees worldwide. More than 200 global 2000 companies trust Kore.ai's experience optimization (XO) platform and industry solutions to automate conversations and deliver extraordinary outcomes for over 200 million users worldwide. Kore.ai is recognized as an enterprise conversational AI platform market leader by top analysts. The company is headquartered in Florida USA with offices in India, the UK, Japan, South Korea, Europe, South America, and the Middle East.
What makes your products / services stand out?
---
What sets our product apart is its ability to deliver exceptional experiences for customers, employees, and agents through AI-native automation and augmentation across voice and digital channels. By harnessing the power of artificial intelligence, we enable businesses to achieve optimal outcomes efficiently.
One key advantage is our extensive feature set tailored for non-developers and non-data-scientists, made accessible through intuitive no-code tooling. This empowers organizations to create and deploy advanced AI solutions without the need for technical expertise, accelerating implementation and time-to-market.
Our commitment to enhancing interactions in both voice and digital channels ensures a seamless and personalized experience for end-users, leading to higher customer satisfaction and loyalty. Furthermore, our AI-native approach allows for continuous improvement and learning, adapting to changing demands and staying ahead in the rapidly evolving market.
In conclusion, our product stands out by revolutionizing the way businesses interact with their customers, employees, and agents. Through AI-native automation, no-code tooling, and a focus on exceptional experiences, we enable organizations to achieve superior business outcomes and gain a competitive edge in their respective industries.
What brings you to the EXPO this year?
---
Kore.ai is excited to attend the Future of Travel Experience Expo 2023 because it presents an unparalleled opportunity to showcase our cutting-edge solutions for the travel industry. As the two-time Gartner Magic Quadrant Leader in conversational AI solutions, we recognize the transformative potential of technology in shaping the future of travel.
At the expo, we aim to demonstrate our advanced AI-powered travel solutions designed to enhance customer experiences and streamline operations for travel businesses. With the industry evolving rapidly, our platform offers personalized and seamless interactions across various touchpoints, from booking and itinerary management to real-time customer support.
Additionally, the Future of Travel Experience Expo serves as an ideal platform to network and collaborate with industry stakeholders, including airlines, travel agencies, hotels, and technology partners. Engaging with key decision-makers and industry experts allows us to understand their evolving needs and challenges, paving the way for meaningful collaborations and tailored solutions.
Our participation also reinforces our commitment to driving innovation in travel technology, emphasizing our dedication to improving travel experiences for both businesses and travelers. As we look ahead to the future of travel, we are eager to share our expertise, learn from others, and contribute to shaping a more efficient, sustainable, and enjoyable travel landscape.
Why should visitors come to your stand and what can they expect to see?
---
TravelAssist is a cutting-edge Intelligent Virtual Assistant powered by Conversational AI which unlocks the true potential of artificial intelligence to redefine how passengers, employees, and agents interact.
At the Kore.ai booth, visitors will experience firsthand how our platform empowers the travel industry with advanced technology, enhanced customer experiences, and optimized operational efficiency. Don't miss the chance to witness the future of conversational AI for travel at our booth!
For the business professional attending the event – they will be able to see TravelAssist A solution that leverages technology that is used in many highly regulated industries. It is successfully delivering extraordinary experiences for customers but also employees and it has been used to reimagine the entire call center experience. While the use cases are all different – the technology is saving organizations time and money, improving customer satisfaction,and helping with staff recruitment and retention.
What do you think is the biggest lesson that the industry will take away from the COVID-19 crisis?
---
The COVID-19 pandemic is not only a global crisis; it is also a compound for reimagining the way we want to live moving forward. From economic systems to decision-makers, we have an opportunity to move away from the way we used to do things and now making positive changes for the benefit of humankind.