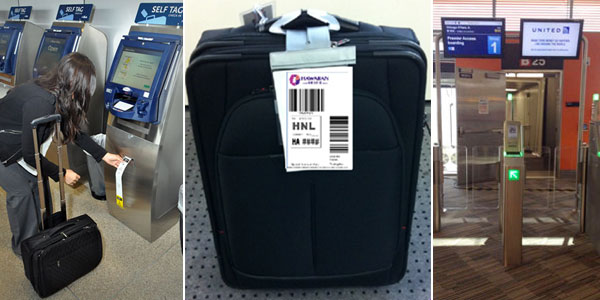 Among today's travellers, there is an increasing demand for empowerment and a "do-it-yourself" approach, and while European airlines and airports may have taken the lead on adopting new technologies to meet these demands, the trend is now becoming just as apparent across the United States. Self-service check-in and tagging kiosks are now commonplace at many American airports, but the next wave of innovation is extending customer empowerment beyond the boundaries of the terminal.
When Hawaiian Airlines launched its self-service bag drop at Honolulu Airport last year, the carrier's Vice President for Customer Service, Louis Saint-Cyr, stated that "every minute saved in the check-in process improves our customers' experience substantially", and this seems to be an opinion that many of the United States' biggest airlines and airports now share.
A little more than a year on from that comment, Hawaiian Airlines has found another way to save passengers even more valuable minutes with the launch of the TAG@HOME home-printed bag tag trial, which means passengers don't even have to worry about tagging their bag at all upon arrival at the airport.
This approach, print-at-home bag tags, is also in favour at Alaska Airlines, which became the first US carrier to introduce the product in April 2014 to complement its self-tagging kiosks. According to Curtis Kopf, the carrier's Vice President of Customer Innovation, the 'Self-tag Express' initiative is part of the airline's goal "to be the easiest airline to fly with".
Enabling passengers to control their travel experience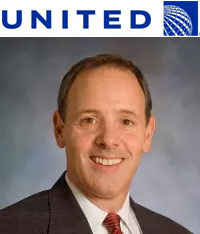 Over at United Airlines – whose Managing Director, Airport Strategy, Ken Bostock, will offer insight into the carrier's passenger experience plans at FTE Global 2014 – home-printed bag tags may not yet be on offer, but the airline certainly encapsulates this prevalent theme of passenger empowerment.
Like many of the big US carriers, United offers self-tagging facilities at various airports, but it has just taken a unique step to help simplify the check-in process even further, specifically for those flying internationally.
Via the United app, passengers can use their smartphone's camera to scan their passport during the check-in process, which is then quickly verified by a third party company. If everything is in order, they will receive their boarding pass to their device, removing the need to queue upon arrival at the airport to show their passport to an agent before heading to security.
Again, passenger empowerment is a key driver of this initiative. "The new passport scanning feature saves valuable time and provides customers with more options to control their travel experience," according to Scott Wilson, the airline's Vice President of Merchandising and E-commerce.
Will self-boarding finally be the next big thing?
Aside from check-in and bag tagging, moving other processes away from the airport is far more difficult, if not impossible. However, this does not mean airlines and airports are sticking with the traditional face-to-face approach to passenger processing. The departure gate is one area that offers self-service opportunities, and although the self-boarding gate made its way into the US as far back as 2010, it is yet to really take off.
FTE Global 2014 host McCarran International Airport, clearly with an eye on the future, has self-boarding gates installed in Terminal 3, and more recently, just three months ago in fact, self-boarding gates were unveiled at Boston Logan International Airport's new Terminal B concourse, which is used by United Airlines. Elsewhere, SITA's seven-year deal with Miami International Airport could well extend to include the installation of self-boarding gates between now and the end of the current contract, according to the official communications issued upon the finalisation of the contract.
Self-boarding gates may be used sporadically and for trials at present, but the early investment in the facilities by some of the industry's more innovative organisations suggests they will become a far more common feature in the future, and maybe the not-too-distant future at that.
Cutting queues with new technology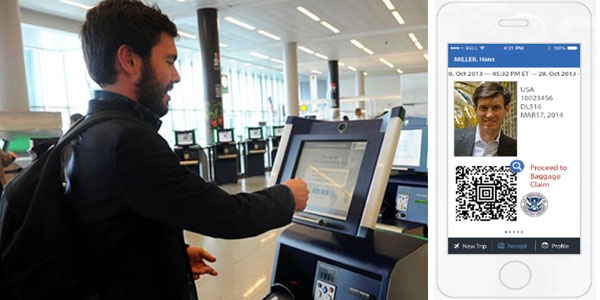 At the other end of the journey, namely the arrival at the destination airport, much attention has been given in recent months to the widespread rollout of Automated Passport Control kiosks, which have dramatically cut waiting times for arriving passengers at the likes of Hartsfield-Jackson Atlanta, Chicago O'Hare, Seattle-Tacoma, Miami and Phoenix Sky Harbor airports to name just few.
Again, new technological developments have enabled this breakthrough, and now the project is being taken to another level with the launch of the Mobile Passport Control app, which allows passengers to complete the main part of the customs inspection process using their own smartphone or tablet.
The very travellers who have complained, and rightfully so, about the queues they have had to put up with, are now being empowered with the option of using their own device to help overcome the problem.
A year or so ago, the thought of a traveller scanning their passport via their mobile device, using their smartphone to check-in and receive their boarding pass, printing their bag tags at home, boarding using an automated gate and using a kiosk or an app to complete most of the customs process would have been far removed from reality. We may not yet be at a stage where a single carrier offers all of these automated options, but US airlines and airports are certainly granting passengers a lot more autonomy throughout their travel experience.
There is still a long way to go to achieve the seamless and simple travel experience that the industry and its customers crave, but recent developments suggest many of the major airports and airlines are dedicated to making the future travel experience a far less cumbersome ordeal.
United, SFO, American Airlines, McCarran, Delta and JetBlue to share passenger experience visions at FTE Global 2014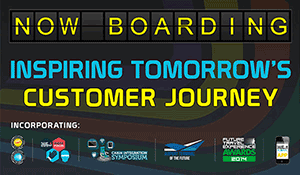 In the 'On the Ground' conference at FTE Global 2014, which will take place in Las Vegas from 24-26 September, a number of leading US airlines and airports will share their plans to enhance the passenger experience.
Senior speakers from the likes of United Airlines, San Francisco International Airport, American Airlines, McCarran International Airport, JetBlue and Delta Air Lines will take part in conference sessions focusing on topics such as the airport terminal of the future, baggage advancements, new technology and improving the end-to-end passenger experience.
» View the full 'On the Ground' conference agenda
» Register to attend FTE Global 2014