Contactless technologies have proven to be a game-changer for the air transport industry and beyond in recent months. Indeed, SITA's 2020 Air Transport IT Insights report revealed that while airlines and airports have significantly minimised their spending, touchless technology remains a high investment priority between now and 2023.
So, here we highlight some of the recent solutions airports, airlines and other big companies like Amazon and Disney have implemented in order to minimise the spread of viruses and reduce the interaction between passengers and staff – ranging from contactless check-in and security processes, to 'Zero-Touch' IFE and contactless food & beverage pre-ordering.
Touch-free check-in & bag drop kiosks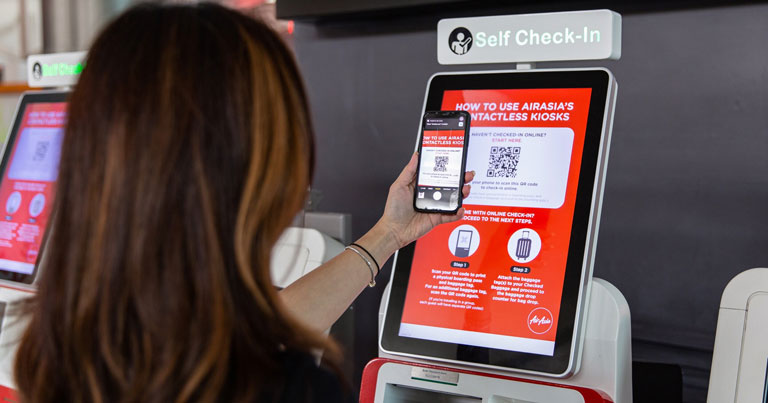 Last year, efforts ramped up quickly to create a touchless passenger experience at the airport environment. SITA's report outlines that making the check-in process completely touchless has been a priority for airlines in the past year.
For instance, in April Etihad became the first airline to trial new contactless self-service technologies, which can estimate a passenger's vital signs, to allow for touchless health screenings at airport kiosks and bag drops.
AirAsia also quickly followed suit and in May the airline introduced several contactless procedures for essential travel including contactless kiosks, Passenger Reconciliation System (PRS), contactless payments at the airport, as well as enhanced features on its mobile app to help ensure a smooth and safe travel experience. Meanwhile, United Airlines was among the first airlines in the US to adopt the technology for check in.
Elsewhere, Avinor introduced an end-to-end touchless travel programme enabling passengers to check-in for their flight remotely using their mobiles at the 44 airports in its network; while Changi Airport equipped its check-in kiosks with infrared proximity sensors, which can identify the motion of a passenger's finger as they point towards the options on the screen.
Biometrics technology also has a major part to play in creating a touchless travel experience. The implementation of the technology in the aviation industry has been well underway in the past few years, but its potential to facilitate a more contactless travel experience has accelerated the adoption even further in the wake of the COVID-19 pandemic.
According to SITA's report, biometrics remain the focus for airport investment with 64% of airports aiming to roll out self-boarding gates using biometric and ID documentation by 2023, three times as many as in 2020. Airlines have doubled implementations and plan to double investment for self-boarding using biometric and ID documentation by 2023.
Bangalore International Airport Limited (BIAL), for instance, introduced one of the most comprehensive programmes to ensure contactless passenger journey form "parking to boarding" at Kempegowda International Airport, Bengaluru (BLR Airport). The airport verifies the passenger's identify using facial biometrics. Facial recognition technology then gets the passenger through check-in, bag check, security screening and onto the plane.
At Denver International Airport, passengers can use an app, called VeriFly, to reserve an arrival time at a dedicated TSA screening lane, where they then scan their QR access code for entry at a touchless gate.
Zero-touch IFE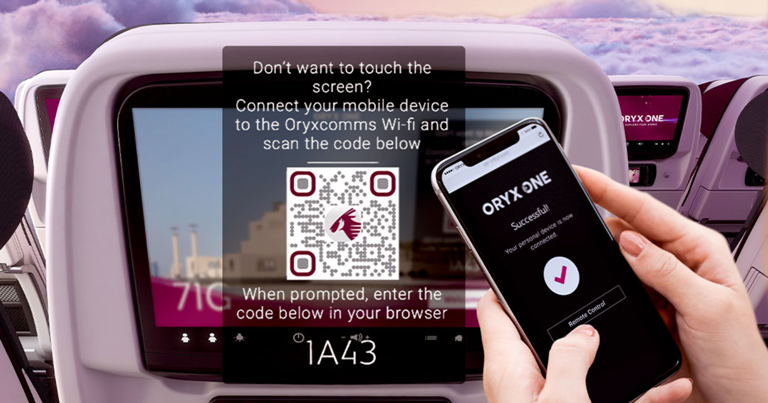 In times when passengers have become more wary of touching surfaces, some airlines have made updates to their inflight entertainment (IFE) to offer a contactless experience and encourage a BYOD (bring your own device) model. Last year, Southwest Airlines, for instance, launched a series of improvements across its Inflight Entertainment Portal, which allows customers to stream inflight content without having to download an app before they board.
In more recent news, Qatar Airways announced plans to offer passengers touchless technology for its Oryx One inflight entertainment system (IFE) across its A350 fleet. The Zero-Touch technology, introduced in partnership with the Thales AVANT IFE system, will enable passengers to pair their personal electronic devices (PEDs) with their seat-back IFE screen by connecting to 'Oryxcomms' Wi-Fi and simply scanning a QR code displayed on the screen. They can then use their PEDs to navigate and enjoy more than 4,000 options on offer through the airline's Oryx One IFE system.
Contactless shopping, f&b delivery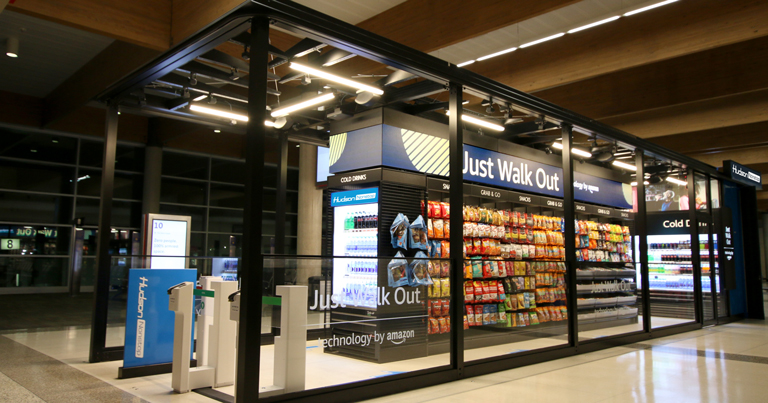 The contactless experience vision has also reinforced changes to the way people shop at the airport terminal. Just this week, travel retail company Hudson unveiled its first-ever Hudson Nonstop store using Amazon's Just Walk Out technology at Dallas Love Field Airport (DAL).
Travellers are able to seamlessly enter the Hudson Nonstop store with a swipe of their credit card or using "Tap to Pay", take the products they're looking for, and then walk out of the store. The store merchandising layout provides visibility to essential products needed for the travel journey. As FTE previously reported, Hudson plans to roll-out additional stores in airports across North America in 2021, making contactless shopping opportunities more widely accessible for travellers.
Brian Quinn, Executive Vice President and Chief Operating Officer of Hudson, commented: "Hudson Nonstop represents a new way of retailing that emulates an end-to-end digital shopping experience which we believe is the future of retail, even after COVID-19 – we look forward to serving travellers in this exciting new store concept for years to come."
Airport hospitality group OTG also adopted Amazon's Just Walk Out technology, enabling passengers shopping at its CIBO Express Gourmet Markets at Newark and LaGuardia airports to make last-minute purchases before boarding their flight.
Airports are also teaming up with restaurants in the terminal to make it easier for passengers to use their mobile devices to order food for pick-up and delivery.
Los Angeles International Airport (LAX) launched a contactless airport-wide programme called LAX Order Now, which lets passengers order directly from the LAXOrderNow.com site or by scanning QR codes in the airport. Among other US airports to have trialled similar initiatives are San Francisco Airport, Philadelphia Airport, Boston Logan Airport, Chicago Midway Airport and Dallas/Fort Worth Airport.
Elsewhere in Europe, Schiphol Airport launched a pilot which allows passengers to pre-order food and drinks at Schiphol's food & beverage outlets after security control. Passengers can now scan a QR code from one of the physical banners or media screens located at and after the airport security check. The QR code will allow them to place their order, pay online and choose a time to pick up their order after going through security.
Contactless payments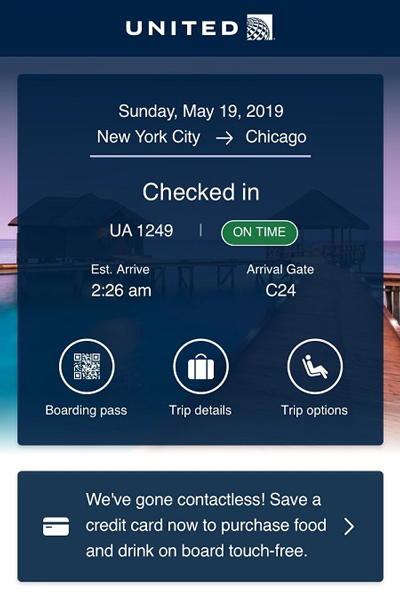 Contactless payments were already a common trend way before the pandemic. For instance, consumer brands like Apple, Google and Samsung began adding digital wallets to their mobile products as early as 2014.
In the past few years we have also seen a number of airlines adapting to this trend, including the likes of Singapore Airlines, Finnair, Delta, JetBlue and British Airways, who have already embraced digital payment solutions such as Alipay, Google Pay and Apple Pay to cater to the modern traveller and provide a simpler payment process.
Meanwhile, in the beginning of 2020, Munich Airport became the first airport in Europe to offer a new mobile, cashless payment process for customers. The "Smart Checkout – Tap, Pay & Enjoy" application lets consumers use their smartphones to pay for products right at the store shelf by scanning an electronic price tag, in order to eliminate waiting times at the cash register. For the payment process, the customer is redirected to a mobile website. In contrast to existing payment systems on the European market, it is not necessary to download the app, which makes the user experience more streamlined.
The pandemic has accelerated this trend even further, driving consumers to change their behaviour, and airports, airlines and retailers to accelerate their adoption of the technology. According to SITA's annual Air Transport IT Insights research, 74% of airlines have stated that they want to allow mobile touchless payment for all airline services provided along the journey – from booking to arrival.
Inflight the trend is also picking up and last October, United Airlines, for instance, announced that it will trial touchless digital payment on select routes out of its Denver hub, as a way to resume its buy-on-board services.
A look into parallel industries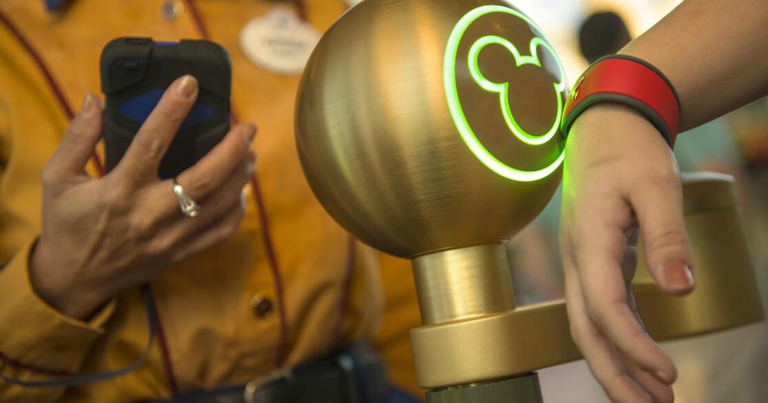 The contactless revolution can also be seen at parallel industries such as hospitality, retail and amusement parks. One instance is Disney World's approach to reopening operations post-COVID-19. The amusement park has, indeed, created a more frictionless experience since the introduction of the MagicBand entry bracelets back in 2013. The MagicBands let customers do everything seamlessly – from unlocking their Disney Resort hotel room doors and entering the theme parks, to making food and merchandise purchases. Since the COVID-19 pandemic hit, Disney has brought even more contactless engagement, by using signage with QR codes throughout the park to encourage guests to use features on the park's mobile app. Disney has also highlighted that last year food and mobile order utilisation skyrocketed from 9% to 84%, and nearly 90% of all payments are now cashless. The company is also implementing contactless security screening using artificial intelligence at its theme parks and Disney Springs centre. Going forward, the technology is expected to facilitate the arrival process, making entering theme parks and Disney Springs quicker and more efficient.
Similarly to the Amazon Just Walk Out technology unveiled at Dallas Love Field Airport, this week Amazon also opened its first till-less grocery store in London, which marks its first store concept outside of the US. Traditional supermarkets, such as Marks & Spencer in the UK, are also improving their use of technology in recent months. The store, announced in November that it is expanding the use of its "scan, pay and go" service to all its UK grocery stores, allowing customers to buy their groceries up to £45 without visiting a till.
As airlines and airports are preparing for passenger traffic to bounce back again this summer, it is evident that touchless technology will be crucial to reducing the risk for passengers and staff alike.
FTE will continue to follow the topic closely, and during the upcoming FTE APEX Virtual Expo (25-26 May) we will also feature a dedicated session on "Delivering touchless travel and a socially distanced airport experience as passenger numbers rise quickly again", which will include speakers from Port of Seattle, Denver International Airport and more to be announced soon. Visit the Virtual Expo website for more information.