View our top technology trends for airlines and airports in 2019 >>
During the next 12 months, airlines and airports across the globe will be tasked with the challenge of identifying the new and emerging technologies that have the potential to improve the customer experience and enhance operational efficiency both on the ground and in-flight. Here, FTE highlights the technologies and trends that we expect to play the most important role in reshaping the air transport industry in 2018.
Biometrics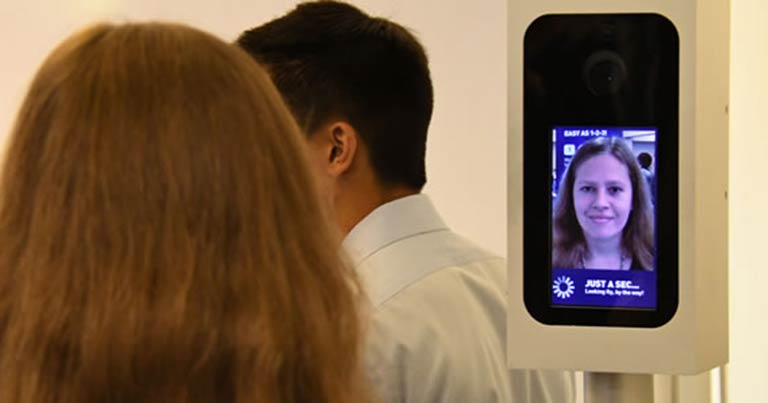 The potential of biometrics in the air transport sector has been clear for some time but now that it is gaining traction across the industry, the technology could start to have a truly transformative impact. The trend towards biometric-enabled processing can be seen around the world. In 2017, a number of US carriers – including Delta and JetBlue (as well as government agencies like the TSA and CBP) – invested in trials of fingerprint and facial recognition technology. Elsewhere, Heathrow installed 36 biometric-enabled self-service boarding gates in Terminal 5; Hamad International Airport revealed plans to implement a system in which "your face becomes your passport"; Changi Airport Group opened the new Terminal 4, which includes biometric technology at all of the key passenger touch-points; and Sydney Airport shared with FTE its plans to trial end-to-end biometric-enabled passenger processing from mid-2018. Elsewhere, biometric-based recognition has been implemented at the entrance to airline lounges, and integration of the technology into signage and flight information display systems (FIDS) has been touted as a means to serve passengers with personalised information and offers.
Biometric technology won't just impact the travel experience on the ground, though; it could also reshape the experience at 35,000 feet. In fact, as part of their strategic partnership, Panasonic Avionics Corporation and Tascent have already hinted at using biometric technology onboard aircraft to facilitate seatback immigration and simplify in-flight payment.
The integration of biometric technology into consumer devices, such as the iPhone X, which features facial recognition technology, is helping to familiarise members of the public with the technology and this, in turn, should help to encourage people to embrace the technology when travelling. As airlines, airports and their partners continue to work towards the goal of creating a biometric-enabled single passenger token, the number of trials and implementations involving the technology will continue to rise throughout 2018.
Blockchain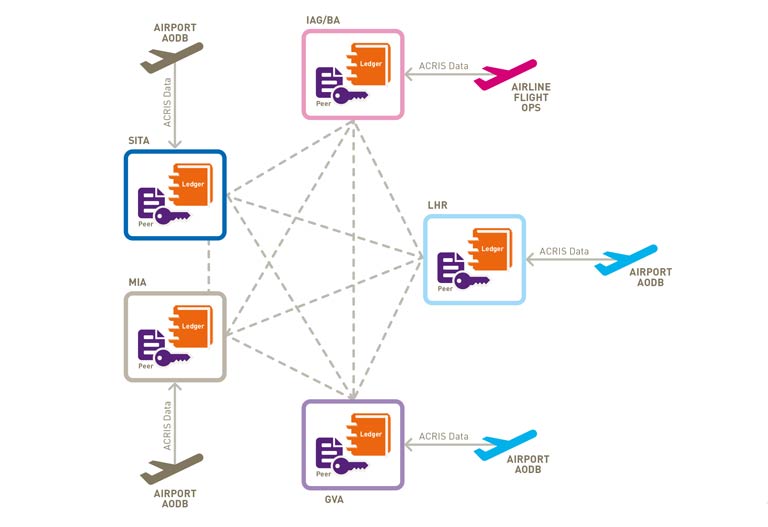 Blockchain is very much a buzzword at the moment and while it is still relatively early days for the technology, many in the air transport sector see a great deal of potential. The technology is most closely associated with cryptocurrency, but blockchain is about much more than Bitcoin. As blockchain essentially provides a secure digital ledger of transactions and agreements, it holds potential in any project that involves the sharing of data.
In late-2017 a few interesting case studies came to light. Lufthansa announced a partnership to explore blockchain-based distribution; Air New Zealand revealed that it is exploring blockchain for baggage, retail, distribution and loyalty use cases; and British Airways, Heathrow Airport, Geneva Airport, Miami International Airport and SITA Lab teamed up to look into how blockchain technology can help to create a "single source of truth" for flight data.
While it is likely to be a long time before blockchain is at the heart of the air transport industry, the early excitement suggests that it certainly does have a role to play. You can expect to hear about more airlines and airports taking their first steps into the world of blockchain over the next 12 months.
Want to keep on top of the latest technologies and trends? Subscribe to our FREE newsletter
Artificial intelligence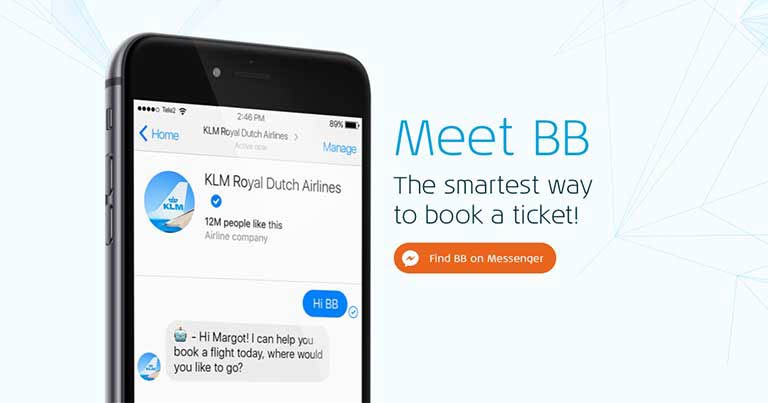 2017 was the year that artificial intelligence (AI) really came to the fore in the air transport industry. After years of being labelled "the next big thing", a large number of airlines rolled out AI-focused products. Chatbots that can answer the more basic questions are now becoming commonplace, with airlines ranging from Air New Zealand to Aeromexico and Icelandair to Lufthansa now offering their customers support through such a channel.
Beyond chatbots, some of the more forward-thinking airlines are already implementing AI in other areas. KLM, for example, is using the technology to complement the efforts of its social media service agents. Automated answers to straightforward questions can be provided by AI, which frees up the human agents to deal with the more complex enquiries.
AI also holds potential in a number of other areas, such as real-time predictive pricing, predictive aircraft maintenance and operational efficiency on the airfield, further highlighting its broad appeal to airlines. Airports also stand to benefit from the AI advancements, as is highlighted by the fact that Beijing Capital International Airport will soon be making use of Alibaba Group's AI-enabled "Aviation Brain" to help ease congestion. As more carriers follow in the footsteps of the first-movers, and the use cases for AI mature, the technology will play an increasingly important role throughout 2018.
Robotics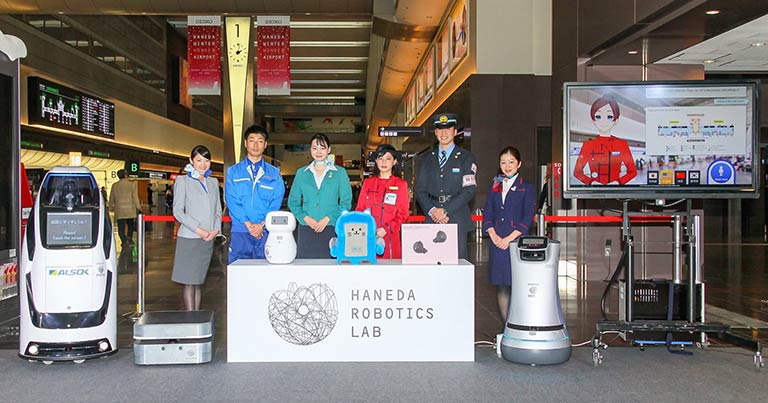 It would be remiss to discuss artificial intelligence without considering robotics. This time last year, there was lots of talk about customer-facing robots that can provide on-the-spot assistance to passengers but it is perhaps in operational roles that robotics will have the most telling impact.
Japan Airport Terminal Co., Ltd.'s Haneda Robotics Lab has emerged as a front-runner in this space and will soon trial seven robots in a live airport environment. These robots will be able to perform a variety of tasks, ranging from transporting luggage to proactively identifying potential security risks. The ultimate goal is for a fleet of robots to be deployed at Haneda Airport before the start of the Tokyo Olympics in 2020. Elsewhere is Asia, Incheon Airport has also been exploring the latest generation of robots and recently hosted a trial of LG's Airport Guide Robot and Airport Cleaning Robot.
During a recent interview with FTE, Dubai Airports' EVP, Technology and Infrastructure, Michael Ibbitson, offered insight into the possible future role of robotics in the air transport industry. He explained that baggage handling could be transformed by replacing centralised conveyor and track and tray systems with a system built around individual baggage transportation robots. He said: "I think there is so much fantastic opportunity in that space right now. Every airport needs to be keeping an eye on it."
While the passenger-facing robots often grab the headlines, it could well be the operational robotics deployments that make the biggest impression in 2018 and beyond.
Want to keep on top of the latest technologies and trends? Subscribe to our FREE newsletter
Baggage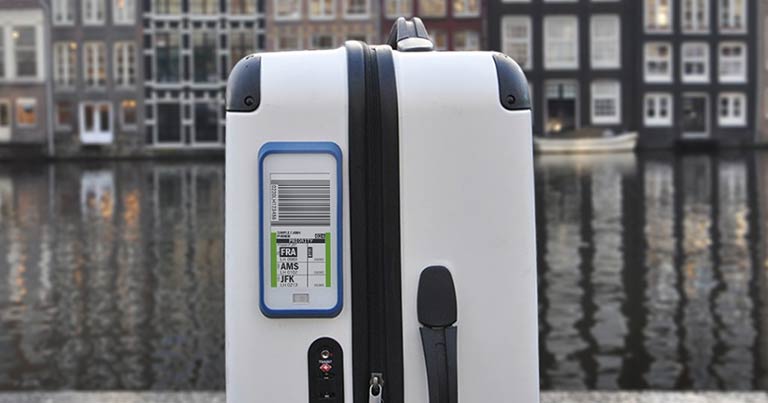 Technological advancements are also helping to bring about a revolution in the baggage space. Self-service bag drop is now widespread but a new wave of developments is starting to entirely redefine baggage handling as we know it. Airports around the world are having to process more passengers and bags than their terminals were originally designed to handle. Referring to this capacity crunch, IATA CEO Alexandre de Juniac recently stated: "We are headed for an infrastructure crisis." Clearly, new solutions must be developed in order to support future growth.
Some stakeholders are already taking action. Lufthansa Group, for example, has partnered with BAGTAG in a move that allows passengers flying with Lufthansa (which was also the launch customer of the RIMOWA Electronic Tag), SWISS and Austrian Airlines to purchase a re-usable, electronic bag tag, instead of having to have traditional paper bag tags attached to their suitcases every time they fly.
In late-2017, it was announced that American Airlines' passengers flying from London Heathrow Airport can now make use of the AirPortr end-to-end baggage delivery service, which removes the need for them to transport their own luggage from the hotel to airport. British Airways also offers this service in and around London. Elsewhere, Fiji Airways has launched Resort Check-in, which allows passengers to check in their bags in the hotel lobby before they travel to the airport. As well as offering convenience to passengers, each of these services can also help to reduce check-in queues and the number of bags being brought into the airport terminal, therefore freeing up some much-needed capacity.
2018 is also a big year as IATA Resolution 753, which is all about baggage tracking, will come into effect in June, so airlines and airports must ensure they are ready to provide real-time, accurate baggage tracking throughout the process. Without doubt, 2018 will be a significant year in the baggage space.
Startups and scaleups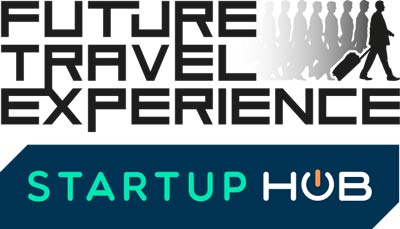 In recent years, there has been a shift in mindsets among airlines and airports. While they have traditionally turned to well established, decades-old suppliers for new products and services, many are now looking to the startup scene for their next wave of inspiration.
The likes of Lufthansa, San Diego International Airport, SAS, WOW air, Hartsfield-Jackson Atlanta International Airport, Emirates and Changi Airport Group all have innovation labs or programmes, each of which places a big focus on exploring possible collaborations with startups. Furthermore, the likes of IAG, Qantas and JetBlue Technology Ventures play an active role in incubating and/or accelerating startups and scaleups. The thinking is relatively straightforward: the more forward-thinking airlines and airports are keen to work with the agile, fast-moving startups that could reshape the industry in the years ahead.
In 2018, you can expect more airlines and airports to take the plunge into the startup scene as part of their efforts to improve customer experiences and enhance overall business efficiency.
To help airlines, airports and other corporate organisations identify and engage with the startups and scaleups that can help them achieve their innovation objectives, FTE has launched the FTE Startup Hub. It's free for startups and low-cost for corporates. Visit the FTE Startup Hub website to find out more.
Translation technology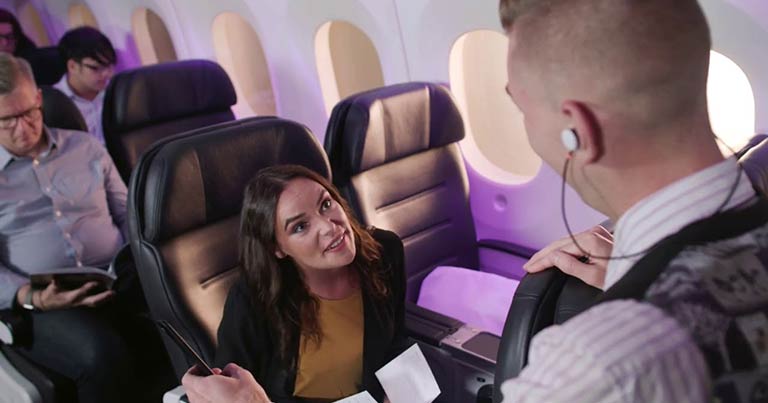 We could have squeezed this one into the "artificial intelligence" category but such is its potential, we decided it deserves a mention in its own right. The travel experience can be daunting when you're in an unfamiliar environment and don't speak the local language but this could be solved thanks to artificial intelligence and machine learning technology.
The Google Pixel Bud Bluetooth earphones support live translation between 40 languages and this has already caught the eye of Air New Zealand, which is trialling the technology in the airport terminal and onboard aircraft. Also, at FTE Asia EXPO 2017 last November, Airport Authority Hong Kong's General Manager Smart Airport, Chris Au Young, outlined the merits of smartphone-based signage translation in the airport environment.
A number of the technology giants, including Microsoft and Facebook as well as Google, are investing heavily in translation technologies, and airports and aircraft could provide ideal environments for these technologies to flourish.
Augmented reality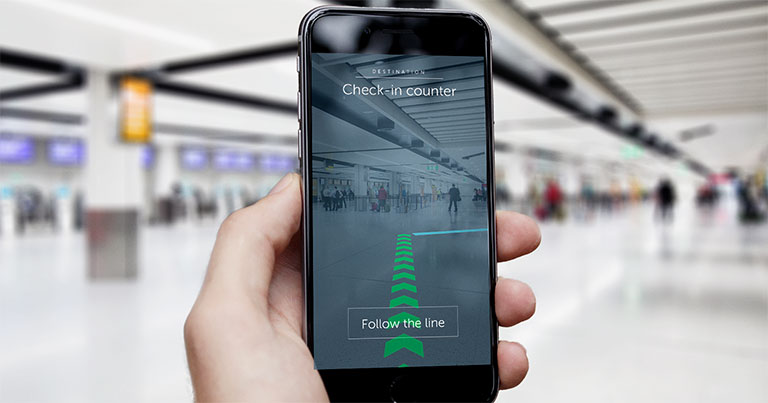 Augmented reality (AR), virtual reality (VR) and mixed reality (MR) were all hot technologies in 2017, with use cases ranging from immersive IFE to airport wayfinding and remote airport operational control centres. While all three technologies are likely to grab headlines in 2018, augmented reality has perhaps the most immediate potential in the air transport space.
As an example, Gatwick Airport unveiled blue dot navigation and augmented reality wayfinding last year, which allows passengers to use the camera function on their device to view AR directions to wherever they need to go within the terminal. Airport Authority Hong Kong has been paying close attention to AR wayfinding too, while Copenhagen Airport was a trailblazer in this space and launched the first version of its own AR wayfinding tool a full seven years ago. The technology has advanced since then, though, and with the likes of Apple making a big play in the AR space, it is likely to gain more traction over the coming year.
Want to keep on top of the latest technologies and trends? Subscribe to our FREE newsletter
Internet of Things
A technology trends report wouldn't be complete without a mention of the Internet of Things (IoT). In fact, IoT is what can tie together a number of the aforementioned technologies and help to create a simpler and more seamless end-to-end travel experience.
It looks more likely than ever that in the future all "things" will be connected – from airport assets to IFE systems and sensors integrated into seating – providing the industry with a constant stream of data which, if used correctly, could deliver new levels of operational efficiency and enable personalisation like never before.
Cyber security
The deployment of new and emerging technologies, and the on-going digitalisation of the air transport industry, brings with it a number challenges, and keeping systems secure is one of the biggest tasks faced by airlines and airports.
According to SITA, which is collaborating with Airbus in the fight against cyber threats, cyber security is the number one priority for airlines' and airports' IT spending in the three years up to 2020. In fact, 95% of airlines and 96% of airports plan to invest in major programmes or R&D on cyber security initiatives over the next three years.
While the on-going digital transformation being experienced across the industry will bring about myriad customer experience and operational benefits, cyber security will be a crucial topic as airlines, airports and their partners continue to strengthen their digital defences.
View our top technology trends for airlines and airports in 2019 >>