Last year saw a surge in COVID-19 technology and design advancements come to the fore, and 2021 will be no exception, as the air transport industry continues to grapple with the economic challenges brought by the pandemic. From contactless solutions to digital health passports and ultraviolet, autonomous cleaning robots, here we highlight the trends and technologies that will play the most important role in driving the air transport industry recovery in 2021.
Contactless technology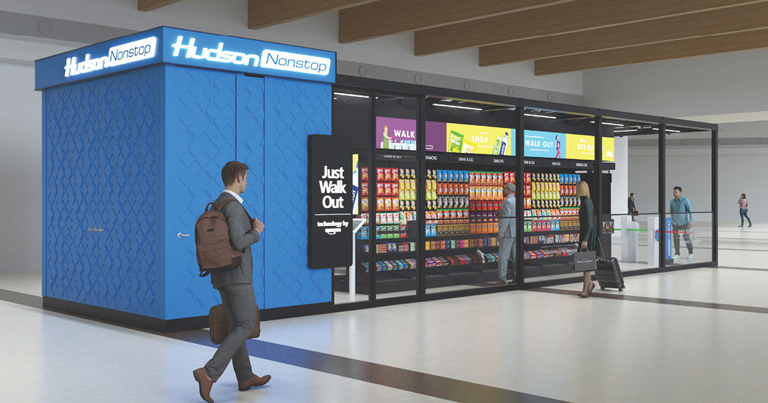 The trend for a contactless passenger experience in airports has been underway for a number of years already, but the COVID-19 pandemic rapidly accelerated the adoption of contactless technology, in order to minimise the spread of viruses and reduce the interaction between passengers and staff. In the coming year, we expect to see an even wider utilisation of the technology throughout the entire journey ­– from check-in and security processes, to the way passengers pay for ancillary services at the airport terminal, and the way they board the plane and interact with inflight entertainment systems on board.
Last year, we saw a number of airlines and airports swiftly adopt contactless solutions. One example is Etihad, which back in April became the first airline to trial new contactless self-service technologies. Bangalore International Airport Limited (BIAL) and AirAsia also followed suit and in May both companies introduced an end-to-end contactless airport experience. A number of other airports and airlines around the world have since adopted touchless check-in including Avalon Airport, American Airlines, Japan Airlines, and Avinor.
In times when passengers have become more wary of touching surfaces, some airlines have also been pushing ahead with updates to their inflight entertainment (IFE) to offer a contactless experience and encourage a BYOD (bring your own device) model. Southwest Airlines, for instance, launched a series of improvements across its Inflight Entertainment Portal, which allows customers to stream inflight content without having to download an app before they board.
The contactless experience vision also reinforces changes to the way people shop at the airport terminal. Just this week, we saw travel retail company Hudson announce that it will be introducing Amazon's Just Walk Out technology at airports in North America. Hudson Nonstop, the first store to implement the technology, will open in the first quarter of 2021 at Dallas Love Field Airport (DAL), with additional roll-outs planned for 2021. The Just Walk Out technology allows travellers to quickly enter the Hudson Nonstop store using their credit card, take the products they're looking for, and then walk out of the store, offering shoppers an innovative and contactless walk-through experience.
E-commerce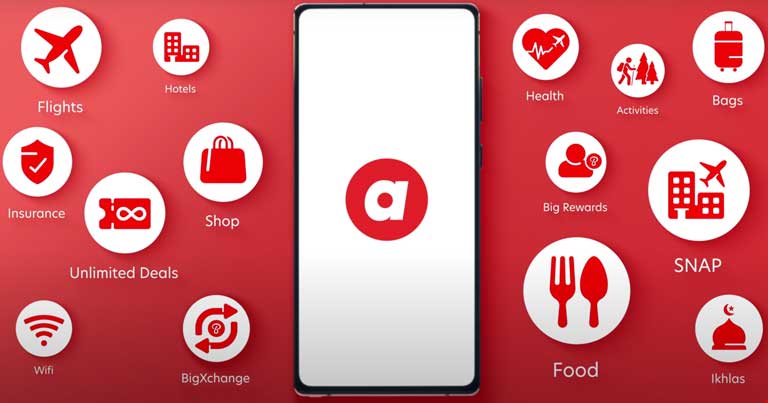 With consumers and businesses becoming more tech-savvy than ever before, the growth of online shopping and e-commerce has been significant since the beginning of the pandemic. In the US, for instance, the pandemic has accelerated digital shopping by about five years since March, according to IBM's annual U.S. retail index. Marketplaces like Amazon are flourishing. The e-commerce giant doubled its net profit year over year to $5.2 billion in Q2 2020, compared to $2.6 billion at the same time in 2019. This disruption in the market has been affecting the travel retail business for some time now, and airlines and airports have a real opportunity to take advantage of this digital proposition.
One airline that pivoted its e-commerce business during the pandemic is AirAsia. Last year, the carrier launched its new AirAsia Shop online platform, which enables customers to purchase duty free products and have them conveniently delivered to their doorstep within the next working day.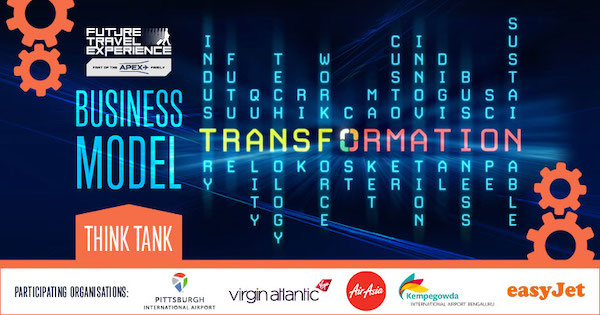 Redefining retail also formed a major part of the FTE APEX Business Model Transformation Think Tank – our most ambitious Think Tank to date – which was unveiled during last month's FTE APEX Virtual Expo. The Think Tank members concluded that there is a real opportunity for airlines and airports to create a collaborative, wide-reaching e-commerce platform.
FTE is committed to building upon this ground-breaking project throughout 2021, and in the months to come, we will be issuing a comprehensive recommendations document and a series of proof of concept projects running between stakeholders around the world proving the viability of this approach. Additionally, during the upcoming Virtual Expo 2021 we will host a follow-up session looking to advance this initiative further.
Considering the challenges brought by the COVID-19 pandemic, airports, airlines and their partners will have little choice but to create an attractive e-commerce proposition in order to survive the financial impact of the crisis.
Interested in the latest technologies and trends? Sign up to our newsletter >>
F&B pre-order and payment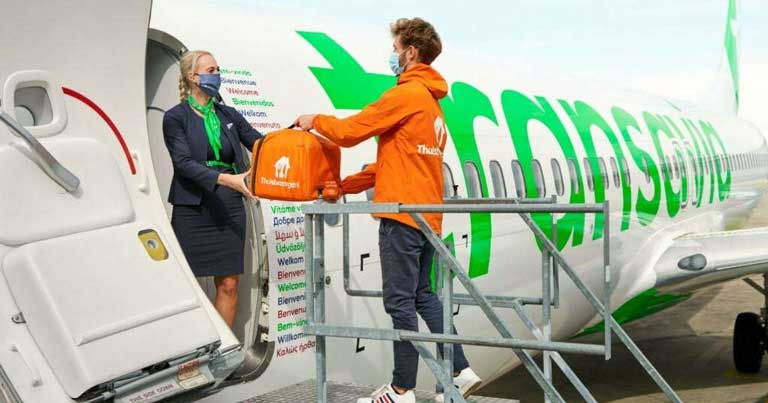 Contactless food & beverage (f&b) pre-order and payment ­has also been gaining traction at airports and inflight in the past few months and we expect this trend to continue in 2021. Several airports in the US have launched f&b pre-order initiatives, including Philadelphia, Chicago Midway, Dallas/Fort Worth Airport, and Los Angeles International, while in Europe we have seen recent trials from Schiphol Airport.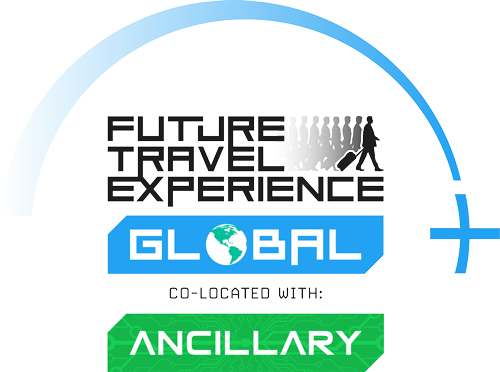 Among the airlines to have launched pre-order initiatives inflight is low-cost carrier Transavia, which introduced an exciting new partnership with home food delivery service Just Eat to offer meal delivery to the plane. Passengers can order a meal through Just Eat's platform up to one hour before their flight, which is prepared by Dutch catering company iFleat. The programme is expected to extend to more flights and airports where Transavia operates, such as Rotterdam The Hague and Eindhoven airports, depending on the travel advisories for each country.
Commercial, retail & ancillary innovation will be a major topic during the upcoming FTE Ancillary+ event, which will this year be co-located with FTE Global+, taking place on 8-10 September, Aria Resort, Las Vegas.
Virtual events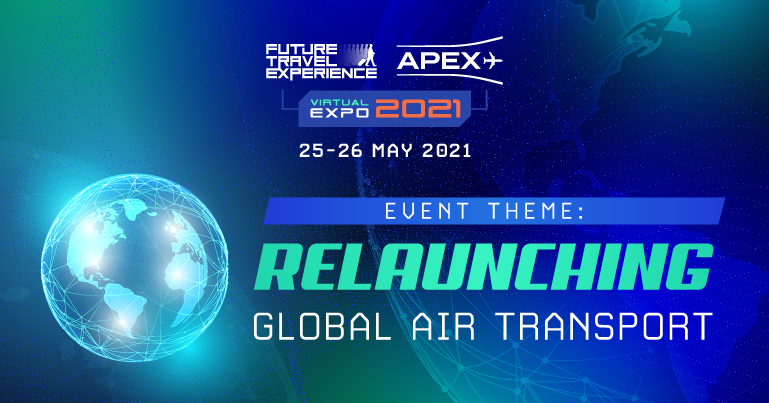 Traditional in-person trade shows will not return with any great conviction until towards the back half of 2021 at the earliest, and will be highly regionalised rather than global affairs. This is why – following the huge success of our recent Virtual Expo last December (which attracted 4232 unique visitors including representatives from 166 airlines and 165 airports from every corner of the globe) – we have now launched FTE APEX Virtual Expo 2021.
The free-to-attend event will be the most comprehensive global industry gathering of the year, which will champion bold new ideas, solutions, collaboration an innovation efforts to ensure we achieve an industry recovery that makes air transport even stronger in the long-term.
Digital health passports & vaccination visas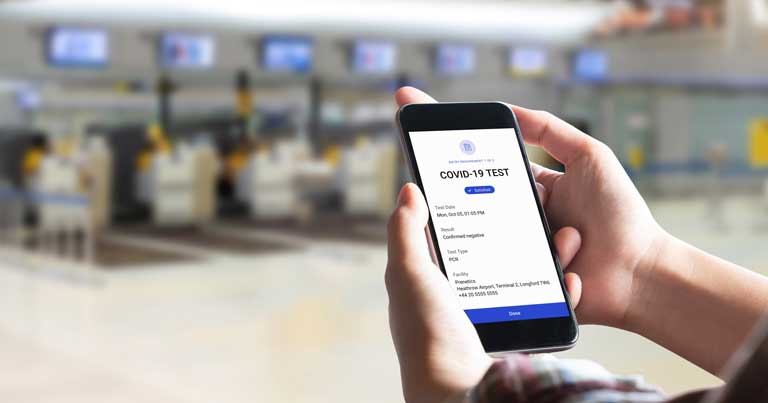 One emerging technology that has been widely discussed in the past few months in response to the pandemic is digital health passports. The concept of health or immunity passports is not new, and has, indeed, been around for some time. An example of this is the traditional paper-based processes already recognised as the International Certificate of Vaccination, also known as Yellow Fever card. The focus is now on digitising this and using it as a tool to verify people's health status.
Multiple initiatives to develop and deploy digital health passports are currently underway around the world. The CommonPass project, which was introduced in October last year following a partnership between the Commons Project, the World Economic Forum and a broad coalition of public and private partners, aims to establish standard ways to verify lab results and vaccination records. To use CommonPass, travellers take a COVID-19 test at a certified lab and upload the results to their mobile phone. They then complete any additional health screening questionnaires required by the destination country. The solution has been used on Cathay Pacific's Hong Kong–Singapore route, as well as on United's London–New York flights, and will soon begin further trials with JetBlue, Lufthansa, SWISS and Virgin Atlantic.
The International Air Transport Association (IATA) is also currently in the final development stages of its Travel Pass initiative, which is expected to be released in Q1 2021. IATA says that it sees the Travel Pass as a "global and standardised" solution to the current confusion and complication surrounding crossing international borders. Singapore Airlines is the first airline to trial the solution on flights from Jakarta and Kuala Lumpur to Singapore, which could set the stage for a broader industry roll out. If successful, the airline plans to expand the programme, integrating it with the SingaporeAir app by mid-2021. IATA has stated that the Travel Pass will also be trialled by British Airways.
We could expect that a number of digital health passports will appear on the market in the coming months, however, during his presentation at FTE APEX Virtual Expo, Simon Talling-Smith, Senior Advisor at The Commons Project Foundation, commented  that he is sceptical that many will survive as standalone products. "I think it's important that we establish a good level of interoperability and standardisation so that these different solutions can talk to each other," he explained.
To drive the discussion forward, FTE will be staging a dedicated Digital Health Passports Symposium at Virtual Expo 2021. Stay tuned for more details in the coming weeks.
COVID-19 testing & hygiene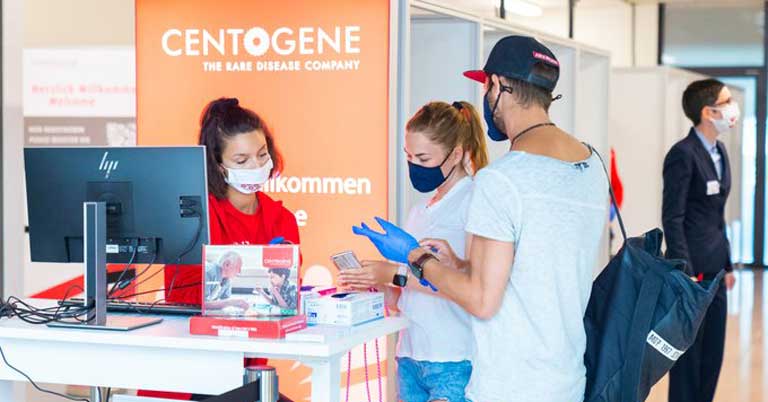 While the industry awaits the complete rollout of a vaccine, COVID-19 testing is seen as a critical step to restoring air travel and airlines and airports have taken it upon themselves to set up testing operations. The polymerase-chain-reaction (PCR) tests were commonplace as the pandemic began, but in the past couple of months rapid tests have become increasingly popular, providing results in as little as 30 minutes.
Major carriers like American, United, British Airways, JetBlue and Lufthansa, to name a few, have turned to testing as a safe alternative to travel restrictions and quarantine regimes. In a recent conversation with FTE, Lufthansa Group's Senior Director Product Management Ground & Digital Services Björn Becker, said: "We're convinced that testing is definitely the best way to fight the pandemic, much better than the quarantine. It gives you specific information on your health status, which is good for fighting the pandemic, but also for the travellers, as it gives them security on whether they're infected or not."
A large number of airports around the world have set up COVID-19 test centres, as a way to speed up the process, including Heathrow, Schiphol, Los Angeles International, San Fransisco, Dublin Airport and many more. Testing will no doubt dominate the air transport news in the next few months, as new technology continues to emerge.
Airlines and airports will also continue to upgrade and promote their hygiene and sanitisation measures to restore the passenger confidence in travel. Just this week, the Airline Passenger Experience Association (APEX) announced a new APEX Health Safety initiative, powered by SimpliFlying, awarding airlines for their efforts in ensuring the highest standards of cleanliness and sanitisation. Twelve global airlines have been certified so far, including Air Canada, Alaska Airlines, Etihad, JetSmart, Qatar Airways, Saudia, Singapore Airlines, Spirit, Sri Lankan, Turkish Airlines, United Airlines and Virgin Atlantic.
Interested in the latest technologies and trends? Sign up to our newsletter >>
Advanced self-service and biometrics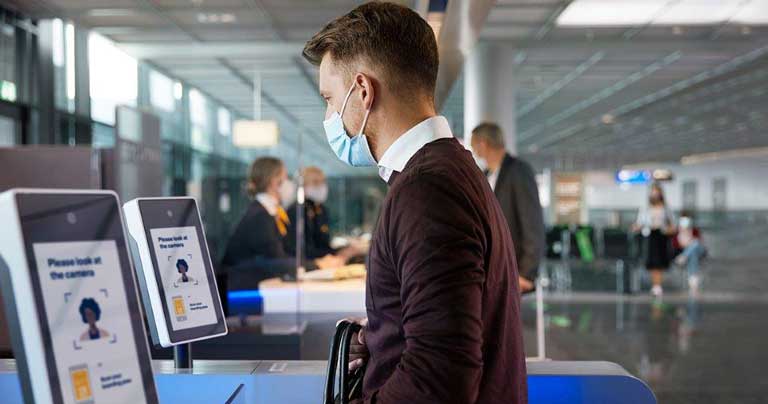 Biometrics has formed part of our annual trends report for a number of years and this year is no exception. With COVID-19 reinforcing the idea of frictionless travel, the pandemic has also put strong emphasis on biometrics as a must-have technology. In the past couple of years, we have seen the number of airlines and airports that have adopted the technology grow exponentially.
In more recent news, Star Alliance introduced a new interoperable biometric identity and identification platform for screening passengers, which went live in November 2020 at Munich and Frankfurt airports for select Lufthansa Group passengers; Spirit Airlines rolled out biometric check-in at US airports to reduce face-to-face interaction between airlines staff and passengers; Emirates launched an integrated biometric path at Dubai International Airport; Etihad trialled facial biometric check-in for cabin crew; and Fort Lauderdale Hollywood International Airport (FLL) started facilitating biometric boarding of flights for all international departures.
Elsewhere, VINCI Airports became the first airport operator in the world to deploy biometrics throughout the entire passenger journey from home to plane. The airport operator deployed a new travel assistant, called Mona, designed to revolutionise the passenger experience at Lyon Saint Exupéry Airport.
One of the major questions regarding the use of facial recognition during the pandemic has been whether the technology could assess the identity of travellers wearing a mask. The Biometrics Institute recently issued a statement, saying that "the widespread use of masks must mark a step change in how identity is managed and the way facial recognition biometrics are developed and applied".
Indeed, many suppliers have been working to enhance their biometric solutions to allow for passengers to seamlessly go through the biometrics checks without taking off their masks. One such company is NEC, which worked closely with Star Alliance on its latest biometrics programme. During the recent FTE APEX Biometrics Summit, which took place as part of Virtual Expo in December 2020, Raffie Beroukhim, Senior Vice-President and Chief Experience Officer, NEC Corporation of America, said that enabling mask-wearing was an absolute must before the project could be rolled out. "The technology in the Star Alliance biometrics service is trained to overcome this mask issue with accuracies upward of 98%," he explained.
While the rollout of biometrics technology is continuing apace around the world, the adoption in the coming year will be driven largely on return of investment. Once airlines and airports start seeing first signs of recovery from the COVID-19 crisis, biometrics technology will undoubtedly be a top priority.
The deployment of new and emerging technologies, such as biometrics and digital health passports, however, brings with it a number of challenges, and protecting customer's data is one of the biggest responsibilities for airlines, airports and their partners. In the very core of such solutions is that they use sensitive personal information and it is essential to address privacy risks at an early stage of the development before a large-scale deployment takes place. So this year, we expect the industry to focus largely on protecting the privacy of passengers, while also tapping into the opportunities created by this new pool of data.
Here at FTE, we will continue to follow the discussion closely and will once again champion biometrics through our conference agendas at the upcoming FTE APEX Virtual Expo 2021, FTE Global+, FTE Ancillary+, and FTE APEX Asia Expo+ events.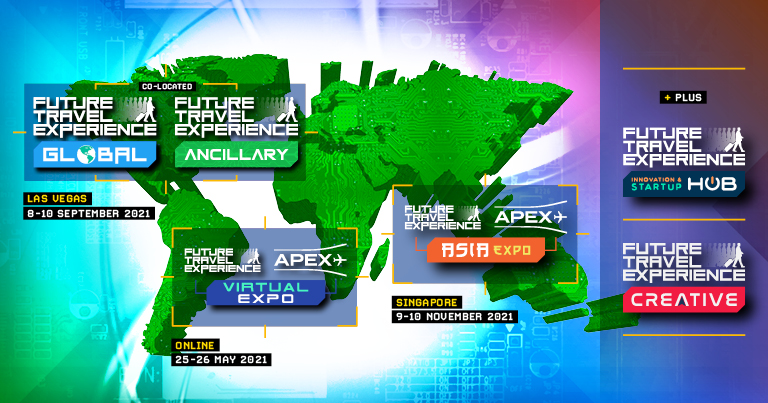 Robotics & automation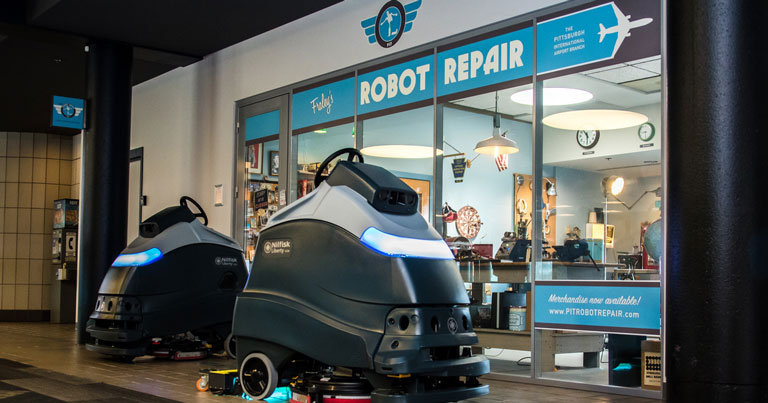 Robots have already made their way into the airport terminal. Last year, the focus was largely on disinfecting robots and we expect this trend to continue throughout 2021. A number of airports around the world adopted autonomous robots with ultraviolet (UV-C) light technology for cleaning, including Pittsburgh International Airport (PIT), Hamad International Airport, Heathrow Airport, and Gerald R. Ford International Airport, while Cincinnati/Northern Kentucky International Airport (CVG) deployed a floor-scrubbing robot. Elsewhere, Incheon International Airport adopted non-face-to-face automatic body temperature robots at its departure halls to reduce the risk of COVID-19 infections.
Robotics have also dominated the agenda at this week's Consumer Electronics Show (CES), the largest consumer tech event. During the show, LG Electronics presented its autonomous disinfecting robot, LG CLOi, which has been designed to disinfect hotel rooms with UV-C light, and could also have applications beyond hotels, including for instance airport terminals.
In other news, last summer AirAsia announced that it is accelerating its ongoing digital transformation journey by implementing robotic process automation (RPA) in collaboration with Silicon Valley and India-based enterprise automation platform JIFFY.ai. The airline's Chief Transformation Officer Azli Mohamed said the implementation of RPA followed a review of AirAsia's internal processes and workflows, which showed that business process automation can be done easily with the right tools in place.
Moreover, results from a global survey, conducted last year as part of our Air Transport 2035 Think Tank, revealed that 60.3% of respondents expect investment in automation and the deployment of artificial intelligence (AI) technology to rise following the COVID-19 crisis.
Interested in the latest technologies and trends? Sign up to our newsletter >>
UV cleaning tech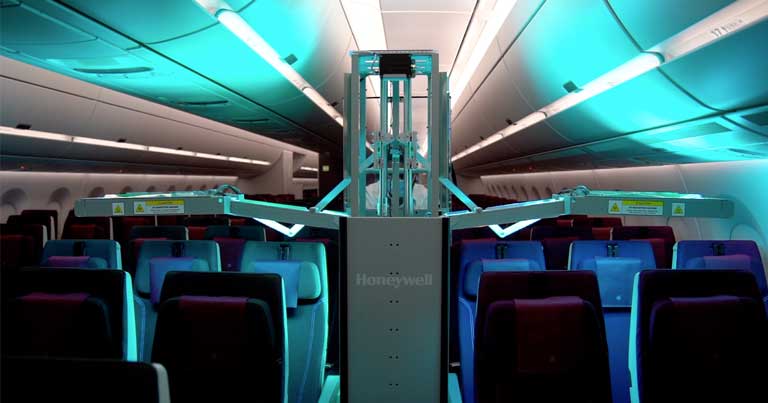 The adoption of hygiene and germ-killing solutions, such as ultraviolet (UV-C) lightbulbs, is also likely to continue throughout the year. Last year, a number of airports in Europe, including Gatwick and Helsinki, invested in UVC light technology to disinfect security trays.
Inflight, we saw JetBlue and Qatar Airways deploy UV technology for cabin cleaning, developed by Honeywell. The Honeywell UV Cabin System is roughly the size of an aircraft beverage cart and has UVC light arms that extend over the top of seats and sweep the cabin to treat aircraft surfaces without using cleaning chemicals. According to Honeywell, the cabin cleaning system can treat an aircraft cabin in less than 10 minutes. Qatar Airways has since announced that it is planning to acquire additional units in the near future, in order to operate them onboard all aircraft turnarounds at Hamad International Airport (HIA).
Social distancing tech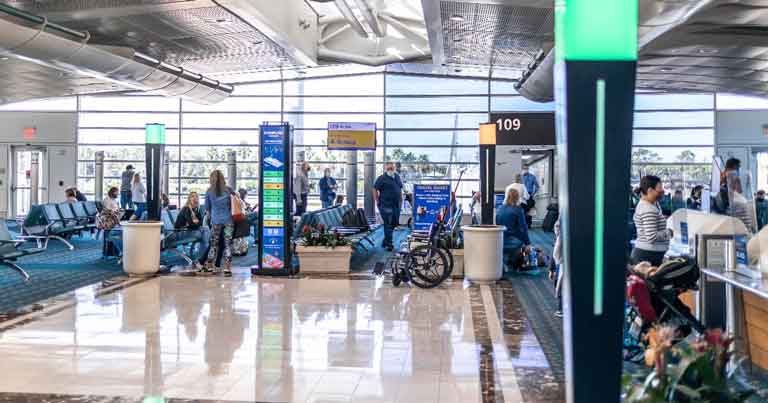 As the pandemic unfolded, social distancing was one of the first prevention methods introduced by airports around the world to minimise the spread of the virus – from floor markings to more high-tech solutions such as people flow management, video analytics and virtual queueing.
In more recent news, JFKIAT, the operator of Terminal 4 at John F. Kennedy International Airport, became the first in North America to launch a camera-enabled technology with new SafeDistance capabilities, making T4 the first air terminal in North America to launch this technology. The solution, developed by CrowdVision, helps to monitor social distancing from curbside to check-in and through the security checkpoint in the terminal. Orlando Airport also recently started a pilot programme to monitor crowd density within the airport. The Evenflow Crowd Radar system measures the number of people at the gate areas and delivers the information via digital signs and custom lights throughout the facility. Elsewhere, Stuttgart Airport has been using 3D stereovision sensors to manage people flow across its terminals for the past few years, and is now working with Xovis to determine how existing sensors can be leveraged to manage physical distancing.
Virtual queuing, security checkpoint reservations and 'bingo boarding' have also been among some of the solutions introduced in recent years to minimise queuing at different stages of the passenger journey.
Social distancing is most likely here to stay and minimising passenger crowding would, indeed, be a priority for airports and airlines once passenger numbers bounce back again.
Digital alternatives for everyday face-to-face activities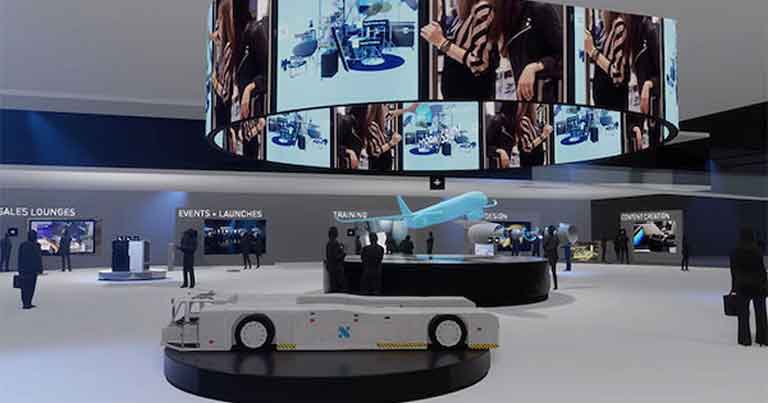 With travel restrictions, and face-to-face meetings in offices not possible, many organisations have struggled to showcase their capabilities, launch new products, deliver training & drive innovation and prototyping as effectively as they would like to in this new world, so to address this trend we have launched FTE Creative. This full-service agency will offer companies an outstanding range of digital services to help them showcase their products and services as effectively and interactively as possible. From creating private sales lounges or auditoriums that can be leveraged at virtual trade shows or for private customer meetings or launches, through to using technologies like VR, AR, XR and 360-degree content to deliver cutting-edge, awe-inspiring work or training programmes, we will be your one-stop digital creative agency to ensure your capabilities, or platforms for engagement in-house or externally, can be realised just as well digitally as they have been through traditional methods previously. Visit the FTE Creative website to learn more and take a virtual tour of the showroom.
Offsite processing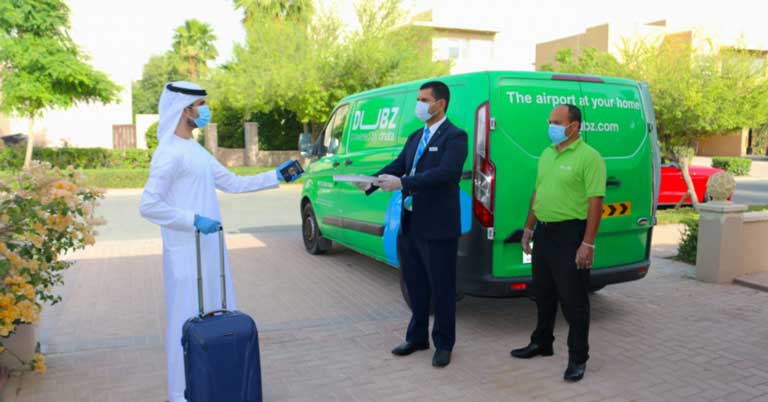 The impacts of the pandemic have also further confirmed that airlines, airports and their partners must put available technology to use and re-imagine the current passenger processes. One concept that FTE is following closely is offsite processing. And although it may still seem a long way to go, there has been a number of recent trials to remove traditional processes off the airport. Last year, for instance, dnata partnered with baggage technology and logistics company DUBZ to launch a new initiative providing home check-in and baggage disinfection services for passengers travelling from Dubai Airport. The initiative enables travellers to safely and quickly complete the flight check-in process at any location in Dubai, up to 24 hours before their flight.
In 2017, the International Air Transport Association (IATA) in collaboration with Airports Council International (ACI) launched the New Experience in Travel and Technologies (NEXTT) initiative. In a recent interview with FTE, Céline Canu, Head of Passenger Process & Facilitation, IATA, shared some updates on the initiative. She explained: "Promoting best practice use of technology via the NEXTT initiative will see more widespread advancements of off-airport processing activities, improvements in customer experience and efficiency. Advanced processing will also facilitate the access to trusted real-time data and the implementation of contactless solutions to limit the interactions between passengers, airlines, and airports."
To unlock the full potential and benefits of offsite processing, it would require close collaboration between airlines, airports and their partners to establish a common framework. While the concept lays a more long-term vision of the future of travel, is it likely that in 2021 more airlines and airports will put offsite processing on their agendas.
Sustainability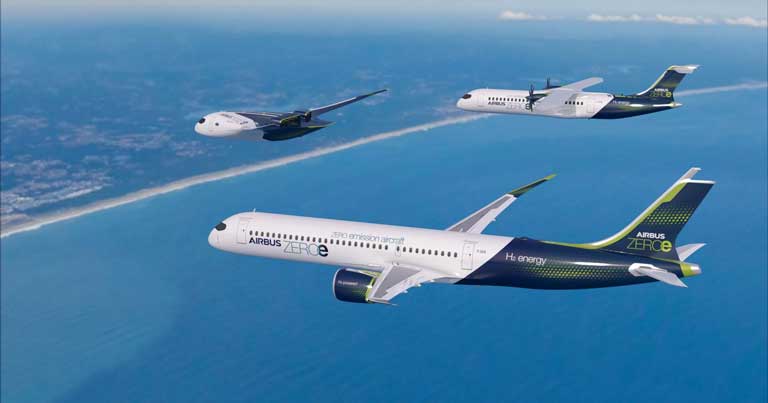 While last year the industry was focusing largely on the immediate response to the COVID-19 crisis, sustainability remained high on the agenda for airlines and airports.
For instance, early in 2020, Delta Air Lines announced that it is committing $1 billion over the next 10 years to mitigate all emissions from its global business going forward. In his keynote address during FTE APEX Virtual Expo, Delta's CEO Ed Bastian confirmed that despite the pandemic, the airline is continuing its investment in innovation, advancing clean air travel technologies, accelerating the reduction of carbon emissions and waste, and establishing new projects to mitigate the balance of emissions.
New fuel technology advancements, such as hydrogen, are also coming to the market. Last September, Airbus unveiled three new concepts relying on hydrogen as a primary power source option which Airbus believes "holds exceptional promise as a clean aviation fuel".
Hydrogen and other advancements may take longer to adopt, but in the meantime, Delta's Bastian encouraged the industry to continue investments in reforestation, clean water and opportunities to recycle and eliminate plastic.
The pressure is certainly on for airlines and airports around the world. Air France-KLM, for example, needs to meet the terms of its bailout from the French government, which states that Air France must slash domestic flights and agree to work towards becoming the world's "most environmentally friendly" airline.
The industry is also turning to technology such as artificial intelligence, machine learning and predictive analytics to manage food waste inflight. Among the most recent initiatives are a robot for the production of meals for economy class introduced by KLM Royal Dutch Airlines, as well as a recent trial of machine learning and computer vision from Etihad to reduce food wastage on its flights.
It is evident that the industry is already taking steps in the right direction, but collaboration will be key to achieving sustainable travel in the future.
Interested in the latest technologies and trends? Sign up to our newsletter >>